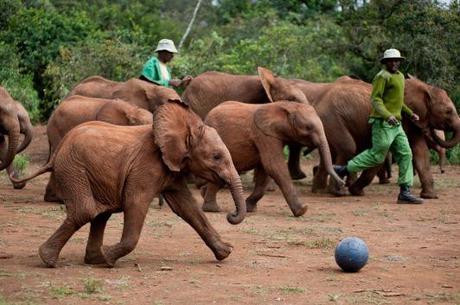 If you want a change from the current 3D movie fodder of lightcycles, Pixar and Nicholas Cage then we seriously recommend heading down to the IMAX in London to catch Born To Be Wild.
The film documents the methods used by wildlife teams in Kenya and Borneo to rescue elephants and orangutans and ensure over several years of rehabilitation that they are ready to be put back into the wild.
Shot in stunning high-definition 3D by David Douglas and featuring the soothing overtones of ubiquitous voice-over artist Morgan Freeman the film principally follows elephant expert Dam Daphne M Sheldric and primate authority Dr Birute Mary Galdikas.
"Spending so much time among the orphaned elephants and orangutans in this film was a life-changing experience…IMAX 3D makes it possible to share that wonder in a way that takes us directly into the lives and struggles of these amazing animals." Said producer and writer Drew Fellman.
You can catch the film at the BFI IMAX on the South Bank and from July 2nd at the Science Museum in South Kensington.