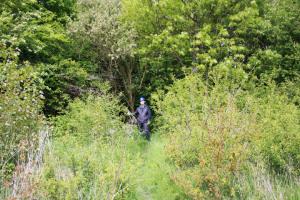 Boris Johnson plans to concrete over an area of outstanding natural importance in west London despite his new consultation document failing to make a single reference to the nature reserve.
The London Mayor's determination to flatten Scrubs Wood, north of Shepherds Bush in west London, flies in the face of decades of studies into the area's extraordinary wildlife importance as well as it being a vital educational resource.
Transport for London's plan to build 19,000 new properties brands the land "derelict semi-industrial" but that couldn't be further from the truth.
Scrubs Wood, on railway land, is a haven for rare birds, voles, lizards and butterflies. It is a green oasis near central London which includes a nature reserve popular for school visits.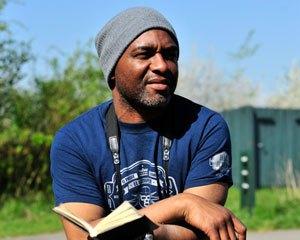 Urban Birder David Lindo at the Scrubs
'Urban Birder' David Lindo, star of TV birdwatching programmes, has proven that the area is a magnet for migrating birds including Pied Flycatcher; Dartford and Wood Warblers; Honey Buzzard; Richard's, Rock and Tree Pipits; Osprey; Marsh Harrier; Turtle Dove; Long and Short-Eared Owls; Black Redstart; Great Grey Shrike; Nightingale; and Ortolan Bunting to name but a few.
Scrubs Wood is an important site for Common Lizards and 20 species of butterfly including Skippers. It is a favorite for breeding Lesser Whitethroat birds, and wintering Redpolls and Siskins.
I myself used to birdwatch there during my youth and recorded many rare species there. In 1985, as a 15-year-old, I led an ultimately successful campaign to save the land from destruction to make way for Channel Tunnel depots.
The proven ecological importance of Scrubs Wood was instrumental in saving over two-thirds of the site and the landowners British Rail (as then was) stumped up cash to protect wildlife including building a new bank knows as "Lester's Embankment".
The campaign attracted significant national media coverage at the time and resulted in me being voted Best of British Youth by Radio 4 Today listeners as well as inspiring an opera and record.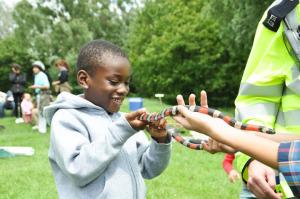 A schools visit to the Scrubs
More importantly, the outstanding natural importance of the site was fully accepted by a House of Lords Committee into the Channel Tunnel Bill and is no less important today. In fact careful wildlife management over the past two decades has enhanced its natural value.
It is therefore extraordinary that Boris Johnson and TfL should publish a document proposing the complete destruction of the whole site to make way for major development without even a passing reference to the ecological importance.
This shameless airbrushing out of the ecological importance – an importance that has been acknowledged by all environmental agencies from Natural England to the London Wildlife Trust – is grossly insulting to the public's intelligence.
Chair of the Friends of the Scrubs, Jane Charteris, is quoted on the W12 blog as saying:
"Any developments around Wormwood Scrubs are of concern to us. The Scrubs is a unique habitat, which supports an astonishing variety of wildlife. It is Hammersmith and Fulham's largest and most important green space, and the Council should be capitalising on that."
The TfL consultation document, called Old Oak: A Vision for the Future, proposes a highly-concentrated development including several high-rise blocks that cram 19,000 homes into a relatively small space.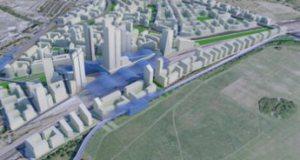 Concrete ghetto planned to replace Scrubs Wood
This concrete ghetto has no open spaces visible amid a dense thicket of tall buildings. As well as it being a shocking over-development the plans make no reference to affordable or social housing.
Developers also plan to include a new 30,000-seater stadium for Queens Park Rangers – a football club with a core support of less than half that number – and a new station as part of the new High Speed-2 network on the Great Western rail line that runs between Paddington and the West Country.
Boris Johnson's failure to make a dent in his house-building election promises should not be instantly solved with a magic wand by shoe-horning tens of thousands of homes into a pint-pot space by flattening an area of outstanding wildlife importance that is not even acknowledged.
It is a mad-hatter development, bad for living and bad for birds, mammals and butterflies.
By Lester Holloway @brolezholloway