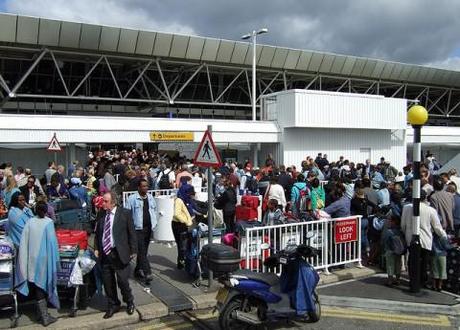 Queues at Heathrow. Photocredit: Ricoeurian
The background
The Immigration Services Union (ISU) which represents 4,500 staff at the Border Agency, is planning a strike next Thursday at ports and airports all over the United Kingdom. It's all part of the dispute with the Government over plans to increase retirement age for public servants. Heathrow is already in trouble, with long queues at the airport. On the same day, tens of thousands of other public servants will strike. Government ministers have been warned of a "summer of chaos" thanks to a massive rise in visitors for the Olympic Games and the Queen's Diamond Jubilee. More than 660,000 are expected.
The government is planning to draft in extra staff from other services – having cut 400 jobs. It's also suggested that airlines pay higher landing charges to reduce the chaos at the borders. But there are fears that such charges might be passed on to travellers, reported The Daily Mail. They've also called in 500 volunteers from Revenue and Customs, and retired immigration officers. Home Secretary Theresa May will meet with UK Border Force officials to discuss the crisis. Neither the government nor British Airways has yet advised travellers not to fly next Thursday. So what can be done about all this?
"The Government will run some kind of skeleton service. If the airlines advise people not to travel on that day, things might be quiet," said a union spokesman, quoted on The Daily Mail.
Government should listen to unions
Lucy Moreton, the ISU deputy general secretary, was quoted on The Guardian as saying that the union didn't "want to cause disruption", and that the Cabinet office out to listen to them over pensions.
Security is more important
Damian Green, the immigration minister, says that the strike is "completely unnecesary." He also thought that the public would agree with him. Security is "of the utmost importance" – and there are "contingency plans."
Bad impression for the UK
Boris Johnson has written to Teresa May to express his concern about long delays at Heathrow, reported The Star. He said it was a once in a lifetime opportunity to show what was great about Britain. Airline boss Willie Walsh, head of the Inter-national Airlines Group, said that the mess needed to be sorted out, as people were avoiding the UK.
Use Tesco check out ladies instead
Allison Pearson on The Telegraph had experienced chaos at the border herself. The UK Border Force's annual budget is £2.3 billion – why not hire some "nice Tesco check-out ladies" with that? They'd be "far better at spotting wrong'uns than our highly trained UK Border Force, which has already managed to let in an estimated 1.1 million illegal immigrants." Passport checking should be done intelligently. And as for Theresa May – well, when she's summoned to No 10 to explain herself, let's hope she has to "queue for 97 minutes without a bottle of water and no access to a lavatory, while being shouted at by a man in a tabard. That would learn her."