Republic Live, organizers of the Boots and Hearts Music Festivalhave announced the finalists for the Emerging Artist Showcase presented by SiriusXM Canada.
The final seven artists include Jesse Gold, Jess & Tay, Kelsi Mayne, Robyn Ottolini, Ryan Langdon, Shylo Sharity and Vanessa Marie Carter. The finalists will be competing for a chance to perform on the Main Stage at Boots and Hearts prior to Chase Rice on Sunday, August 7 th, in addition to a release with Universal Music Canada and a spot on the 2017 festival line up. Fans are invited to vote for the finalists at www.bootsandhearts.com/showcase. Fan votes will determine the artists' placement in the performance line up on the Front Porch Stage in front of a panel of judges at Boots and Hearts on Saturday, August 6, 2016.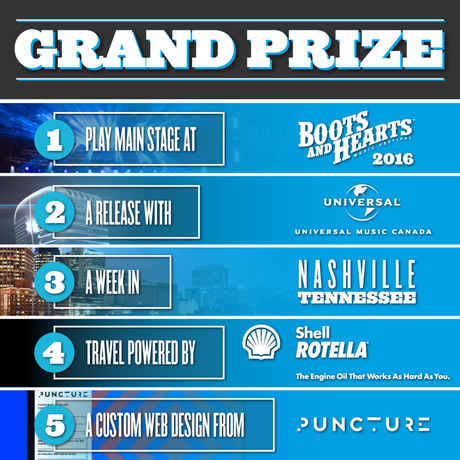 "The emerging artist showcase is something we are very proud to have as a pillar of our festival and are pleased to have SiriusXM Canada as a long standing partner," said Stan Dunford, CEO Republic Live. "It not only creates a platform for artists to showcase their talent to a country music fan base but can also jumpstart their careers. We look at some of the artists over the past four years that have been a part of this showcase and to see where their careers have taken them is truly incredible. We are very proud to support Canadian artists and work with Universal Music Canada in creating this opportunity for a release and can't wait to see these talented musicians take the stage this summer at Boots and Hearts."
The Top 7 Boots and Hearts Emerging Artist Showcase Finalists include:
Jesse Gold, Windsor, ON
Jess & Tay, Toronto, ON
Kelsi Mayne, Windsor, ON
Robyn Ottolini, Uxbridge, ON
Ryan Langdon, Niagara Falls ON
Shylo Sharity, Vancouver, BC
Vanessa Marie Carter, Oakville, ON
To view full biographies of artists, and to vote, visit www.bootsandhearts.com/showcase
About Universal Canada
Universal Music Canada is the nation's leading music company - and a division of Universal Music Group. They're home to Canadian and international artists like Hedley, Justin Bieber, Jennifer Lopez, Black Eyed Peas, Drake, Rihanna, City & Colour, Eminem, U2, Mumford & Sons, Bon Jovi, Sam Roberts, Taylor Swift and many more.
About Boots and Hearts
Boots and Hearts is an annual country music festival event run by Republic Live, and will take place at Burl's Creek Event Grounds, in Oro-Medonte Ontario August 4 - 7 in 2016. This year's headliners include Blake Shelton, Tim McGraw and Dierks Bentley as well as artists Jake Owen, Sam Hunt, Chase Rice, Dean Brody, Tim Hicks, Diamond Rio, Emerson Drive, Chase Bryant, Dylan Scott, Jason Blaine, Cam, Alan Doyle, Tebey, Aaron Pritchett, Raquel Cole, River Town Saints, Autumn Hill, Madeline Merlo, Lindsay Ell, Meghan Patrick, JoJo Mason, Jason Benoit, Jordan McIntosh, David James, Lindsay Broughton, The Reklaws, The Dungarees, Cory Marquardt, Kaitlin Kozell, Johnson Crook, Brea Lawrenson and Macarthur Clark. Boots and Hearts is the largest country music festival of its kind ever to be hosted on Canadian soil. It is a four-day celebration of country music where music lovers of all genres can escape from the rigors of daily life, band together with thousands of other country music fans and experience a once-in-a-lifetime event that they will never forget. All tickets and camping offerings are currently available at www.bootsandhearts.com.
Stay tuned as we will be featuring each of the individual 7 finalists in the coming weeks to allow you to get to know Canada's next Country Superstar!

Field Service Tech by day, Live Music Nut by night! My family and I call the Thousand Islands region of Ontario home. I'm a blogger, social media geek, tech, and live music fanatic. I founded Sound Check Entertainment in 2010 to help promote festivals and emerging artists from across Canada and the world! I now act as festivals liaison, manage media relations and, of course, cover events in the National Capital region. I'm also a diehard Habs fan but Sens fans fear not; as long as they aren't playing against my Habs I cheer just as loud for the Sens.