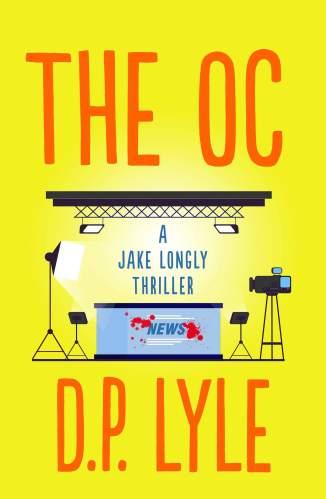 BOOKTRIB REVIEW
https://booktrib.com/2021/10/05/can-a-celebrity-stalker-outwit-this-snarky-ball-player-turned-private-eye/
VACATION GONE WRONG
In award-winning author D.P. Lyle's newest detective thriller, The OC (Oceanview), former pro baseball player Jake Longly - reluctant private investigator, lover of women and irreverent smart-ass extraordinaire - once again finds himself in the middle of a tough investigation.
Readers first met Jake and his girlfriend, Nicole Jamison, in Lyle's novel Deep Six. Against his better judgment, Jake agreed to help his private-eye-dad Ray (head of Longly Investigations) with surveillance only to have the target murdered right under Jake's nose. Not a great start. He probably should have just kept to his responsibilities owning a beachfront restaurant and bar - Captain Rocky's - in his town of Gulf Shores, AL.
Now, Jake and Nicole travel to the West Coast for the filming of Nicole's new screenplay, Murderwood. Nicole has a home on Newport Beach in Orange County, CA - lovingly referred to as The OC. What should have been a fun and relaxing vacation turns anything but. Nicole's best friend and local Channel 16 news anchor, Megan Weatherly, has a fan whose devotion is out of control, spiraling from innocuous infatuation to dangerous threat.
THE PI POSSE ARRIVES
For months, her admirer has sent Megan emails, texts and gifts expressing his affection; she believes he's just overzealous. But when his communications become threatening and he invades her private space, Jake and Nicole convince Megan the situation is serious - she's got an unstable stalker.
When Nicole was an actor, she'd had many experiences with stalker-fans and knows you have to put a stop to them. They need to find him, but Megan doesn't know who he is or what he looks like.
Jake and Nicole enlist the help of Ray, and Jake's best friend Tommy "Pancake" Jeffers. Pancake is Longly Investigations' computer wizard - a huge, red-haired eating machine who's excellent at research and securing confidential information no one else can get. Ray and Pancake also bring the firepower.(Instead of carrying a gun, Jake travels with an assortment of baseballs he can use as weapons by throwing them at the bad guys ... or sign for the occasional fan).
LIFE'S A BEACH
Everyone agrees that Megan's situation is "some crazy shit," number two on their PI hit parade. Their most disturbing case was when serial killer Billy Wayne Baker, living in Union Correctional in Raiford, FL, hired them to prove "he'd only killed five of the seven women he confessed to killing."
Ray and Pancake join the group in Orange County to do the super- sleuthing while Jake and Nicole keep Megan close. As the case progresses, the team considers whether the stalker is a stranger or someone Megan knows but would never suspect. What they find is something they never expected.
The story takes readers into the realm of celebrity actors and producers, especially Nicole's famed producer uncle, Charles Balfour, who is producing her movie. We experience the lavish Beverly Hills party thrown in Nicole's honor, the sandy shores of Newport Beach with painted orange sunsets and sailboats bobbing in the Pacific, and the chili cheese omelets from the iconic restaurant Charlie's Chili.
Although most of the book is narrated in the first person by Jake, Lyle elevates the tension with an unknown narrator taking us into the mind of the stalker. Readers will revel in the witty banter between Jake and Nicole. As Megan observes, they love to "word joust," like "Tracy and Hepburn reborn." Jake admits, "We did like to jab each other. Well, Nicole did most of the jabbing. She said I was a target- rich subject, whatever that meant. I was afraid to ask."
Reminiscent of Nelson DeMille's former NYC homicide detective character John Corey, Jake Longly's sardonic quips will make you laugh out loud. Who doesn't love a handsome, snarky knight-in- shining-armor who can throw a mean fastball?
DETAILS/ORDER: http://www.dplylemd.com/book-details/the-oc.html