After recently reading Truman Capote's 
Breakfast at Tiffany's
, I decided that I not only wanted to continue with my book-to-film theme, but keep it centered in New York City, too. That led me to John O'Hara's  
Pal Joey 
and 
BUtterfield 8
.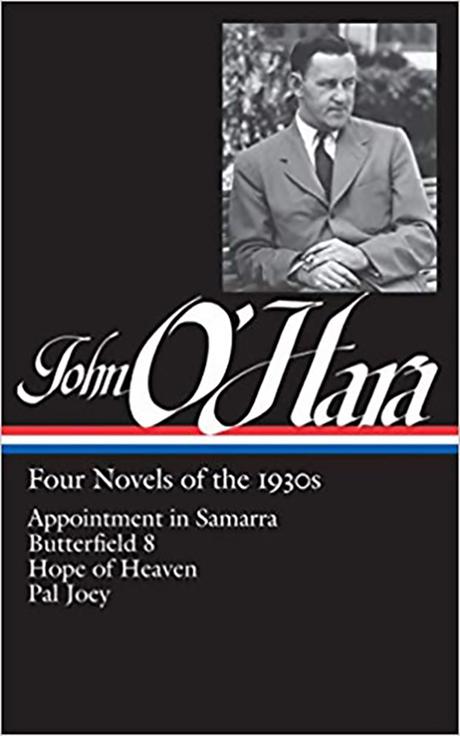 John O'Hara - Four Novels of the 1930s
I had heard for years that the 1957 film version of 
Pal Joey 
was nothing like the 1940 Rodgers and Hart Broadway musical - Gene Kelly apparently portrayed him as a genuine no-good crumb (as Joey would say). In the film Frank Sinatra isn't exactly an angel, but he has enough of the proverbial heart of gold to win the love of sweet Kim Novak. Not only does the original O'Hara text outline Joey's not-so-nice persona, but it is an epistolary novel, including a series of Joey Evans' missives to his "dear pal Ted." Down on his luck nightclub MC and singer Joey Evans is always trying to get his more successful friend Ted to help him get a job in New York, where Ted seems to be doing very well in his own musical career, but clearly Ted isn't biting. The novel started as a story that O'Hara submitted to 
The New Yorker
, first published in 1938. It was so popular he wrote more and more, until they were compiled published as a novel in 1940. To the delight of the reader, your pal Joey writes like he talks, which, 
a la 
Derek Zoolander, is not too good:
Dear Friend Ted
That is if I can call you friend after the last two weeks for it is a hard thing to do considering. I do not know if you realize what has happen to me oweing to your lack of consideration. Maybe it is not lack of consideration. Maybe it is on purpose. Well if it is on purpose all I have to say is maybe you are the one that will be the loser and not me as I was going to do certan things for you but now it does not look like I will be able to do them.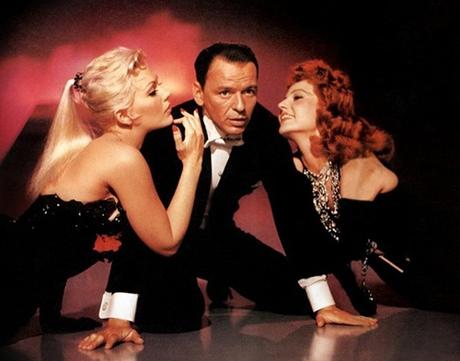 From the 1957 film, Frank Sinatra as your pal Joey with mice Kim Novak and Rita Hayworth
Pal Joey 
is a mostly funny read. Joey is grasping, but mostly clueless. He does seem to have a pretty good talent for the music and jazz of the time, but his human relations skills are less than zero, especially with the "mice" (Joey's slang for girls) that he encounters along the way. Joey doesn't seem to be doing much better with his career by the end of the novel than he did when it started, which adds to the realism, and even humor of the piece. Joey may have been a heel, but his persona has lived on entertainingly in print, stage, and screen.
1935's 
BUtterfield 8 
was made into a successful film in 1960, starring Elizabeth Taylor (who won the Oscar for Best Actress) and then-husband Eddie Fisher, right before she went on to make the blockbuster 
Cleopatra
. The story centers on Gloria Wandrous, a young woman who lives her life freely - sleeping with men that she likes, while searching for a meaningful life. Gloria is a complicated person. It is revealed, midway through the novel, that she was a victim of child sexual abuse. She is quite frank and flirtatious with her closest friend, commercial artist Eddie, who seems to be her only true friend. Gloria is getting tired of her itinerant life and believes that she has fallen in love with her latest lover, married man Weston Liggett. But will she be able to get past her malaise and open herself to love and a life with Liggett?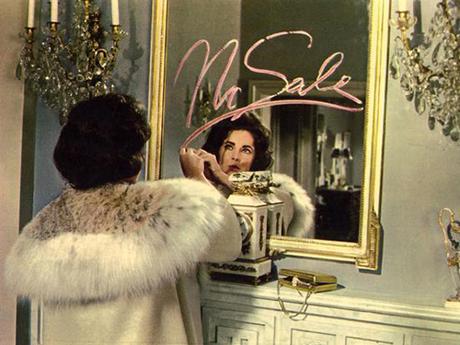 From the 1960 film, Elizabeth Taylor in her Oscar-winning turn as Gloria Wandrous in BUtterfield 8
"On this Sunday morning in May, this girl who later was to be the cause of a sensation in New York, awoke much too early for her night before. One minute she was asleep, the next she was completely awake and dumped into despair. It was the kind of despair that she had known perhaps two thousand times before, there being 365 mornings in a calendar year."
The book, although interesting to read and progressive for its time, has problems. Gloria is racist and abusive to her mother's black maid as a matter of course. She is the recipient of sexist behavior, which is not surprising, considering the time the story takes place, but that same sexism is also ultimately worked into the plot. Why is Gloria made to "pay" for her choices and behavior while her partner, Liggett, seems to get off scot free? That can happen frequently in life, but did the reader in 1935 accept her fate as unjust or inevitable? Events in the 1960 film may have been depicted as tragic, but seemed equally cliché. 
BUtterfield 8 
seems a precursor, almost a companion story to 
Breakfast at Tiffany's
. The authors each presented interesting, free-spirited women as their protagonists, but in the end, don't seem to know what to do with them.
This post also appears on Cannonball Read 11