The Fixer by Suman Dubey is a crime thriller that kept my mind manipulating and racing towards various guesses about the flow of the story and the action points of each of the key characters. Unfortunately, most of my guesses failed and kept challenging me at the end of every sequence. The story is really engrossing. Chapters are short and crisp. Every chapter has a well connected thread backward as well as forward. So, that makes it a very tightly woven storyline. I am sure, this is a right kind of Bollywood material that could be picked by a producer sooner or later. A constant fight between good and bad, within and outside, is always there since ages. And in every story of such a nature, we always expect the good to win at the end to produce a happy ending. How about in real life?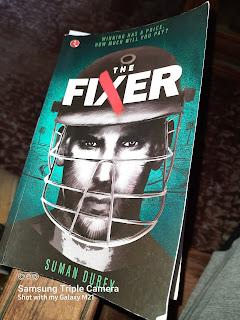 The good guy in The Fixer by Suman Dubey is Neil Upadhyay. Neil, despite belonging to the great business empire of Upadhyay family got fascinated towards cricket at a very early age and because of his seriousness and dedication in the game, he was all set to become the next Kapil Dev of the Indian cricket. But fortune had something different in store for him. Despite his outstanding performence, he was never able to build a successful career in cricket. That failure in international cricket kept haunting him always. What he could not achieve himself, he decided to achieve by coaching a team and taking it to extreme heights with the help of his knowledge, experience, and wisdom in the game. There is something called politics that has a very little of fairness in it. As we all know, politics and sports do not go hand in hand. 
When politics enters into the game of cricket, which is supposed to be the game of fairness and honesty, it is bound to kill its fairness by overpowering it with corruption and ill motives.  It is interesting to know, how badly Neil Upadhyay, in the crime thriller, The Fixer by Suman Dubey, gets trapped into the evil net of bad politics, and then whether he surrenders to it and let his ICCL team get fixed, or accumulates all his energies and cleverly makes fairness win over it. So, if you love reading a fiction curated with the elements of cricket, thriller, crime, and politics, then this book is definitely for you to grab. 
You can buy your copy of The Fixer here.
Disclosure: "As an Amazon Associate I earn from qualifying purchases." 
 (I received a review copy of this book via the Blogchatter Review Program in exchange for an honest review.)
This review is part of Blogchatter's Book Review Programme
I'm participating in Blogchatter's #TBRChallenge