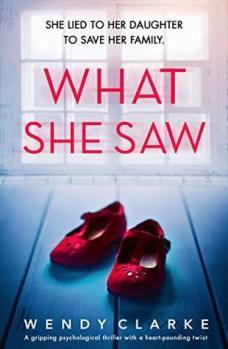 What She Saw by Wendy Clarke
Published by Bookouture on May 1st, 2019
Genres: Fiction, Psychological, Thrillers
Pages: 326
Format: ARC, eBook
Goodreads
Buy on Amazon



She lied to her daughter to save her family.Everyone knows Leona would do anything for her daughter Beth: she moved to Church Langdon to send Beth to the best school, worked hard to build a successful business to support them and found them the perfect little cottage to call home. Leona and Beth hike together, shop together, share their hopes and fears with one another. People say they're more like best friends than mother and daughter.It's the relationship every mother dreams of.But their closeness means that Beth struggles to make friends. Her mother has kept her sheltered from the world. She's more reliant on her mother's love. More vulnerable.When Beth finds an envelope hidden under the floorboards of their home, the contents make her heart stop. Everything she thought she knew about her mother is a lie. And she realizes there is no one she can turn to for help.What if you've been protected from strangers your whole life, but the one person you can't trust is the person closest to home? What She Saw is a gripping psychological thriller with an incredible twist that will make your jaw drop. If you love The Girl on the Train, Gone Girl or anything by B. A. Paris you'll be consumed by this.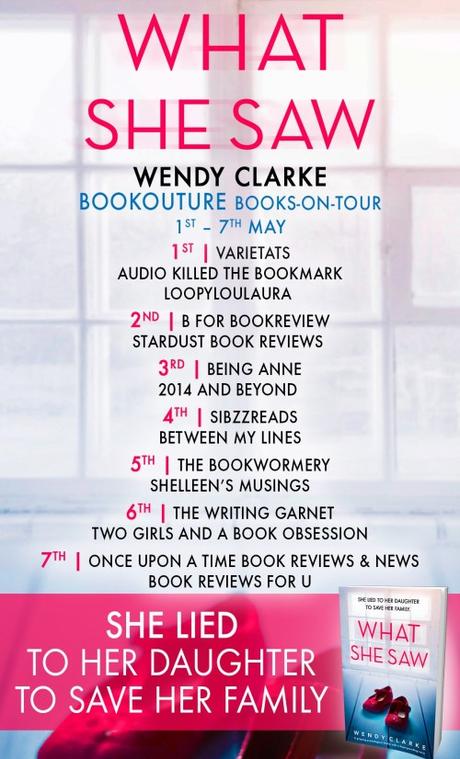 This is only my second Bookouture Books On Tour blog tour and when I saw this book, What She Saw by Wendy Clarke, I couldn't wait to read the book, so I immediately jumped on board for the tour (even though I've been struggling with the recovery from my aneurysm last month!!)
For years Leona was a single mom to daughter, Beth and they did everything together. Now Leona lives with Scott in the Lake District with Beth, now fifteen years old.  While Leona and Beth are still close, recently Beth has started giving Leona a bit of a hard time because she wants some independence and freedom.
Leona has lots of secrets from her past and when she makes a decision to revisit a part of her past, things quickly change that forever have a strong effect her life and her family's lives. It's hard to write reviews for psychological thrillers without writing spoilers so I'm just going to have to say this is one you need to read.
The conclusion of What She Saw is filled with twists and turns and then a shocking, but very satisfying end. What She Saw will sit with readers long after you've turned the last page. This debut book by Wendy Clarke makes me think I need to be on the lookout for her books to come in the future!! 
---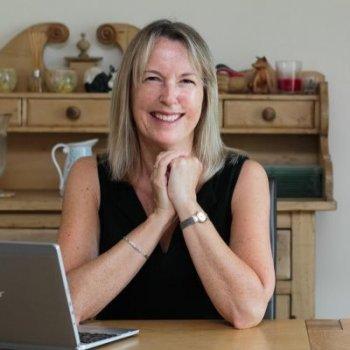 About Me:  From a young age, I've loved writing stories, but it wasn't until the small primary school I was teaching in closed down, that I started writing seriously. While considering my future, I enrolled on an online writing course. It was the first time I'd written since school, and I hadn't expected to fall in love with it again so quickly. I soon found out writing is a drug. After the course finished, I was left feeling bereft and my tutor suggested I try sending my stories to women's magazines. I was lucky enough to have my first sale in a matter of months and, since then, have had over three hundred stories published as well as serials.   It's not surprising that my thoughts then turned to novels. The idea of writing my debut psychological thriller came to me on a holiday in the Lake District. Settings and characters have always come first with me, but the plot quickly followed.   I am thrilled that my publisher Bookouture took a chance on me and, because of them, my dream to become a published novelist has come true.  My motto is – It's never too late!
Wendy lives with her husband, cat and step-dog in Sussex and when not writing is usually dancing, singing or watching any programme that involves food!  Connect with Wendy on social media ~~
WEBSITE  //  FACEBOOK  //  TWITTER  //  INSTAGRAM  //  GOODREADS
---
Thank you to Bookouture and NetGalley for an eARC of this book. This did not influence my review. All opinions are my own.

~ ~ ~ ~ ~ ~ ~ ~ ~ ~ ~ ~ ~ ~ ~ ~ ~ ~

It would be great if you would stay connected with me!! You can follow me on Twitter @DebiL1611, like me on Facebook at 2014 and Beyond, circle me on Google+, follow me on Tumblr, Instagram and Bloglovin', subscribe on YouTube, or connect with me on LinkedIn and Pinterest.

Please make sure to visit my homepage and subscribe to my blog for more great posts on running, fitness and lifestyle topics as well as food, product, music and book reviews, and more!