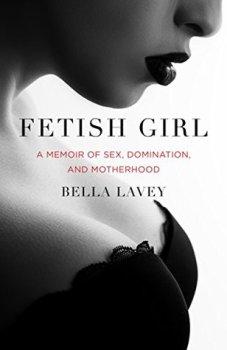 Fetish Girl: A Memoir of Sex, Domination, and Motherhood by Bella LaVey
Published by She Writes Press on November 13, 2018
Pages: 296
Format: Paperback
Goodreads
Buy on Amazon



Fetish Girl is a kinky roller coaster ride through addiction, violence, motherhood, sex, and the creation of Evil Kitty, Bella LaVey's larger-than-life dominatrix persona. It is a singular memoir that shows that a heavily tatted BDSM sex worker can be courageous enough to come to terms with her painful truths and raise a healthy, loving child, even as she remains boldly sexual and authentic. It's the story of a woman attracted to extremes who is willing to go to great lengths to uncover and make peace with her true nature.
BookSparks often has blog book tours or book challenges that span over the course of a season, or just a few books.  Today's book, Fetish Girl by Bella LaVey, is a book that is part of this year's BookSpark Book Tour called the #NSFW – the Not Safe For Work Blog Tour!!  At first, I was a bit reluctant about the whole tour, but then I decided that I could probably make it through. This isn't my typical genre, which I'm sure everyone knows.
Ms. LaVey writes about boarding a bus in New Hampshire marking the beginning of her years of traveling to many different locales such as Wisconsin, Pennsylvania, and Central America. She also writes of the joy and the difficulties in raising her child as a single parent. That being said, Fetish Girl actually revolves around the author's sexual awakening, that started when she began a career as an exotic dancer.  LaVey very graphically describes her days as a dancer when she learned how to walk in 6-inch heels, and ultimately learned how to strip. The author shares that the art of stripping opened the door to her participation in BDSM subculture.
In addition to describing her sexual experiences, Ms. LaVey shares her truths of being able to successfully overcome drug addiction, and getting through a broken relationship, as well as violence and other personal dramas. She further weaves into the story her slowly evolving persona of a dominatrix known as "Evil Kitty".  LaVey honestly shares her triumphs and her disappointments, as well as the scars she's gotten along the way. She's not judgmental or arrogant and tries to be more educational so that readers can learn more about her and her choices in life.
In all honesty, this book helped make me see the world through a different set of eyes. I'll warn you though: this book is definitely not for the faint of heart.
---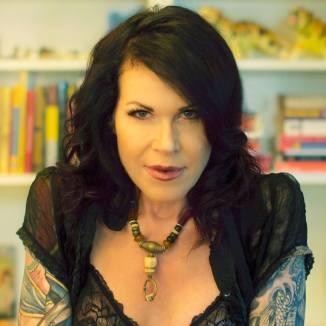 Bella LaVey spent five years as the highly sought-after dominatrix and erotic wrestler Evil Kitty. Through her own sexual awakening and quest for fulfillment she learned that there is nothing more powerful than bringing the darkness into the light and owning your story. She believes we must release shame and fear around our sexuality to become sexually whole and empowered.
After many bumpy years of journeying to sexual liberation in order to embrace a thriving, integrated life of sacred sex, intimacy, kink, dark, light and deep feminine devotion, Bella is now a holistic sexological coach and workshop facilitator. She helps women and men discover and access their own yet unliberated sexual selves in her soulful sexuality coaching programs, workshops and retreats.
Bella lives in Austin, Texas and teaches out of her studio, Temple Shakti.  See  TempleShakti.com for details.
---
I was provided with a complimentary paperback copy of this book from BookSparks in exchange for my post.  No positive review was required.

~ ~ ~ ~ ~ ~ ~ ~ ~ ~ ~ ~ ~ ~ ~ ~ ~ ~

It would be great if you would stay connected with me!! You can follow me on Twitter @DebiL1611, like me on Facebook at 2014 and Beyond, circle me on Google+, follow me on Tumblr, Instagram and Bloglovin', subscribe on YouTube, or connect with me on LinkedIn and Pinterest.

Please make sure to visit my homepage and subscribe to my blog for more great posts on running, fitness and lifestyle topics as well as food, product, music and book reviews, and more!