Susan Heim on Parenting is pleased to be a stop on the blog tour for Brian Leaf's new book, Misadventures of a Parenting Yogi: Cloth Diapers, Cosleeping, and My (Sometimes Successful) Quest for Conscious Parenting (New World Library, June 1, 2014).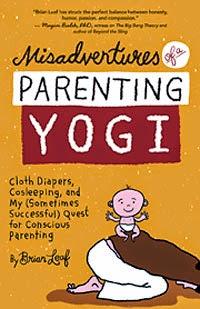 About the Book:
In his first book, Misadventures of a Garden State Yogi, author, yoga teacher, and blogger Brian Leaf told the funny, transformative story of how, as a freshman at Georgetown University, yoga changed his life.
Now, in Misadventures of a Parenting Yogi, Leaf turns his observant wit, and the calming effects of his yoga practice, toward his journey into "conscious parenting."
Leaf recounts hilarious stories of family mishaps and conundrums that any parent will relate to on a far-ranging list of topics — from birthing class to breastfeeding, choosing a school to pooping, and much more. He also imparts wisdom and techniques from the wide variety of parenting philosophies he and his wife have studied along the way — Attachment, Playful, Unconditional, Simplicity, and good old Dr. Spock parenting.
"Make no mistake. I don't have it all figured out," Leaf writes. "I'm about as neurotic as the next guy. Maybe just a bit more. And that's why I know that another sure key to parenting is patience, compassion, forgiveness, and even faith, in my kids, of course, but also in myself."
Book Trailer:

Brown Bear, Brown Bear, What Do You See? An Excerpt from Misadventures of a Parenting Yogi
Noah has just figured out that I have hair on my body and that he doesn't. A developmental landmark, to be sure. Unfortunately, though, his fascination is not so much with my legs, arms, chest, or even beard. He is consumed by the fact that, amazingly, he has no hair down below — on that part of Michelangelo's David that all kids stare at — and I do.
Which is fine. Except that kids have no filters. They will say anything. They don't know that it's funnier to point out your fart at home than it is at the salon. At nursery school pickup, they'll tell their teacher that you didn't wash your hands in the bathroom, or they'll ask you loudly if a woman with a bit of a mustache is a man.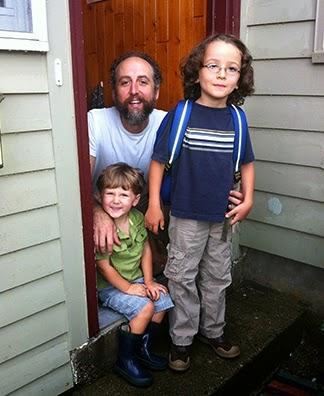 Eight years ago, before I was a parent, my four-year-old nephew shouted angrily at me in a public men's bathroom, "Stop sticking your finger into my tushie!" (I was not, though perhaps I was wiping a bit too thoroughly.)
So now Noah demands a viewing and a comparison at every possible opportunity. I don't believe in making any bodily parts or processes taboo. For example, when Benji wants to inspect the goods before we dump his potty, I say absolutely. (I do draw the line when he wants to use it as Play-Doh.) So when Noah wants to view my hairy David, I go with it.
This came up recently at the Eric Carle Museum of Picture Book Art in Amherst. Noah loves the bathrooms there — not only are the walls tiled with images from Carle's classic Brown Bear, Brown Bear, What Do You See? but the urinals are etched with flies AND they have the cutest little minitoilets for the under-seven set.
We were in a hallway crowded with parents and kids headed to the craft room when Noah realized he had to pee. Already excited about a trip to this bathroom to search for the blue horse tile, it hit Noah that he'd also have a chance to..."Daddy, I have to pee, and I want to see your hairy penis!" In his jubilation, he lingered on the last two words, so it sounded like "hairyyy peeeeeniiiiis."
Noah's shrieking glee drew the full attention of the museum's throngs of crafting parents and tots. All I could do was nod, smile, and offer a curt wave.
# # #
BRIAN LEAF is the author of Misadventures of a Parenting Yogi and Misadventures of a Garden State Yogi, as well as the owner and director of the holistic New Leaf Learning Center in western Massachusetts. He has studied, practiced, and taught yoga, meditation, and Ayurveda for twenty-three years. Visit him online at http://www.misadventures-of-a-yogi.com.
Excerpted from the new book Misadventures of a Parenting Yogi ©2014 by Brian Leaf. Published with permission of New World Library www.newworldlibrary.com