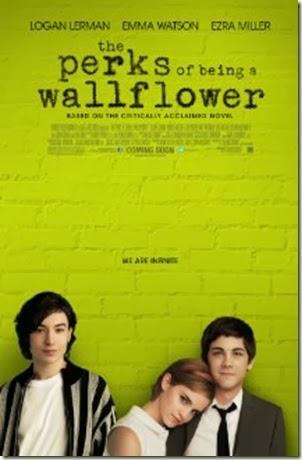 The Perks of Being a Wallflower

 Summary (from IMDb): An introvert freshman is taken under the wings of two seniors who welcome him to the real world.
Book Review: The Perks of Being a Wallflower by Stephen Chbosky
Book to Movie Thoughts:
I was terribly afraid to see this movie. The Perks of Being a Wallflower is one of my favorite novels and I was so scared the movie would ruin it. I hated the previews and the cast choices and was convinced this movie would be best skipped. I thought that the book was the kind that wouldn't translate well into a movie and that it would be completely ruined just because it couldn't be a good movie. I was convinced Perks was not a movie kind of story.
I was SO wrong.
From the moment the movie began, I was sucked in and immediately in love. Logan Lerman was an amazing Charlie. I guess I thought because he normally plays the confident "hero" characters, like Percy Jackson, he would completely ruin the shy, introverted character of Charlie. And he really proved me wrong. He was so amazing, I can't even form words. I think tears actually formed in my eyes during the first 5 minutes of the movie because I was so stunned at how perfect the entire thing was.
And the music! I can't even… it was so perfect. It was all from the right era, it was all the right type of music, and the movie had all the right songs. I think I was worried that it would try to be more modern and relate to the youth of today and I was so relieved that it stuck the era of the novel.
I watched the entire movie with watery eyes. I cried at some points, laughed at others, all the while marveling at how absolutely wonderful the movie was. As a book nerd, my insides were screaming and jumping with delight at how good of adaptation it was. As a lover of the story, I was touched and emotional at how well the movie captured the essence of EVERY SINGLE MOMENT.
I highly recommend the movie. Any reservations you have, just throw them out the window and watch the movie. You won't be disappointed.
Bottom Line: The Perks of Being a Wallflower is perhaps the best Book to Movie adaptation I have EVER seen. Well done!!!