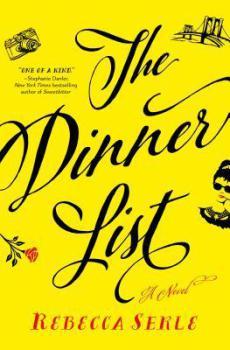 The Dinner List by Rebecca Serle
Published by Flatiron Books on August 28, 2018
Goodreads
Buy on Amazon
The Booksparks Fall Reading Challenge 2018 (#FRC2018) is here.  Summer is coming to a close and BookSparks releasing their next reading challenge.  They pick 17 new Fall books, and they take readers on an adventure this season.  Today's book is the first book in their challenge – The Dinner List: A Novel by Rebecca Serle.  I haven't read the book yet, so I wanted to spotlight it today so we can all read it together! Here's the synopsis:
"I have five words for Rebecca Serle's The Dinner List wistful, delicious, romantic, magical, love." –Gabrielle Zevin, New York Times Bestselling Author of The Storied Life of A.J. Fikry and Young Jane Young
"We've been waiting for an hour." That's what Audrey says. She states it with a little bit of an edge, her words just bordering on cursive. That's the thing I think first. Not: Audrey Hepburn is at my birthday dinner, but Audrey Hepburn is annoyed."
At one point or another, we've all been asked to name five people, living or dead, with whom we'd like to have dinner. Why do we choose the people we do? And what if that dinner was to actually happen? These are the questions Rebecca Serle contends with in her utterly captivating novel, THE DINNER LIST, a story imbued with the same delightful magical realism as One Day, and the life-changing romance of Me Before You.
When Sabrina arrives at her thirtieth birthday dinner she finds at the table not just her best friend, but also three significant people from her past, and well, Audrey Hepburn. As the appetizers are served, wine poured, and dinner table conversation begins, it becomes clear that there's a reason these six people have been gathered together.
Delicious but never indulgent, sweet with just the right amount of bitter, THE DINNER LIST is a romance for our times. Bon appetit.
---
I have not received a copy of this book, nor have I read it.  When it becomes available to me, I will most definitely be reading it.  I am posting as part of the BookSparks Fall Reading Challenge 2018 (FRC#2018).
~ ~ ~ ~ ~ ~ ~ ~ ~ ~ ~ ~ ~ ~ ~ ~ ~ ~

It would be great if you would stay connected with me!! You can follow me on Twitter @DebiL1611, like me on Facebook at 2014 and Beyond, circle me on Google+, follow me on Tumblr, Instagram and Bloglovin', subscribe on YouTube, or connect with me on LinkedIn and Pinterest.

Please make sure to visit my homepage and subscribe to my blog for more great posts on running, fitness and lifestyle topics as well as food, product, music and book reviews, and more!