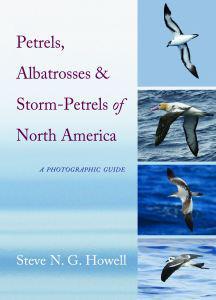 Petrels, Albatrosses & Storm-Petrels of North America: A Photographic Guide, is written and illustrated by Steve N.G. Howell. Howell is an acclaimed field ornithologist and writer and is an international bird tour leader with WINGS and a research associate at PRBO Conservation Science in California.
This photographic guide extensively covers 70 species of Petrels, Albatrosses, and Storm-Petrels. Howell mentioned a key idea to understanding each of these species in his first paragraph of the introduction: "to get the most out of this book I recommend taking a little time to read the introduction, which covers a number of subjects important to understanding tubenoses and their habitats, and which will help you develop skills for identifying what you see."
With all honesty, I have never seen a tubenose in my life. I really wanted to review this book, because I plan on taking a few pelagic trips over the next year and wanted to learn as much as I could about each species that I could possibly see on a pelagic trip in North America. When Princeton notified me that this guide was coming out, I jumped on the chance to review it. After talking with fellow birders, everyone said that this guide should be absolutely remarkable, because of the time and effort that Howell puts into his guides. I was not let down when reading through  this book.
The Introduction gives a great background to understanding tubenoses. Howell goes through the characteristics that define a tubenose, ocean habitats, phylogeny, biogeography, and vagrancy, taxonomy and an identification framework for each family, field identification of tubenoses, flight manner, environmental factors, appearance and topography, molts, plumages, and aging, how to see tubenoses, and finally the conservation of tubenoses. To have the capability to understand the species accounts, one definitely needs to read the introduction. The introduction provides an immense amount of information and knowledge that will lead to a better understanding of each species.
For each species account, Howell goes into extensive details regarding identification, taxonomy, names, status and distribution, field identification, habitat and behavior, a unique description, and molt. To compliment the species account, Howell  includes many photographs showing all of the details explained in the species account. For each species, there are photographs of different color morphs, plumages, ages, and flight patterns.
This is a great reference guide and I plan on studying Howell's beautiful photographs before attempting a pelagic trip. Seabirds seem to be the last of the line as far as identification goes, but after reading through Howell's guide, I feel that birders should have an easier time with the field identification of tubenoses.
Here are some of the key features of the book:
The first state-of-the-art photographic guide to these enigmatic seabirds
Includes hundreds of full-color photos throughout
Features detailed species account that describe flight, plumage, distribution, and more
Provides overviews of ocean habitats, taxonomy, and conservation
Offers tips on how to observe and identify birds at sea
Petrels, Albatrosses, and Storm-Petrels of North America: A Photographic Guide can be purchased at Princeton University Press.
I would like to thank Princeton University Press for kindly providing me with a review copy of this book.
Advertisement