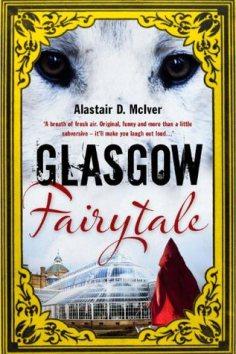 Glasgow Fairytale by Alastair D McIverAuthor's FaceBook Page
Amazon (UK)
Amazon.co.uk
This is my first book for the Popsugar Reading Challenge 2016. I'm doing the challenge in category order. This is my book for the 'a book based on a fairy tale' category.
Black & White Publishing (ebook), 2010
224 Pages
Fairytales happen. They happen in Glasgow. They're happening now. They're happening to TV heartthrob Reggie King, whose magic mirror manipulates him into unspeakable villainy... They're happening to Jack Cameron, who faces losing the love of his life, Rapunzel, and who has unanswered questions about his destiny, and about some magic beans he threw into the Clyde... They're happening to Ella McCinder, who dreams of marrying footballer Harry Charmaine... They're happening to Wee Red Hoodie, who has a decision to make about where her loyalties lie... And they're happening to Karl "Snowy" White, who is whisked into a topsy-turvy world of freaks and magic, with only the hope of seeing his Love again to cling to. United by the bonds of friendship, and in the face of a common enemy and a dark secret from Rapunzel's past, our heroes find their stories becoming one.
Once upon a time in Glasgow, Jack Cameron made a wish; a wish that would not come true.
Glasgow Fairytale is a fun read. The book draws inspiration from a lot of popular fairytales including Three Little Pigs, Little Red Riding Hood, Snow White and the Seven Dwarves, Rumpelstiltskin, Rapunzel and Jack and the Beanstalk. I liked the originality of the book, setting it in Glasgow. I chuckled out loud at times especially when the beanstalk sprouts at the Squinty Bridge and causes a massive traffic jam. I thought it was hilarious at times. For example, Little Red Riding Hood is an asbo-teen known as Wee Red Hoodie whose gran beats her. Rapunzel is an asylum seeker whose been sent to prison. Snow White is a bloke called snowy who lives with the seven freaks. Prince Charming is a hot young footballer called Harry Charmaine known to his fans as Harry Charming. Jack and Jill put in an appearance as well. Glasgow Fairytale isn't the best example of fiction that use a well-known fairytales as a springboard but it's a fun, fast read.