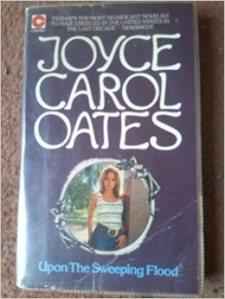 Upon the Sweeping Flood and Other Stories by Joyce Carol Oates
Coronet Books (Paperback), 1966
224 Pages 
BLURB FROM THE COVER
This collection of stories shows Joyce Carol Oates at her best. Written with wit, irony, with witchery they reveal a world that is frighteningly confused – a world where love can be more evil than hatred and violence is never far below the surface calm of many people's lives.
EXTRACT 
Though his father had been at St Jerome's Home for the Age for five or six years now, Walt Turner had never seen the home before – he had seen his father, of course, at various Christmases, at various houses of brothers and sisters, and the old man had journeyed down out of these saintly hills one fall to attend a Sunday High Mass sung by his second oldest son, newly ordained a priest: but Walt had never visited him at the home and had never imagined visiting him, since he did not like his father particularly.
STIGMATA
REVIEW
This is my first time reading Upon the Sweeping Flood and Other Stories. I'm working my way through JCO's back catalog. There's a lot I haven't read.
I thought Upon the Sweeping Flood and Other Stories was an average collection but nothing special. The collection was a bit of a let-down after reading the excellent, The Wheel of Love and Marriages and Infidelities recently. The best stories in the collection are At the Seminary and Norman and the Killer. These stories are startling and shine. The other stories are lacklustre and not particularly memorable. The stories were readable but below JCO's abilities as a writer. I find it odd that a writer can create something as brilliant as Where Are You Going, Where Have You Been? and as mediocre as Stigmata. Upon the Sweeping Flood and Other Stories is average and one of JCO's weaker collections.
RATING