A Guest Post by Dr. Harold Goldmeier
AN ISRAEL ELECTRIC CAR CRASH THAT INSPIRED AN INDUSTRY
Book Review of
TOTALED:
THE BILLION-DOLLAR CRASH
OF THE STARTUP that TOOK ON
BIG AUTO, BIG OIL AND THE WORLD
By Brian Blum
BLUE PEPPER PRESS
LCCN 2017908600 | ISBN 978-0-9830428-1-5
| ISBN 978-0-9830428-2-2 (ebook) © 2017
Review by
Dr. Harold Goldmeier, a public speaker and writer teaching business and politics to international university students in Tel Aviv and Jerusalem. His book Healthcare Insights: Better Care Better Business is available on Amazon. His Articles and Reviews appear on American Thinker, Arutz 7, Life in Israel, and in Jerusalem Post and more. He was a Research & Teaching Fellow at Harvard.
Business books, next to romance novels, are the popular genre of reads today.  Totaled by Brian Blum is one of the best, detailing "how to" and "how not to" build a business, from vision through total execution.  It is a required read for every entrepreneur and "wannabe," for business school students, founders, and everyone who loves heroes and visionaries despite the company's implosion – or because of it.  
Blum captures in Totaled the exigent pace and exasperating "what next" climate at start-ups.  The Better Place electric vehicle (E.V.) company is Israel-based, where the culture and environment nourish the young.  Blum's writing style turns a nonfiction case study into an exciting read more resembling a detective page-turner.  You feel the energy of founder, Shai Agassi, as he travels the world soliciting support for his revolutionary twist on E.V.s that will change the world and his commitment to the bigger picture – clean environment and independence from foreign oil.  Every chapter pulls the reader to root for Agassi and Better Place, who come close to scoring a win but miss the brass ring.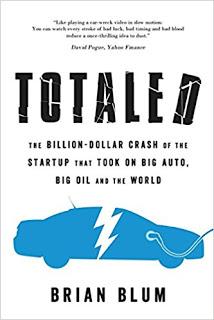 Blum seems to hit the right benchmarks of SWOT – i.e., the traditional marketing analysis and planning formula to explain the strengths, weaknesses, opportunities, and threats to Agassi and Better Place.  It's clearly impossible to separate the two.


The tone and tenor pick up as circumstances beyond management control unfold.  Right decisions made for all the right reasons have sour outcomes.  Self-interest of others collides with those of the founder, catapulting Better Place and Agassi into death throes and collapse.

The reader is never quite sure if Blum is writing fiction or non-fiction, a memoir or a novel.  The superbly written, easy to read, real-life story, told from historical reconstruction, is interlaced with conversations and reports on strategy meetings; readers feel the tension and emotions as, concomitantly, global events slam the auto industry and international economies.  Better Place was founded in 2007 just as the U.S. economy began crumbling, destroying the housing and auto markets that are the engines driving the U.S. economy.

At the center of the Better Place story is Israeli founder and visionary Shai Agassi.  His revolutionary method of putting electric vehicles on the roads demands a lot of money and backing from tycoons and governments.  Agassi is already rich from having sold another start-up.  He sells a lot of important people on the notion that Better Place is a "seminal company that is going to change how the world functions" (page 34).

Agassi's seemingly biggest antagonist is the oil and gas import king of Israel.  He is worth $4B, with worldwide business interests.  E.V.s will definitely hurt his income, but the king becomes a backer of Agassi's mission with seed money.  He takes a personal liking to Agassi.  At first, Blum suggests, it's about fulfilling the adage of keeping your friends close and enemies closer in case E.V.s take off.  Eventually, this mogul comes to believe in the possibilities and commits his own energies and money to build and later try to salvage Better Place.

Former prime minister and president of Israel Shimon Peres introduces Agassi at fifty government meetings and to international powerbrokers.  The reader gets the feeling of being in an observer's chair in the meetings the way Blum offers just the right quotes in context.

Mr. Peres introduces Agassi to Carlos Goshen, CEO of France's Renault, who tells Agassi, "We think the future is electric.  We have the car, and we think we have the battery" (page 29).  Goshen's intention is to set Renault apart from hybrids manufactured by other carmakers.  It is not to be.  The company never sells the car to Better Place at the low enough price Better Place needs to make the car and battery system economically competitive.

Blum begins the story of Better Place on page one describing Agassi, who "[w]as – and still remains – one of the smoothest-talking, charismatic entrepreneurs the high-tech world has ever seen.  Like his idol, Apple co-founder Steve Jobs, Agassi – a poker-playing Israeli boy wonder – is never at a loss for words.  After just a few minutes, he can turn even the most skeptical into a believer – and for Agassi, who treated business and negotiations like a binary game of high-stakes cards, there were only the believing faithful and those yet to be converted."

Heroes must have vision, persistence, chutzpa, spirit, money, management skills and luck to succeed.  It helps to have an overflowing bowl of TUMS antacids on the reception desk.  When times get tough, out pops a darker side of Agassi, who, we can see, becomes a tormentor and bully at times.  Blum does not see Agassi through rose-colored glasses, and he ascribes to him a good share of the blame for the failure of Better Place.

E.V.s held much of the car market for two decades beginning in the 1920s, but they petered out with the influx of cheap oil and gasoline.  They did not accelerate fast enough, were not exhilarating enough for daring young men and socially liberated women of the roaring twenties.  Manufacturers neglected producing them in flashy, sporty styles.  Most of all, E.V.s continue having limited road range per charge and slow battery-charging capabilities.  These factors still inhibit the industry in 2017, but new technologies and a cultural shift are taking hold.  Better Place led the way; it was the fifth largest start-up in history when launched in 2007.

Blum makes the reader feel a part of Agassi, as if he were inside Agassi's head, as he grapples with problems and makes pitches.  His primary failing is to ignore management issues to the detriment of company growth.  His vision, skills at poker, gift of gab, and personality are not enough.  The chapter titled "The Battery Switch Station" and those that follow describe his opposition to the devolution that might have saved Better Place.  Relatives manned critical positions in the company.  Other positions went unfilled.  The company experienced rapid turnover.  The infrastructure of Better Place the company needed more organization, purpose, and direction than Agassi the oracle provided.

A book from which I take excerpts for the business management and marketing classes I teach in Tel Aviv for international university students is going to be complemented with stories and events from Totaled.  I now see Agassi, with whom I have had some email correspondence and one brief conversation for articles I write about investing in E.V.s, as a hero of business.  I believe that Blum sees him that way, too.  China was always the market for Agassi, and its companies are robustly building E.V.s.  China, Britain, California, and other governments are laying down new laws requiring all cars to be electrified by 2024 or so.  Scoot is partnering with China carmaker CHJ, adding battery-swapping cars to its San Francisco lineup.  I can see Agassi smiling, reading the press announcement.

buy Totaled on Amazon.com


------------------------------------------------------
Reach thousands of readers with your ad by advertising on Life in Israel ------------------------------------------------------