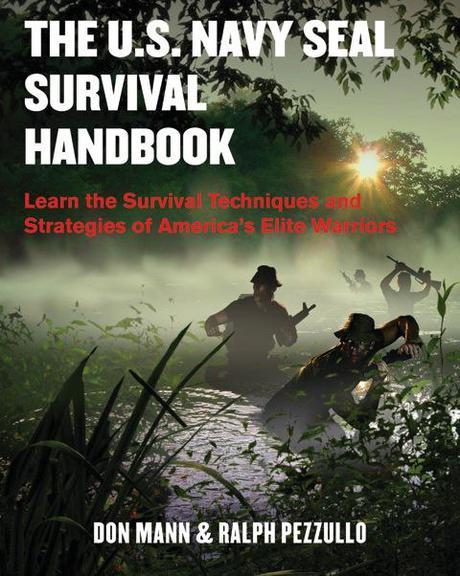 One of the distinct pleasure of writing this blog over the past few years has been getting the opportunity to meet some of the most amazing, yet down-to-earth, adventurers on the planet. Men and women who thrive on pushing themselves to the limit, exploring the boundaries of human endurance and living life to the absolute fullest. One of those men is Don Mann, endurance athlete, adventure racer and my Primal Quest boss Don Mann. Oh yeah, and he also happens to be a Navy SEAL.
Recently Don sent me an advanced copy of his new book The U.S. Navy SEAL Survival Handbook for a sneak peak before it goes on sale this July. As you can imagine, the book is packed full of tips and tricks from a guy who has made a living out of surviving in some of the most hostile environments on the planet. But the book emphasizes that being physically fit and strong won't necessarily keep you alive and that a healthy dose of mental toughness, and the ability to react quickly to changing conditions, are just as important when trying to survive.
The book opens with an introduction to the intense and demanding training that every SEAL must endure before joining the teams. That six-month long course, known as Basic Underwater Demolition SEAL Training, or BUD/S, is designed to forge men into elite commandos. That training begins with a legendary physical regimen that usually causes 2/3 of any SEAL class to flush out. Those that survive move on to the diving and land warfare phases where they hone their skills even further.
Of course, you and I aren't likely to ever take part in a BUD/S program, let alone successfully pass through it. Thankfully this book can share some of the wisdom that the SEAL teams gain from months of training and years in the field. The subsequent chapters focus on specific environments offering lessons on how to survive in the jungle, mountain, desert, arctic and even at sea. Those survival tips are far ranging and provide invaluable insights into how to find food and water, how to treat snake and insect bites, how to fashion weapons and tools and a whole lot more. There are even chapters dedicated to building shelters, dealing with inclement weather, navigation and a host of other important topics that could be the difference between life and death in the field.
While there is plenty to learn from each of the various chapters there is far more here than just a basic how-to manual for survival. The book is sprinkled with a number of great stories of survival, each with a lesson we can all learn from. Those stories make for fascinating, and often inspiring, reads while serving as a reminder of just what properly motivated humans can accomplish. Other sections take a look at the importance that mental strength plays in survival and one chapter even examines the "mystery of survival," those intangible elements that can spell the difference between success and failure.
Gear, field medicine, supplies, even creating your own survival kits. It is all here. This book proves that if you absolutely need to survive, you should definitely consult a SEAL. There is so much invaluable knowledge here that you'll want to read it twice just to make sure you get it all down.
The U.S. Navy SEAL Survival Handbook is still several months away from release, but you'll definitely want to keep it on your radar. In fact, you can pre-order it now at Amazon and have it shipped to your door when it is finally published. You'll find it a fascinating read on a number of levels and more educational than your typical survival manual. It just might be the best investment you've ever made.