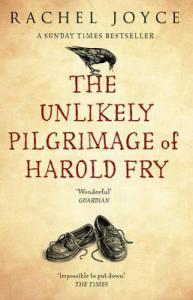 THE UNLIKELY PILGRIMAGE OF HAROLD FRY BY RACHEL JOYCE
BLACK SWAN (PAPERBACK), 2012
357 PAGES 
THIS BOOK IS PART OF MY POPSUGAR READING CHALLENGE 2015 (HTTP://WWW.POPSUGAR.COM/LOVE/READING-CHALLENGE-2015-36071458). THE CATEGORY FOR THIS BOOK IS 'A BOOK AT THE BOTTOM OF YOUR TO DO' LIST. 
I CHOSE TO READ THIS SIMPLY BECAUSE IT WAS THE BOTTOM BOOK ON MY 'TO READ' SHELF ON GOOD READS.
BLURB FROM THE COVER
When Harold Fry nips out one morning to post a letter, leaving his wife hoovering upstairs, he has no idea that he is about to walk from one end of the country to the other.
He has no hiking boots or map, let alone a compass, waterproof or mobile phone. All he knows is that he must keep walking. To save someone else's life.
EXTRACT 
THE LETTER THAT would change everything arrived on a Tuesday. It was an ordinary morning in mid-April that smelled of clean washing and grass cuttings. Harold Fry sat at the breakfast table, freshly shaved, in a clean shirt and tie, with a slice of toast that he wasn't eating. He gazed beyond the kitchen window at the clipped lawn, which was spiked in the middle by Maureen's telescopic washing line and trapped on all three sides by the neighbour's close-board fencing.
REVIEW
This is my first time reading Rachel Joyce.
The Unlikely Pilgrimage of Harold Fry was brilliant, a lovely book. Joyce offers one of those rare gems that make you feel happy and sad and laugh and cry at the same time. I thought Harold was a lovely character. His determination to walk more than 600 miles believing it will stop an old friend from dying of cancer would be laughable if he didn't seem so determined to go through with it and if he wasn't such a sweet old man. I was rooting for Harold as he plodded mile after mile after mile. As The Unlikely Pilgrimage of Harold Fry progresses Harold starts to think about the things he regrets from the past and it becomes clear he's not walking just to save Queenie's life but to make up for twenty years' worth of failings. I liked the flashbacks to Harold and Maureen's life; their intense love for each other in the early days and the fragmenting of their love and marriage once their son David is born because he's afraid to be a father. There's something wonderfully human about Harold's pilgrimage. There are revelations about David towards the end of the novel that are heart-breaking. The Unlikely Pilgrimage of Harold Fry is so moving it's almost painful and leaves a big lump in your throat. Unmissable.
RATING