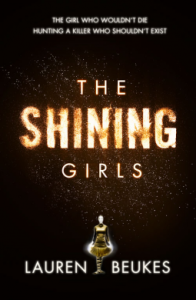 GENERAL INFORMATION
TITLE: THE SHINING GIRLS
AUTHOR: LAUREN BEUKES
PAGES: 386
PUBLISHER: HARPER COLLINS
YEAR: 2013
GENRE: CRIME FICTION / TIME TRAVEL
COVER TYPE: PAPER BACK
http://en.wikipedia.org/wiki/The_Shining_Girls
http://laurenbeukes.com
http://theshininggirls.com
BLURB FROM THE COVER 
THE GIRL WHO WOULDN'T DIE 
Kirby is lucky she survived the attack. She is sure there were other victims less fortunate, but the evidence she finds is – impossible. 
HUNTING A KILLER WHO SHOULDN'T EXIST 
Harper stalks his shining girls through the years – and cuts the spark out of them. But what if the one that got away came back for him?  
EXTRACT 
He clenches the orange plastic pony in the pocket of his sports coat. It is sweaty in his hand. Mid-summer here, too hot for what he's wearing. But he has learned to put on a uniform for this purpose; jeans in particular. He takes long strides – a man who walks because he's got somewhere to be, despite his gimpy foot. Harper Curtis is not a moocher. And time waits for no one. Except when it does.
REVIEW
The Shining Girls is a library book. I intended to read something different next but some of the books in my latest pile only have a two week loan period including The Shining Girls so have to be read first. I'd never heard of the author before. I picked up The Shining Girls because I liked the title and I knew I had to read it when I read the back cover.
I loved The Shining Girls. I want to make that perfectly clear. This is one of the best books I've read in ages. Original and brilliant. The Shining Girls reminded me of two books I've read and loved recently. The time travel aspect reminded me of The Time Traveller's Wife by Audrey Niffenegger. The surviving victim tracking down the bad guy reminded me of NOS4R2 by Joe Hill. I was gripped from the first page. The Shining Girls is well-written, fast paced and gripping. Beukes offers something original and impressive. The Shining Girls is supposed to getting adapted for the screen. That's a movie I would love to see.
I loved the way Beukes structures The Shining Girls. The novel is divided into fairly short chapters and each one deals with one of the various plots running through the novel. These include Harper's time-travelling serial killer adventures, Kirby hunting him and insight into the lives of some of Harper's victims. Each chapter clearly states the date including year so you never lose track of where or when you are. I liked the way Beukes drip fed you the story in little chunks. This created a fast paced read that compelled you to read on until all the little threads connected. I've read a lot of novels that use this style including Camilla Lackberg's novels and really like it.
Beukes does a great job with characterisation in The Shining Girls. Harper is a great villain. He's a nasty piece of work. He doesn't just kill his victims; he carves them up and decorates forests with their blood and guts. Beukes doesn't attempt to illicit any sympathy for him in the reader. He is just a nasty bastard. Kirby is a great character. She survived a brutal attack at the hands of Harper that should have killed her. She only survives because he thinks she's dead. She's a tough cookie. Her determination to find Harper is impressive. She spots a link between these impossibly connected murders and decides to kick ass. Good for her. Even the minor characters such as Harper's victims were well drawn.
Beukes is a great writer. The Shining Girls is a complicated novel plot-wise because of all the time shift. Beukes pulls this off without a hitch. The dialog was great. Beukes creates great, vivid descriptions of everything. The Shining Girls was alive in my head as I read it. I was impressed by her style.
The Shining Girls is a fast paced and compelling read. I struggled to put it down. It's one of those novels I could have read in one sitting if you know, life and work didn't get in the damn way. I knew I was going to love it before I'd reached the end of the first page. Beukes does a great job of building suspense and tension. She gives us one chapter with Harper being his nasty self then shifts back to Kirby's internship at a paper while actually researching Harper's crimes then shifts to Harper's first meeting with one of his victims and then moves to Kirby's childhood or encounters with Harper. This gradually adds tension layer by layer until you can't turn the pages fast enough.
The Shining Girls is a violent novel. Harper is a very bad man and he does terrible things. A lot of blood and guts is spilled. I was impressed by the way Beukes handles the violence. She managed to pull this off without being bloody, gory and over the top. Violence does not automatically equal gore-fest. Beukes gets that. I like writers who do. I hate writers who use violence as an excuse to be crass.
I like the way Beukes combines genres in The Shining Girls to offer something original. On the one hand The Shining Girls is a crime novel, a serial killer thriller. The time travel element adds an interesting sci-fi twist.
RATING

Up next: The White Woman on the Green Bicycle by Monique Roffey. This is a library book and the one I intended to read before The Shining Girls.  
Doctor Sleep by Stephen King has arrived. I'm about halfway through and loving it. This is one of King's best in recent years.