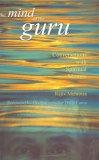 The Mind of the Guru: Conversations with Spiritual Masters by Rajiv Mehrotra
My rating: 3 of 5 stars
The Mind of the Guru is a compilation of 20 interviews with various teachers and spiritual leaders. While most of the individuals are from Indian spiritual traditions or offshoots thereof, the author makes concerted efforts to represent a range of religious and spiritual traditions.
The list of interview subjects is impressive and includes: The Dalai Lama (Tibetan Buddhism), Thich Nhat Hanh (Zen), S.N. Goenka (Vipassana), BKS Iyengar (yoga), Deepak Chopra (medical doctor and spiritual pundit), Sri Sri Ravi Shankar (Art of Living founder), Desmond Tutu (Christianity), and The Aga Khan (Islam.)
The book is at its best when these gurus are discussing their thoughts on development of the mind and spirit. Obviously, there is a lot of this type of discussion as that is the expertise of most all of the assembled teachers.
A brief forward by The Dalai Lama sets the theme of the discussion. His Holiness states that in Buddhist tradition one becomes a teacher because one has students. Consider this in contrast to traditions that fallaciously believe the title of teacher is granted from above. A master teacher may grant a teaching licence, but that's just a piece of paper unless someone shows up to one's lessons. He then goes on to say that one should abandon teachers who act in an unwholesome manner. This, too, is an important point. Having invested oneself in loyalty, it can feel like betrayal to leave a teacher who no longer suits one.
His Holiness is the lead chapter interviewee. In the early part of the chapter, he presents many thoughts on Tibetan mind science. "Mind science" may seem like a strange term, but there's an important part of Tibetan Buddhism that deals not with deities and conceptions of morality, but with understanding and improving how the mind operates.
If one comes from a tradition in which science and religion are in tension, this may seem unusual, but there is a definite scientific approach (observing the mind and playing out experiments with it.) One doesn't see a rift between science and religion in Tibetan Buddhism. In fact, His Holiness says that if certain parts of the religious tradition were proved not to exist, they would have to be abandoned. (For those beginning to raise objections, shown to be unlikely and disproven are two different things.)
A second Tibetan Buddhist, Sogyal Rinpoche, addresses the topic of death, and lends the book one of my favorite quotes: "If you are worried about dying, don't worry, you will all die successfully."
The first part of this five part book also includes interviews with Thich Nhat Hanh and S.N. Goenka. The former talks about mindfulness and the "interbeing," and the latter describes the Vipassana approach to meditation and its development. Interbeing is a term coined by Hanh to address a being who is connected to all things. For those unfamiliar with Vipassana, it's a meditation practice that emphasizes 10-day intensive meditation retreats. There are many retreat centers where this is practiced around the world, including one in the city in which I currently live, Bangalore.
The second part deals with the unity of mind and body. BKS Igenyar, head of a self-named branch of Hatha yoga, opens the chapter with discussion of his background and approach to yoga. Deepak Chopra talks about the intersection of science and spirituality. David Frawley talks about Ayurvedic medicine as well as some more "out there" subjects, such as astrology.
I hadn't heard of two of the three interviewees in part three, Swami Ranganathananda and Mata Amritanandamayi. However the third interview was Sri Sri Ravi Shankar, a guru well-known internationally for his soft-spoken teachings that combine yoga with a secular spiritualism rooted in Hinduism but not explicitly advocating it. Swami Ranganathananda is from Ramakrishna's order, which was a secular spiritualism movement rooted in Vedantic traditions but embracing diversity of belief. Mata Amritanandamayi is one of only two women interviewed for the book, indicating women haven't achieved equality in guru-hood just yet–for all the talk of enlightened thinking. (This is not a dig at the author, who probably went out of his way to include these two to have diversity in gender as well as diversity of tradition.)
The fourth part adds to the diversity by opening with an interview with Sufi Muslim, Pir Vilayat Inayat Khan. Sufi is the mystical branch of Islam. (Mysticism meaning a belief structure in which God is considered to be part of one and is accessed by mindfulness and introspection. This in contrast to the largest strands of the world's major religions in which God is conceptually something distinct from the self and is an entity to be worshiped. Most major religions have mystical elements or a mystical branch, including Christianity and Islam.) This interview eases us away from the traditions that are either of India or have their roots in India. (By that I mean that Buddhism has its roots in India, though, for example, Zen is different from Buddhism as practiced in India today.)I say "eases us away" because the mystical nature of Sufi would not create much cognitive dissonance in yoga practitioners, Hindu spiritualists, or Zen monks, but, instead, shares much common ground.
The second chapter in part 4 is that by the other female guru, Radha Burnier, who is a practitioner of Theosophy, which means "divine wisdom." This modern development is secular in that it doesn't advocate a particular religion, but rather engagement to fix societal problems and eliminate biases and divisions. In the interview we get a hint of the divides that plagued this organization.
Part four is rounded out by interviews with Swami Parthasarathy and U.G. Krishnamurti (not to be confused with Jiddu Krishnamurti, who probably would have been included in this book if he hadn't died in the 1980′s.)The former speaks about the end of knowledge and the latter about his role as an anti-guru, rejecting traditional approaches to thinking about spirituality.
The fifth part of the book is entitled "The Ethics of Engagement" and I'm afraid it's where the wheels roll off. It has six excellent authorities, Desmond Tutu, Baba Amte, Ajarn Sulak Sivaraksa, Swami Agnivesh, The Aga Khan, and Karan Singh.I don't criticize the selection of interviewees, but what happens here is that the chapters predominantly become about politics and policy. Some of this discussion is present throughout the earlier chapters, it's a point that the author/interviewer finds either intriguing or salable. For example, he asks The Dalai Lama about the politics of Tibet and China, but only after much wisdom is shared.
Here is my–sure to be highly controversial–view on the subject. Wise people show the least wisdom when they're speaking of politics and policy. I understand why readers may want to hear their thoughts, and I know that as leaders they shape movements in these domains. However, their thoughts on such subjects rarely pack the wallop of value they do when they are talking about subjects like improving one's mind or living a moral life–subjects on which they have great authority.
What happens when the wise talk about policy is the same thing that happens when most people do, they fail to understand the complexity of the issues and they end up making a lot of "have our cake and eat it too" statements. The most common of these is that we need to: a.) raise all the poor to a certain standard of living (a noble cause), b.) eliminate attachment to materialism and consumerism (also a fine cause, no one should be addicted to "stuff.")
As one trained as an economist, however, when I see these statements issued by the same person in the same interview, I laugh. We have no idea how to achieve these two things simultaneously; anybody who tells you they do is living in a dream world or is deceiving you. If everybody decided tomorrow that they didn't need a bunch of new gadgets and widgets, this wouldn't help pull the poor out of poverty. On the contrary, it would lessen their opportunities to raise their quality of life. Conversely, if you want to pull people out of poverty, they have to produce and sell things that other people want. Rising incomes result from rising productivity, and rising productivity comes with rising production–but someone has to buy that increased production. If you have a way to truly get around this dilemma and it's one that economist haven't thought of before and which hasn't either been proved wrong or internally inconsistent, I will personally lobby for you to be nominated for next year's Nobel Prize in Economics, and would place a bet on you to win.
I will say that some of the authors seem more savvy of the political and societal domain than others. For example, Mata Amritanandamayi says, "Even if we remove all nuclear weapons from our armories and transfer the to a museum [that last bit is, admittedly, a really bad idea], it wouldn't bring an end to war. The real nuclear weapons, the negative thoughts in our mind, should be eliminated." In other words, you can't fix society's problems through dictates, particularly when those dictates are in contradiction.
One of my lesser complaints with the book is that the author sometimes asks leading questions (i.e. he subsumes a conclusion in the way he forms the question.) However, almost invariably the speaker sets the record straight, but it makes one wonder about how the message is shaped by the interviewer.
There may be a little too much cultural self-congratulation going on throughout the book for some. There's a primacy fallacy theme throughout the book that India had everything perfect until it was infected by Western ideas. This isn't to imply there aren't fantastic ideas and cultural developments that have come out of India. I wouldn't have read the book if I didn't believe there were, but there was also the caste system and some other fairly giant issues of institutionalized injustice like women essentially being sold off into marriage.
An example of this bias can be seen in the talk of Swami Ranganathananda. He says of Socrates, "Had he been in India, he would have been honored and worshipped." Yeah, if he were of the right caste, maybe, but he also might have been bludgeoned to death in a fashion far more brutal than having to drink hemlock.
Overall, I would recommend the book. It is an impressive collection of teachers and all of them have something intriguing to offer in food for thought. One just needs to go back to The Dalai Lama's Forward and not be so awe-inspired that you fail to look critically at the message of each.
View all my reviews
By B Gourley
in
Book Reviews, Books, Buddhism, India, mind, nonfiction, Philosophy, Politics, Religion, Review, Reviews, wisdom, yoga
on
October 10, 2013
.