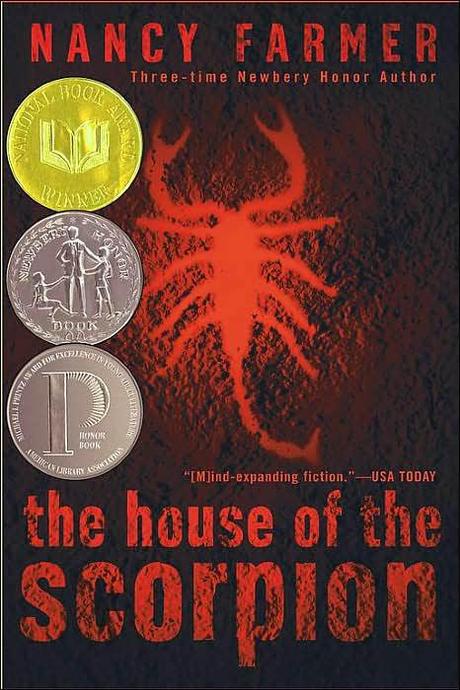 Title: The House of the Scorpion
Author: Nancy Farmer
Series: N/A
Publisher: Atheneum Books for Young Readers
Publish Date: 4/27/04
Genre: YA Dystopian
Pages: 400
Source: Indie bookstore
Buy the Book: The House of the Scorpion


SUMMARY: Matteo Alacran was not born; he was harvested with the DNA from El Patron, lord of a country called Opium. Can a boy who was bred to guarantee another's survival find his own purpose in life? And can he ever be free? (Via Goodreads)
SHAUNTA'S REVIEW: See all those medals on the cover of Nancy Farmer's The House of the Scorpion? The National Book Award. A Newberry Honor Award. A Printz Honor Award. This book so deserved every one of them.
I brought The House of the Scorpion with me to visit family in Las Vegas. Because I didn't think I'd have time to read, and I didn't want something that would distract me to much.
Wow. Was I so wrong. I started reading at about 9 the first night, and my husband pried the book out of my hands at 2 a.m. I finished it the next day. This book is everything I love about dystopians. It asks big questions (What makes a humanity? Should the rich be able to buy longevity, at the expense of the poor?) It provides a glimpse at a possible future, if the questions are ignored. Sometimes modern dystopian books leave me feeling empty, because while they are well-drawn worlds, they miss the questions and answers.
Matt Alacran is a wonderful character. He grows from the little boy who doesn't believe he's a human being, to a real hero. The setting is awesome. The space between the United States and Mexico, called Opium. Nancy Farmer did such a great job with it, the reader feels the heat, the dry desert air.
I can't say enough about this book. It is definitely on the best I've read this year. Even one of the best I've ever read. I couldn't put it down, and I didn't want it to end.