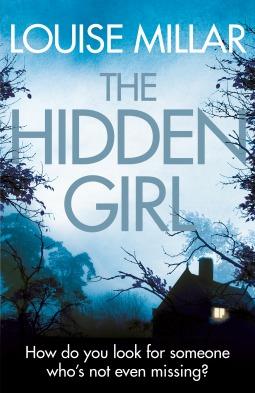 The Hidden Girl
By Louise Millar
Date Published: May 22, 2014 By Pan
Pages: 352 
Source: Netgalley via Publisher
Format: E-Arc
Cover Love: The cover is not my favorite. It could be done way better and the caption...I mainly dislike it because of the fact it takes so long for the book to even get to what that means, so if someone would read it, they'd be like..What? What? Ohh...Okay, That's what they meant.
Summary: 
Hannah Riley and her musician husband, Will, hope that a move to the Suffolk countryside will promise a fresh start.
Hannah, a human rights worker, is desperate for a child and she hopes that this new life will realize her dream.
Yet when the snow comes, Will is working in London and Hannah is cut off in their remote village. Life in Tornley turns out to be far from idyllic, who are the threatening figures who lurk near their property at night? And why is her neighbor so keen to see them leave? Plus Will's, behavior is severely testing the bonds of her trust.
Hannah has spent her professional life doing the right thing for other people. But as she starts to unbury a terrible crime, she realises she can no longer do that without putting everything she's ever wanted at risk.
But if she does nothing, the next victim could be her...

My Thoughts: The Hidden Girl is a great story, but not that great to the point where it did not have any problems.
We start of with married couple, Will and Hannah, who are two completely different characters. Whether or not this is good for their marriage, I will not say, but the fact they're so different is interesting. Well, Will and Hannah are moving into a house, but something is a little off with the dream house they imagined. What it is, you just have to read to find out.
The story is told from two different POV's. That being, Hannah and Will. That was the aspect I liked the most because these two people saw things completely different and that, in my opinion, was great to read.
What was not great was the pacing of the story. It took about 60% of the book in order for the plot to somewhat come together. The only reason I continued the book was the writing, which was fantastic! It was smooth and gripping and it flowed very well to to point where I just kept reading because the writing was that damn good.
The story was just a bit all over the place though. This happened, then this...then this and it was a bit much for a novel. Maybe if it was a movie, then, yes, it could have been done properly, but not for a book like this.
I will probably read what this author has out next, as well. This book was okay. Good for a person who is in the mood for a thriller, but not if you love thrillers because you may be disappointed with the set up of the story.