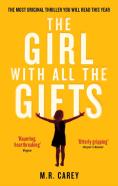 THE GIRL WITH ALL THE GIFTS BY M.R. CAREY
ORBIT (PAPERBACK), 2014
460 PAGES
This book is part of my Popsugar Reading Challenge 2015. The category for this book is 'a book you own but have never read'.  
BLURB FROM THE COVER
Every morning, Melanie waits in her cell to be collected for class. When they come for her, Sergeant Parks keeps his gun pointing at her while two of his people strap her into the wheelchair. She thinks they don't like her. She jokes that she won't bite, but they don't laugh.
EXTRACT
Her name is Melanie. It means 'the black girl', from an ancient Greek word, but her skin is actually very fair so she thinks maybe it's not such a good name for her. She likes the name Pandora a whole lot, but you don't get to choose. Miss Justineau assigns names from a big list; new children get the top name on the boys' list or the top name on the girls' list, and that, Miss Justineau says, is that.
REVIEW
This was my first time reading M.R. Carey.
I thought The Girl with All the Gifts was okay. I really enjoyed some elements of the novel. I thought the ending was great and events too me by surprise. I also loved the overall concept of The Girl with All the Gifts (great title by the way). However, the novel does not live up to all the hype. The words 'the most original thriller you will read this year' on the front cover aren't quite accurate. The novel opens very well and the novel is excellent until the junkers attack the base forcing Melanie and some key adults to flee. However, it drags badly after this until the last 50 pages or so which to be honest is unforgivable. There are pages and pages in the middle where nothing remotely thrilling happens and it becomes tedious. The Girl with All the Gifts would have worked better as a novella if 200 pages were cut. The Girl with All the Gifts was a good but far from wonderful book.
RATING