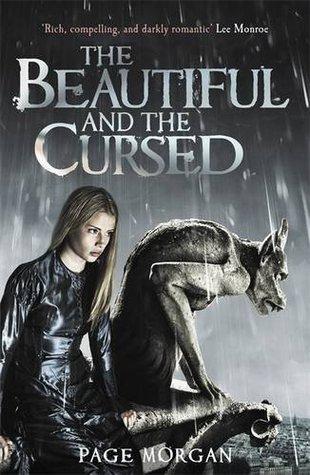 RELEASE DATE. May 2, 2013
PUBLISHER. Hot Key Books
PAGES. 343
FORMAT. Paperback
AGE GROUP. Young Adult
GENRE/S. Fantasy, Historical, Romance, Supernatural
SOURCE. Publisher
PURCHASE. AMAZON

---
SYNOPSIS. Ingrid Waverley is a young woman to be reckoned with. Faced with her brother's mysterious disappearance after an abrupt move to Paris, she is determined to discover what has happened to him. Soon she and her sister Gabriella are drawn into a Parisian underworld more terrifying than they could ever have imagined, but watching over them are two impossible (and impossibly handsome) young men. Luc is a Dispossessed, an ancient gargoyle whose sworn duty is to protect the humans who inhabit his abbey. Nolan has secrets of his own too. He is a member of the Alliance—a shadowy group dedicated to keeping Paris safe from the demonic forces that threaten to destroy it.
Secrets, danger and hidden powers stalk the girls in this beautifully imagined paranormal romance that will keep readers gripped from beginning to end—and one thing is for sure—you'll never look at a gargoyle in the same way again …
---
THOUGHTS. In the remarkably vast sea of otherworldly beings; angels, demons, fays, mermaids, reapers, werewolves, warlocks, witches, vampires and anything else you call otherworldly, it is quite impossible to cling on one kind alone as each presents its own fascinating mythology, origin, and story. But overtime, due to their popularity and appeal, they have become overused subjects to the extent of becoming tedious and sometimes turn out as failures. Thank God for bright authors like Page Morgan because The Beautiful and The Cursed marks the beginning of, somewhat, an evolution of the supernatural genre with her introduction of gargoyles into the realm of fiction.
We have known gargoyles as simply stone-carved ornaments, embodying hideous figures of human bodies with animal heads and wings, found mostly in abbeys, churches, cathedrals or sometimes in old mansions. In The Beautiful and The Cursed, Morgan diverges us from that common knowledge and welcomes us with a fresh and original concept. With her brilliant use of her creativity and imagination, Morgan has brought these terrifying stone figures to life with an impressive and intriguing mythology. We are introduced to a whole new world of gargoyles literally flying over at night, of gargoyles transforming into beautifully tortured humans, and of gargoyles who think, feel, and even fall in love. Probably, many have tried to bring these creatures to life but Morgan's is highly a standout.
Morgan's breadth of ingenuity doesn't cease on gargoyles alone. Along with the idea of gargoyles, Morgan aptly incorporated familiar elements of angel lore, demonology, and a secret society; the way she brought them out was most certainly a surprising delight. Though there were foreboding signs, the great foreshadowing of Morgan ultimately paved way leaving me openmouthed. Without being too complex, they effectively (and significantly) aided in the creation and existence of gargoyles.
As we become absorb in the enthralling underworld of gargoyles, angels, and demons, we become aware of the setting upon which the events unfold. Set in the nineteenth-century Paris, France, The Beautiful and The Cursed captures that time compellingly. Despite with my ignorance of the country, I could easily navigate my mind through the Parisian rues and alleys of Latin Quarter, unto the tall spires of the Notre Dame Cathedral, and back to the rooms of L'Abbaye Saint-Dismas, because of Morgan's lush and alluring and sometimes fear-inducing descriptions. It was like traveling and discovering a whole new world all at the same time without leaving the confines of your humble abode.
While the novel encompasses multiple characters, the distinct personalities and clever dialogues of each of the characters practically leap off the pages. Even with their refined demeanors as classic men and women, they are easily relatable and highly likeable; they too can be reckless, liberate, and unreasonable given with their circumstances and all. But beyond all of it, the twistedly intense (and at times comic) relationships and the uncontrollable passionate interests of each of the characters were the reason for my great amusement. Even, it's hard to name a favorite character because each one is unforgettable and stood out in their own way.
At closely three hundred fifty pages, The Beautiful and The Cursed is one book that you can experience all the new things at once: a deeply imaginative plot about gargoyles, an atmospheric historical Paris, and a refreshingly vibrant set of beautifully tortured characters. Along with whirring actions, daunting suspense, billows of romance and a curious ending, this is yet another dangerous world that you will love to lose into—a definite must-read.
---