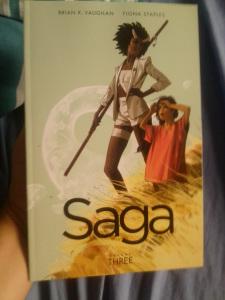 Yes, I have now caught up with the current releases and have to wait until November for vol. 4 of the excellent Saga (I don't buy individual issues). If you've read my reviews of the first two volumes you'll know that I love this series and it's pretty much a must-read at this point. This volume continues in the same vein as the preceding two with gorgeous artwork and a plot that's filled with surprises and absurdities that somehow make sense.
I feel that this volume moved the plot along and expanded the universe more. As such there weren't as many encounters with weird monsters, but I did like the various plot elements and the new characters that were introduced. Marko and Alana have a more personal threat as someone from their past catches up with them, but we also get a glimpse into Alana's family history as well.
I think at this point in time Prince Robot IV is my favorite character, but I also love Lying Cat, who gets some focus in this volume as well. It's a really great, fun series though and if you haven't checked it out yet you really should. I'm eagerly awaiting November for the next volume.