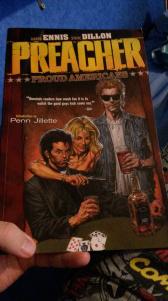 Proud Americans continues the story of Jesse Custer, a Preacher who merged with a spiritual being called Genesis. This gave him powers beyond that of mortal man, and a renewed purpose in life.
This volume begins with Jesse running into a man who served with his father in Vietnam, giving us a nice break between all the crazy happenings. The story is strong too, and gives us an insight into what kind of man Jesse's father was, and the values he would have instilled in Jesse. The bulk of the story is Jesse going to rescue Cassidy from France. There's some good moments between Jesse and Tulip as they continue to argue about whether Tulip should be coming along. I have to admit I side with Tulip completely as she shows how competent she is, but after some scenes of the previous book Jesse's position if understandable.
Ennis provides a look into the inner workings of the grail, going so far as to introduce to Allfather, whose appearance makes a memorable impact. A number of familiar characters, as well as a few new ones, round out the cast. The volume itself is filled with the usual violence and cursing, as well as imaginative and witty developments. The start is about Jesse, and the end is about Cassidy, but the main parts revolve around the Grail and the overarching plot, so at times Jesse feels almost like a guest star. I don't mind this as the plot stuff we get is REALLY good and there is some amazing art by Dillon, particularly after Jesse discovers what the grail is keeping in their cellar.
With surprising twists and explosive turns Proud Americans continues the excellent run. I am continually amazed by Ennis' ability to take the ridiculous and make it sublime. The theme of brotherhood that bookends this collection serves as a pleasant prologue/epilogue and I like it a lot.