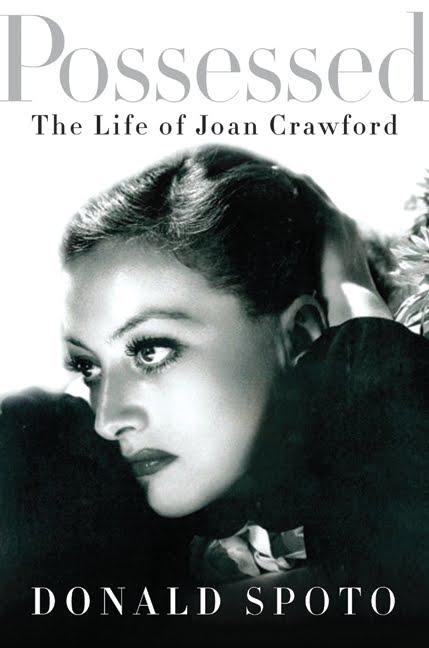 Title: Possessed: The Life of Joan Crawford
Author: Donald Spoto
Series: N/A
Publisher: HarperCollins
Publish Date: 11/2/2010
Genre: Biography
Pages: 350
Source: Library
Buy the Book: Possessed: The Life of Joan Crawford

SUMMARY: Joan Crawford was one of the most incandescent film stars of all time, yet she was also one of the most misunderstood. In this brilliantly researched, thoughtful, and intimate biography, bestselling author Donald Spoto goes beyond the popular caricature—the abusive, unstable mother portrayed in her adopted daughter Christina Crawford's memoir, Mommie Dearest—to give us a three-dimensional portrait of a very human woman, her dazzling career, and her extraordinarily dramatic life and times.
Based on new archival information and exclusive interviews, and written with Spoto's keen eye for detail, Possessed offers a fascinating portrait of a courageous, highly sexed, and ambitious woman whose strength and drive made her a forerunner in the fledgling film business. From her hardscrabble childhood in Texas to her early days as a dancer in post–World War I New York to her rise to stardom, Spoto traces Crawford's fifty years of memorable performances in classics like Rain, The Women, Mildred Pierce, and Sudden Fear, which are as startling and vivid today as when they were filmed.
Illuminating and entertaining, Possessed is the definitive biography of this remarkable woman and true legend of film.
BRIAN'S REVIEW: "NO WIRE HANGERS EVER!!!" It's a sad statement that a lot of people nowadays think of that famous line from the deliciously campy 1981 film Mommie Dearest, when they think of Joan Crawford, one of the most talked about and beloved film actress of the 20th century. This one really stood out to me in the Film section at my local library, because I wanted a more balanced biography about the woman that wasn't written by a jealous daughter, and so I picked it up without hesitation. I've always been fascinated by Crawford – before reading this book about her life, I had seen Mildred Pierce, Johnny Guitar, the splendid Whatever Happened to Baby Jane? and her short Night Galley film Eyes, directed by a nineteen-year-old Steven Spielberg. I discovered Whatever Happened to Baby Jane randomly when I was in high school, and despite the fact that I was sixteen watching a black and white movie about two old broads trying to one-up each other, I was enraptured. It's a tremendous gothic horror movie that hasn't decreased in its power in the last fifty years.
We here at Story Carnivores mostly write about YA fiction, but I have a soft spot on my heart for non-fiction books about the movies. Some of my favorite books in this genre include Pictures at a Revolution, Down and Dirty Pictures, Rebels on the Backlot, The Great Movies trilogy, and, most recently, Pauline Kael: A Life in the Dark, which I reviewed here and got to interview the author Brian Kellow. Possessed: The Life of Joan Crawford was written by Donald Spoto, a prolific celebrity biographer who has written, get this, more than twenty-five biographies, about such legendary actors and directors as Grace Kelly, Alfred Hitchcock, James Dean, Elizabeth Taylor, and Laurence Olivier. He's even written a biography about Jesus Christ (!). So knowing all this about Spoto actually disappointed me as I opened the book, because I figured this would be a marginal read, with research thrown together to meet a deadline. But such was not the case; I really enjoyed this book.
As a diehard movie buff, I especially love reading about the early days of cinema, and I enjoyed immersing myself in Joan Crawford's early career in the 1920′s, when she arrived in Hollywood as Lucille Fay LeSueur, and was immediately signed to a weekly salary by MGM. The most striking element in this early part of the book is learning about Joan's frequent co-star William Haines, an open homosexual (practically unheard of in the entertainment industry in the 1920′s). I also enjoyed reading about her relationships with Clark Gable and Douglas Fairbanks Jr., and her desire and struggle to be a mother. And then there are all the movies of course, ranging from middling titles in the 1930′s, to her acclaimed work in the 40′s and 50′s, and her late-career horror streak in the 60′s. She's given us many lasting films that will live on for many years to come.
Joan Crawford wasn't perfect. She fell in and out of love a lot, she wasn't the best mother to her adopted children, she took movies here and there not out of love for acting but to pay the bills. But from all the research and interviews Spoto conducted in this book, I can now see that Crawford, while she had her eccentricities, was a decent woman with a good heart, who went out of her way for her friends and who told the truth when it wasn't, and probably still isn't, in fashion. She was a true star, and one whom I've come to respect and cherish after reading this fine biography. I look forward to checking out more of her films now, like Humoresque, Daisy Kenyon, and Sudden Fear. I love Whatever Happened to Baby Jane? but her true classic, which won her an Academy Award, is Mildred Pierce, released in 1945 and directed by Michael Curtiz (Casablanca). If you've never seen it, do yourself a favor and check it out. It's one of the great films of the 40′s, and it's Joan Crawford at her absolute best.