Book Review of Work, Life and the Balance In between
About the book: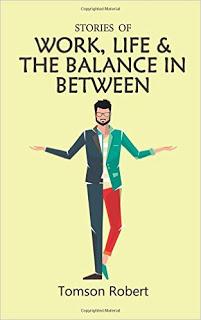 Are you stuck in a job you don't love? Are you made to do flunky work in office? Do you struggle to balance work and life? Do you want to quit your job and start a business of your own? Do you wonder about the meaning of love and life? If these questions apply to you, then this book is for you. This book is a collection of 10 contemporary short stories based on the corporate world and life in general. Although these stories are a work of fiction, they capture real life situations and dilemmas that I have seen and faced. Each story is aimed to leave the reader with a message. I believe these can help you answer the above questions. If not, I have tried my best to keep the stories as humorous and entertaining as possible
My Review:
Awesome book to lift up your spirits and will help you in paving a path from mediocrity to excellence. The stories will help you relate your work culture with the characters in the story and it will make you feel as if you are a part of the story rather than the reader. A short read but a must read book which has the power to change your course of life forever, if you get the messages encrypted within the stories.
About the Author:
"Management Consultant by day and amateur author by night. Husband to a beautiful wife, father to an adorable baby girl and raised (along with a smart younger brother) by loving parents in God's Own Country (a.k.a Kerala, India). Currently living in Dubai and working for a consulting firm. Email: [email protected]"