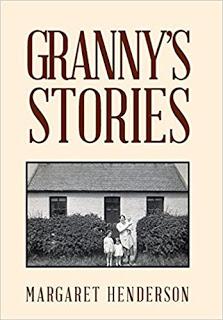 About the book


Here is a life story to be gleaned from tales of adventure, remarkable journeys, and interesting people. The author's intention is to inform and inspire her granddaughters, and to leave them with an image of her as something more than the old woman they knew and loved.
Some internet research into the lists at the end of some of the sections will provide an historical and geographical backdrop to many of the lively anecdotes


My review


When I first saw the cover page of the book, it felt as if there will be stories told by granny for kids and I will fall asleep reading to the stories. It was fun thinking of the book as a story book for kids. It would have been good to read the kids stories to move out from the hustle bustle of life and to take a short break from life.
Now when I started reading the book, I found out that it was an autobiography of the author Margaret Henderson, who actually isn't famous but her life is full of events and describes her life as it is; the people she met and the travel experiences she had and the teachers who taught her and a lot about her family.
What I noticed in the book was that some characters came into existence in various chapters and the author has described about them in one chapter and how they had influenced her life along with another person in her life in a different chapter. That was great to see a different perspective and approach of a person when he/she is with another person and how it influences the author life. It is a completely different approach of writing which isn't a conventional one. This is what I liked a lot about the book.
Life is full of experiences and this book is a living testament of the author's life. It's always not necessary for you to live a great life; you can live a normal life and share your experiences in a great way.
Read more about the book at Online Book Club. This book was an "OnlineBookClub.org Book of the Day"