About the Book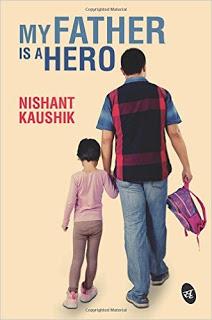 Vaibhav Kulkarni has had few accomplishments worth boasting about in his modest life and career. Yet, his happy universe lies intact in the love and pride his ten-year-old daughter inspires in him. Nisha Kulkarni justifies every reason to be the favorite child of Pune's premier school-be it her academic brilliance, her exceptional facility with music, or simply her unassuming charm. With his daughter showing promising signs of a stellar success story, Vaibhav has made peace with own unrequited dreams of the past. But when the girl mysteriously starts losing mojo and spirals into despair and seclusion, Vaibhav faces the toughest test of his life as single father - to reclaim his child's trust and happiness. What distance will a middle-class man with limited means go to show his daughter the merit in believing in a dream? Read this gripping tale of love, courage, and of the emergence of an ordinary man as an extraordinary hero




My review


Incredible story and an inspiring one too! The story will touch your heart and will change the way you thought about life. Superb storyline and everything is just perfect in the story .
Vaibhav a father of 11year old Nisha has a modest lifestyle and lives in the suburbs of Pune. His prized possession is his daughter Nisha. Nisha is a bright student right from the beginning and is the most loved girl of the teachers. Academically Nisha is great and to add feathers to her hat she is equally good at singing and loves to sing the songs of her favorite singer Rihanna. The story showcases the struggle and the sacrifices Vaibhav has to do to make her little girl smile. A quick read though the story captures the attention of the reader and as I was reading the story I really felt connected to the plot and was able to grasp the message Nishant has tried to convey through the story.
"Your failures can never weigh as much as the burden of your regrets."
I wish everyone reading this book find their true destiny and follow the dreams till the very end.
What is little Nisha's dream and how Vaibhav fights against all odds to help her daughter, get to meet her dream person?
Read the story to find out what happened next and be prepared to be inspired and I wish you follow your dreams more than anything else in the world.
I received the book from

WritersMelon.com

in exchange for an honest review.