Motions and Moments: More essays on Tokyo 
Book Review 
Motions and Moments book by Michael Pronko is a collection of essays about Tokyo. Though being an American, having stayed in Tokyo for a long time he has captured the essence of Tokyo in his descriptive essays. These essays are collection of monthly columns he wrote for Newsweek Japan. He gives a bird's eye view about the lifestyle of Tokyo and how the city continuously reinvents itself to cope up with the fast advancing world.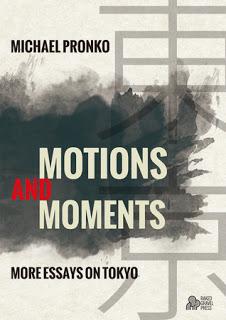 When you are outsider dwelling in a foreign place, people tend to raise their eyebrows when you order a dish in their accent. The people of Japan are obsessed with their culture and have a notion that Japanese only can truly enjoy the Japanese culture.
The author has also given a vivid description about how the Western Culture is different from that of the Eastern and how it is influencing the Japanese lifestyle. The Japanese are now changing to crater the needs of the changing world and are now becoming a little more spacious than the clumsiness it was obsessed with, getting new trains, buildings and restaurants that are roomier now, thereby getting more like the Western.
One thing that I found funny about Tokyo is whereas in New York or London if you get lost in the city you have to find your way horizontally, in Tokyo you get lost even vertically and as well may be also in need of an altimeter. In Tokyo coming out of a building or train station, you could be exiting into an underground tunnel, a walkway over a street, the third floor of a department store or onto an open concourse with its own self-created ground floor!
To crater the needs of the people of Tokyo who don't like to be in any kind of discomfort, they have kiosks. Kiosks are like running backups for almost anything that you forget at home and can still find it in every nook and corner of Tokyo. From newspaper to handkerchiefs to umbrellas and even battery chargers you can find almost everything with Kiosks. The author quotes, "The kiosks are there for you in a way no mother could be."
Japanese are also more obsessed with cleanliness and it certainly is their first priority. They can't just stay in a dirty place and it isn't that the government is working on. The city is kept clean by its dwellers. Great way to showcase the beauty of your city!
You can get a guide book to Tokyo and still miss the minute details about the city that is hidden if you don't have the eyes from within the city, which can help you to see the beauty of a city inside out. These essays will guide you into those details which you may miss out, on your next journey to Tokyo.
There are lot of Japanese words in the book some of them are explained and some have been left out so that they don't hinder the flow of the essays.
Every detail of Tokyo is laid out in the book and is a must buy for anybody who would love to visit Tokyo or to know about the city.  A great effort has been put by the author in the all the years he has stayed in Tokyo detailing every aspect of Tokyo.  I wish he writes stays in a new place and writes more about the new city.
About the author
Days, I work as a professor of American Literature at Meiji Gakuin University. My students' questions and responses to our study of Cormac McCarthy, Miles Davis, Stanley Kubrick and Robert Rauschenberg keep me on my cultural toes. I ponder their responses to American literature, film, music and art as I ponder my own reactions to Japanese life and culture. That gig's been going on for 15-plus years, and is as interesting as ever. I write and present about adaptations, novels, critical thinking and jazz for academic journals, but outside of those confines, I have written for many other publications over the years: Newsweek Japan for a decade, The Japan Times for a dozen years, the once-great Tokyo Q, and the great art site, Artscape Japan (www.dnp.co.jp/ artscape/ eng/). I also run my own website about the intense jazz scene in Tokyo and Yokohama, Jazz in Japan (www.jazzinjapan.com). Most of the essays in Motions and Moments were first published in Newsweek Japan in Japanese, but some were written in English for my homepage (www.michaelpronko.com). All of them were rewritten for this collection and never before published in English in their current versions. My first collection of essays on Tokyo, Beauty and Chaos, was released in Japanese in 2006 and in English in 2014. The second collection, Tokyo's Mystery Deepens, was released in 2009, and in English in 2014. So, if you like these essays, or you're just interested in Tokyo, please check out the first two in whichever language you prefer. I was born in Kansas City— a very different world from Tokyo. The creative tension of that early life and my current one— the differences between those two in space and time and in motions and moments still fuels much of my writing. I studied philosophy at college, and that attitude comes in handy writing essays. In between traveling and bouncing in and out of graduate schools, I lived in Beijing, China for three years. Now, I live in western Tokyo, and will continue to, at least until some huge earthquake shakes me loose.
I received the book from Online Book Club in exchange for an honest review.
Read more about the book at 
http://forums.onlinebookclub.org/shelves/book.php?id=58817