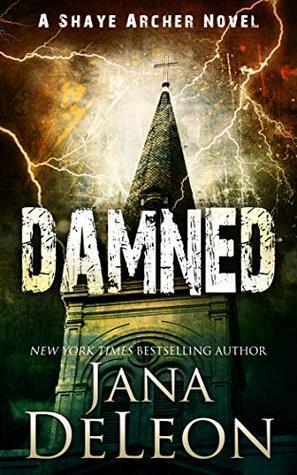 Buy 'Damned' through
GoodReads
Blurb
Genre – Mystery / Thriller / Series
When young priest Nicolas Chatry took his vows, he thought the hardest thing he'd have to deal with was accomplishing his duties from a wheelchair. Until a murderer steps into the confessional. Unable to recognize the voice or maneuver quickly enough to get a look at the killer, Nicolas has no way of identifying who admitted to such a horrific deed. And even if he did, his vows prevent him from telling anyone about it.
Unable to live with the knowledge that a predator is walking the streets of New Orleans, Nicolas breaks his vows and hires Shaye to do the impossible—find the killer before he strikes again.
Review –
2 Stars
My relationship with Jana Deleon's book started in 2012 when she released her first Miss Fortune Mystery free on Kindle and I was hooked. I have never looked back since then. Every single one of her book had been amazing to read and illustrative with words to a point where a mental movie started to play as soon as I start the first chapter in any of the series.
Shaye Archer series had been in the same league for all the 6 previous books. However, on this particular one, it felt like Jana had given off the writing work to someone else while only designing the concept around the story. The story in itself was brilliant. The suspense building throughout the book with an end completely away from the line of clue setup.
The characters in the story were good enough to pull through, but not brilliant. Jana has done some amazing wonders with her previous books, which did not reflect on this one. The description went completely off on this one, though. Excess description and absolutely unnecessary statements puts the reading off. Over-imaginative writing and language made me want to skip a lot of pages in the book. Certain thoughts, feelings, dialogs and situations felt mis-matched with the setting of the previous or ongoing scenes. The characters randomly saying, thinking, or feeling things which were inappropriate for the situation really makes you want to quit reading, but the pull of the suspense kept the flow on.
Overall, with only the plot and the feeling of closure at the end of the book hitting the right spot, it is with a heavy heart that I am giving Damned a low rating of 2 stars. I am highly disappointed with this book and its writing level. Jana Deleon has never received less than 5 stars from me and I hope the next book in Miss Fortune series makes up for this one. For now, I would not recommend you to read this book, but definitely try the other books in the series and the other series from the author.
---
Check out the other books in the series on GoodReads:
Sinister (Shaye Archer Book 2)
Diabolical (Shaye Archer Book 3)
Wicked (Shaye Archer Book 4)
Unseen (Shaye Archer Book 5)
Dreadful (Shaye Archer Book 6)
Jana also writes other cozy mysteries in the following series
Miss Fortune Mystery (13 books in the series)
Ghost-in-Law Mystery (6 books in the series)
---
More description of the book and purchase links can be found on GoodReads
Check out my Book Review Request and Review Policy