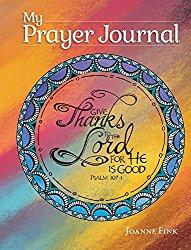 I sometimes get into a rut when it comes to prayer. The purpose of prayer is to communicate with God, but I wouldn't blame Him if he got a little bored with my conversation! That's why I really like the concept of keeping a prayer journal. A good prayer journal not only provides space to record the people and events I want to pray for, but also includes prompts to get me thinking in new directions so my prayers don't become stale.
I recently received a lovely prayer journal for review called simply,
My Prayer Journal
by Joanne Fink (Quiet Fox Designs, 2018). This beautifully illustrated hardcover book is almost too pretty to write in! Nevertheless, I will do so because the prompts are so useful in jump-starting my prayers. Examples of prompts include:
Today I am especially grateful for:
Today I regret:
Today I am in awe of:
Today I will care for:
Today I will nurture myself by: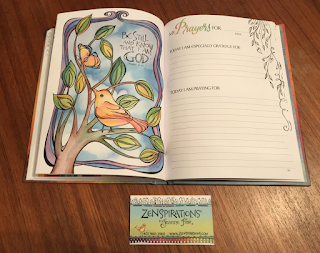 Bible verses and inspirational quotes are sprinkled throughout the book. If you like to color, some of the illustrations are left uncolored. And the pages have a blank space to insert the date so you don't feel pressure to journal every day or have to finish the journal within a certain time frame. At the beginning of the book, you'll find "My Prayer List" where you can fill in blank spaces with the date, name and reason for your prayers. At the end of the book are pages for each month where you can record special things that happened (or will happen) on particular days.
With a sturdy hard cover and thick pages, this book will withstand many trips in your tote bag, purse or suitcase. It also makes a unique and thoughtful gift for any occasion. But be sure to treat yourself first with a copy of
My Prayer Journal
and watch your prayer life bloom and grow.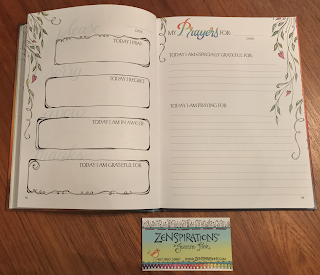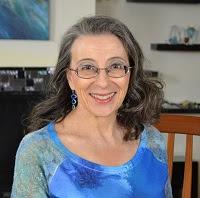 About the Author/Artist:
Joanne Fink, award-winning calligrapher, author, designer and inspirational speaker, spent most of her career developing products for the gift, stationery, craft and faith-based industries. Her YouTube videos have had more than 1,000,000 views, and her weekly blog encourages people to use their creative talents to make a difference in the world. Joanne's books include:
Complete Guide to Bible Journaling: Creative Techniques to Express Your Faith, Zenspirations' Dangle Designs, Expressions of Faith, Flowers of Faith
, and her illustrated memoir,
When You Lose Someone You Love
. To see more of Joanne's work, visit
www.zenspirations.com
.
Photographs courtesy of the author's website.
Disclosure: I received a complimentary copy of this journal to facilitate my honest review. This post contains my Amazon affiliate link, and I will receive a small commission on purchases made through this link.