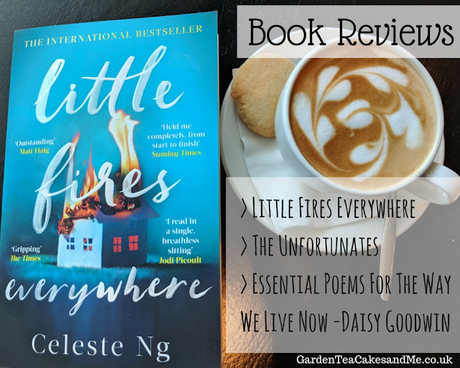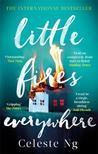 Little Fires Everywhere by Celeste Ng
My rating: 4 of 5 stars
It has been a while since I've read a contemporary genre book, I was tempted when offered to review a book from The Bookmatchmaker. I was excited to be selected as an Instagram Ambassador for them, such a different way of selecting a new or preloved book to read.
 You do not know which book will arrive when you order but select by genre or 4 key words - it is a great way to discover a different author, I've used them to also buy book gifts for friends, that way I get a surprise too. Quote
 'bookmatchrep10' for 10% off any order. 
Little Fires Everywhere literally begins at the end, the opening chapter reveals a family home destroyed by fire and the Richardson family watching on. With all fingers pointing to Mia and Pearl a mother and daughter who are the tenants of the Richardson family living nearby.
As the story unravels Elena Richardson has the perfect home and family, well to do, well educated and living in an ordered community in America. Elena likes to give back to those worse off in society and rents out a nearby homes in a nice part of town to someone deserving, such as Mia and Pearl Warren who have newly arrived in town.
But there lives soon become entwined, Pearl becomes kindred spirits with the Richardson youngest son Moody, and settles into creating herself a place with what she sees as a perfect family. Pearl admires Moody's older sister Lexie who is out going and popular at school, distracted by Moody's athletic older brother Trip and amazed at the talented musician of sister Izzy. Just the kind of family Pearl has dreamed of belonging to, instead of moving from town to town living the most basic of lifestyles, whilst her mother a photographic artist uses each more to search for new inspiration.
This becomes far more complicated when Mia becomes the Richardson's cleaner, and invades what Pearl sees as her escapism. Izzy Richardson sees Mia as an interesting and warm mother figure that understands her youthful eccentricities, something Elena Richardson her own mother does not grasp.
Relationships between the main characters evolve and become entwined, lies are told, secrets are kept. But when dear family friends of the Richardson's adopt a Chinese baby, and the birth mother takes them to court to get her baby back. Sides are chosen and more secrets unravel.
During a school visit to the city museum a photo is discover taken by a well known female photographer of Mia Warren holding a baby. Elena Richardson decides it is time she found out more about her new tenants - where are they from, where is Pearl's father.
Once I had cracked this book I did not want to put it down, I was desperate to know who set the fire, why did they set the fire. As the story develops the focus shifts between the main family groups, the Richardson's, the Warrens, the McCullough's who have adopted May Ling and Bebe, May Ling's mother.
It certainly made me look deeper into the different lifestyles people choose to live or how they react when circumstances are chosen for them. When the judge has to decided who May Ling should live with who is he, or we, to say that because people choose to live a certain lifestyle it is any more right or wrong from any one else - just different.
Whilst reading this book it had a feel to it of the the american tv show Big Little Lies, which incidentally is due a second series. I can certainly see there is a story line for a sequel to this book.

The Unfortunates by Laurie Graham
My rating: 2 of 5 stars
Poppy the lead character is such a ridiculously annoying person. The story follows the fortunes of a family in New York from the late 1890's through to the 1970's. So many major events in history touch their lives, as they travel and adventure to and fro America and Europe.
An easy book to read but with no depth to most of the story, it flits quickly from one character and point in time to the next. It covers the lives of four generations of the same family, but mostly focused on Poppy Minkel, and all in just 365 pages. So no surprise there was no substance to each element of the story. I'm surprised I bothered to read until the end, mostly I just wanted to give Poppy a piece of my mind whilst I truntered on to myself turning over the pages.
It's only when I had nearly finished this book that I realised I had previously read the Duchess from Nowhere by the same author, whom I also found the main character Ducky to be ridiculously annoying. Not an author I would want to read again.

Essential Poems For The Way We Live Now by Daisy Goodwin
My rating: 3 of 5 stars
I rarely sit and read poetry from a book, usually a read individual poems I discover in other pieces of literature such as newspapers, magazines or social media. Or maybe when out visiting museums or historical places of interest. This book collates a wide variety of poetry both old and new. None of which are composed by Daisy Goodwin who has collated the poems for this book and has her name emblazoned all over the cover. Which certainly worked on me! Browsing my local library for a 'learners' book of poetry it was her name that drew me to it, one to borrow not one to buy in my opinion.
I enjoyed many of the poems and it has clearly drawn to my attention to which poets are my favourites Thomas Hardy, Sir John Betjeman and Wendy Cope. Though I certainly have no wish to read anymore of Philip Larkin!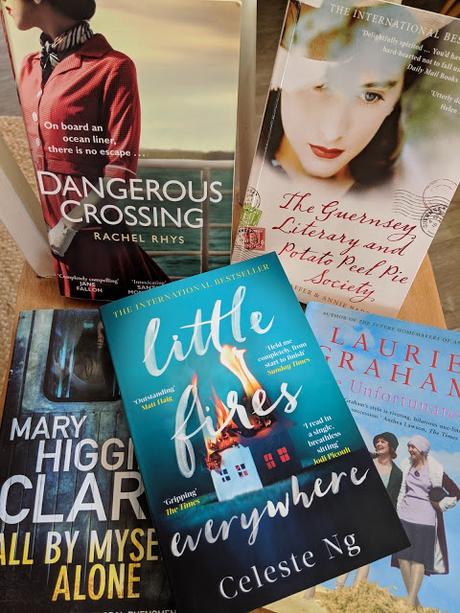 What's next on my bookshelf
I am currently reading
Mary Higgins Clark's All By Myself Alone,
but I have found myself distracted with garden.
I have ordered the next book in the 

Frances Doherty series at my local library. I still have a number of Philippa Gregory books on my bookshelf waiting to be read. Do let me know if you have any book recommendations. To find out more about the books I am currently reading or vote on which book I should read next on my Instagram account Garden Tea Cakes and Me.
Goodreads
Follow me on 
Goodreads
 to see how I am progresses with this years Reading Challenge.
Read my previous reviews including:- 
The Guernsey Literary and Potato Peel Pie Society
Jack Reachers 61 Hours, 
the thriller I See You
or Jesse Burton's The Muse.