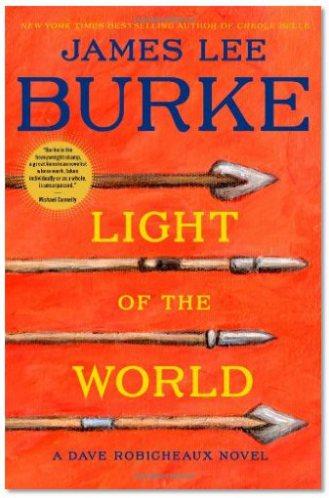 Light of the World by James Lee Burke
560 pages
Simon & Schuster
July 23, 2013
ISBN-10: 1476710767
ISBN-13: 978-1476710761
"…the characters rise to haunt you long after you read the final page."
Full disclosure here: I'm a fanatic James Lee Burke fan so am biased toward anything he writes. I've followed his tales of Louisiana bayou homicide detective Dave Robicheaux from The Neon Rain to the latest and 20th installment in the series Light Of The World. Each book is a lesson in literary crime writing but LOTW is one of the best.
The theme of this story is evil. Pure unadulterated evil. Does it exist as a tangible object? A living, breathing entity? Is it buried deeply in each of us? Does it dwell in the hearts of some more than others? Light Of The World is a story of revenge, violence, corruption, and ultimately how one copes with the presence of raw evil in human form.
Or as Dave says:
I was never good at solving mysteries. I don't mean the kind cops solve or the ones you read about in novels or watch on television or on a movie screen. I'm not talking about the mystery of Creation, either, or the unseen presences that reside perhaps just the other side of the physical world. I'm talking about evil, without capitalization but evil all the same, the kind whose origins sociologists and psychiatrists have trouble explaining.
Thus begins Light Of The World.
Dave, along with wife Molly and lawyer/novelist daughter Alafair, as well as former partner Clete Purcel, travel to the wilds near Missoula, Montana for a little R and R. All is well until an arrow flies from nowhere and nearly kills Alafair while she is on a mountain jog. To Dave, the most likely suspect is Wyatt Dixon, an ex rodeo champion and felon, who reprises from Bitterroot (2001) but other suspects quickly jump up on Dave's radar. One, the sexual sadist and convicted serial killer Asa Surrette, who apparently died in an explosive prison transport van crash. Or did he? Could he have survived? Somehow escaped from the mangled, charred vehicle? Alafair has no doubts. She has seen his face, in town, following her. Dave isn't convinced. Could Surrette not only be alive but be hell-bent on exacting revenge against Alafair, for whom he holds a deep-seated hatred after she wrote a series of articles blaming him for other crimes? Can Dave protect her from such a relentless force?
Perhaps the most interesting character in the story is Gretchen Horowitz, Clete's estranged daughter, introduced in Creole Belle (2012). A former contract killer for mob types, she is now reinventing herself as a documentary film maker. A fascinating and deep character with a history, she enters the fray in a no-brakes, in-your-face fashion. Smart, tough, and relentless, she employs her own brand of violence to protect herself, and Alafair.
This story is written in James Lee Burke's usual style. Richly poetic writing mixed with down and dirty storytelling. The setting comes alive, the story drags you along at a breathless pace, and the characters rise to haunt you long after you read the final page. Classic JLB.
Original review for the NYJournal of Books: http://www.nyjournalofbooks.com/review/light-world