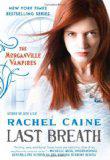 Last Breath (Morganville Vampires)
by Rachel Caine
Pages:
 335
Grade:
8+ (Fantasy violence and non-graphic sex)
Description:
(from
Goodreads
)With her boss preoccupied researching the Founder Houses in Morganville, student Claire Danvers is left to her own devices when she learns that three vampires have vanished without a trace. She soon discovers that the last person seen with one of the missing vampires is someone new to town—a mysterious individual named Magnus. After an uneasy encounter with Morganville's latest resident, Claire is certain Magnus isn't merely human. But is he a vampire—or something else entirely?
Thoughts:
 Holy Batman, Morganville fans, didn't see that coming! The Morganville series has been redeemed for me!
If you remember, I was sadly disappointed with Bite Club and had even thought about giving up the series if I didn't love this one (which makes me sad because I've loved this series). I'm happy to report I did, in fact, love Last Breath.
Caine took some big risks with this book and it felt more like the Morganville I fell in love with all those books ago. The last few books had seen a sad mopey Shane and a pitiful cowardly Amelie. Shane is still a little mopey and Amelie is still acting like a scared little girl, but the rest of Morganville has said "Enough!" and started kicking butt.
Last Breath is
full
 of action and even introduces a new BIG BAD (as if blood sucking vamps wasn't enough). There was a lot less teen angst and a lot more hard hitting action and horror - all the stuff that made me love Morganville in the first place.
While Last Breath doesn't end on a total cliffhanger, there's definitely a lot left unresolved. And, unlike most of the previous Morganville books, this one doesn't totally stand on its own. Most of the books in the series you can pick up and read, even if you've never read any of the series before, but this one really does require some backstory to not be totally lost.
I'm glad I didn't let Bite Club be my last Morganville. I'm excited about this series again after reading Last Breath.

Morganville at its best - dark, dangerous, and full of surprises and twists!