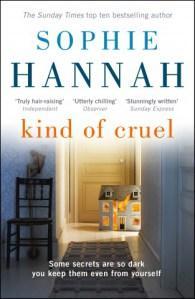 GENERAL INFORMATION
TITLE: KIND OF CRUEL
AUTHOR: SOPHIE HANNAH
PAGES: 528
PUBLISHER: HODDER HEADLINE
YEAR: 2012
GENRE: CRIME FICTION
COVER TYPE: PAPER BACK
www.goodreads.com/book/show/13034606-kind-of-cruel
Kind of Cruel is a library book.
BLURB FROM THE COVER 
Amber Hewerdine knows more than she is telling. She knows that she hasn't slept since the arson attack that killed her best friend.  
She knows that it is not normal for four members of your family to disappear without warning or explanation one Christmas morning, and then to return two days later and never speak of it again. And she knows that somewhere, buried deep in her subconscious, is the key to what happened all those years ago at Little Orchard. 
Kind, Cruel, Kind of Cruel.  
These are the words Amber keeps coming back to. But what do they mean? And why is she arrested within hours of saying them, for the murder of a woman she's never heard of…
EXTRACT 
Look: there is nothing special about this place. Look at the gaps between the bricks and the gateposts, where the pointing has fallen out. Look at the ugly UPVC window frames. This is not the place where miracles happen.
HIGHLIGHTS
I like the way Hannah structures Kind of Cruel. She uses a similar method to Point of Rescue. The point of view alternates between chapters. Some chapters are told ion the first person from Amber's perspective. Alternating chapters are written in the third person from the viewpoint of the police officers investigating the murder of Kat Allen. Amber's chapters have a long date heading (i.e. 3 November 2008). The other chapters had a short date heading (i.e. 3/11/08). I think this structure worked really well. It was easy to follow all the changing characters and viewpoints. There was also the odd chapter that was supposed to be an extract from the case notes of Ginny, Amber's hypnotherapist.
Kind of Cruel is a very compelling, fast-paced read. I turned the pages at a rapid speed. Kind of Cruel is the kind of novel that leaves the reader with scores of questions. Why killed Amber's best friend? What do the words Amber says under hypnosis mean? Who murdered Kat Allen? Why did Jo, Amber's sister in law and her family vanish on Christmas day and return a day later and refuse to speak of the event again? Hannah drips feeds you the answers as you read but also adds even more questions. Kind of Cruel kept me guessing until the end.
The strongest characters in Kind of Cruel were Amber and her sister-in-law, Jo. They were both very complex and interesting. I liked the way Hannah explored memory through Amber. Amber has had insomnia since her best friend was murdered in an arson attack and she became guardian to her two children. This has screwed up her memory. The words she says during hypnosis, cruel, kind, kind of cruel are familiar and she becomes obsessed with learning their origin. Jo was my favourite character even though she was so unpleasant. The hypnotherapist, without speaking to her diagnoses her as having as narcissistic personality disorder. She's certainly a nasty person. She verbally abuses Amber at every turn and acts like a total nutter, disappearing in the middle of the night with her whole family.
Hannah drops plenty hints that the murder of Kat Allen and Amber's best friend are linked but does not reveal this connection until the end. I had no idea what the link was. Kat Allen and Amber's best friend did not know each other. Kat Allen was a stranger. I was shocked when it all fell into place.
LOWLIGHTS 
Amber and Jo were great characters. Unfortunately, the same cannot be said for the rest of them. There are too many characters for a start and Hannah doesn't spend enough time developing them so a lot of them are interchangeable.
I had a good idea who the villain was before Hannah revealed this. There were hints throughout Kind of Cruel of whom Amber suspected and why she suspected. I agreed with her and think Hannah made it far too easy for the character to be a suspect. She didn't pull the wool over my eyes enough.
There is a four page extract from Ginny, the hypnotherapists note at the end. The note is addressed to Charlie, one of the police officers who's concerned about her husband's inability to have sex. Ginny speculates he experienced 'emotional incest'. This section had really no point and should have been cut completely.
FINAL THOUGHTS
I really enjoyed Kind of Cruel. Hannah is another writer I want to read more of. The novel had a few weak areas but these weren't bad enough to put me off. Kind of Cruel is well-written, fast paced and thoroughly enjoyable.
RATING