Khajuraho by Krishna Deva
My rating: 3 of 5 stars
Amazon page
Khajuraho is one of India's most legendary historical sites; despite the fact that it's located in a quiet, rural town that's not so easy to travel to—at least, relative to many of the popular tourist sites of India. I could tell you that it's so well-known because of its exquisite carvings. However, while it's true that the sculptures are beautiful, the fact that almost no one outside of India has heard of Belur or Halebidu—sites which also have magnificent carvings—puts strain on the credulity of that explanation. It's also not a major pilgrimage site like Varanasi. I'm afraid the explanation that remains is a touch lascivious. Imagine the Kama Sutra played out in 3-D on bas-reliefs and sculptures, and you have the scenes for which Khajuraho is most well-known. Which isn't to say that the temples are nothing but "hein' and shein'," there are many of the same types of devotional imagery that one sees at other Hindu temples, and I'm sure some people go out of their way to see those devotional images.
This is one in a series of guide books put out by the Archaeological Survey of India. They are mostly sold at various historical sites and museums run by the Indian government, but can also be found at used bookstores and for sale online (e.g. Amazon.com.) This isn't the first book of this series that I've read. I first stumbled upon them when I traveled to the caves of Ajanta and Ellora in Maharashtra.
The text for this book is based on a manuscript by Krishna Deva, and it's organized to move from general to specific. After a one page Forward by the Minister of Tourism [at the time, 2002], there's an Introduction that describes the historical and political context in which these temples were built. Then there are chapters that examine the art and architecture of the Chandella era, then the general approach to sculptures, and, finally, a look at the specifics of various temples ordered by groups. Those who've traveled to Khajuraho will know that the most extensive and impressive temples are in the Western Group—that's the only group for which there is an admission fee. There is also an Eastern Group, a Southern Group, and a couple independent temples that don't conveniently group with any others.
Almost as important as the text are the pictures. There are many color photographs that serve to illustrate the explanations being offered and which will help travelers to link up the textual discussion to what they are seeing. There are photographs on every page excepting the ancillary material.
These books also have a number of nice ancillary features. The book has a brief "Practical Information" section that provides guidebook style information (getting there, where to stay, where to dine, etc.) This includes a couple pages that are about traveling to / in India generally, and then a couple that are specifically about Khajuraho. I wouldn't count on any of this information to not be out of date, though in little ole Khajuraho it might change less rapidly than in the cities. There is also a brief glossary and a "Further Reading" section, both of which may be of use. The book is indexed. There is also a general map of the part of India containing Khajuraho on the inside flap (both front and back.) A map of Khajuraho town might have been nice, but they do have an outlay of the Western Group, which is helpful.
I found this book (and the other books in the series that I've used) to be useful and informative. Furthermore, one can't beat the price. The list price was 99Rs, but I see there's a stamp inside mine that they'd discounted it to 50Rs. (That's less than $1 USD.)
I'd recommend you pick up one of these guides—particularly if you are traveling to one of the more extensive sites. If you like to use guides [human guides,] you may find that there's not a lot of new material to be gleaned from these concise guides, but they may help you organize your photos after your travels—and they don't take up much space (a flat 12 X 23.5 X 0.5cm.)
View all my reviews
Since they don't have a cover photo up for this book, I'll include a couple illustrative pics that I took at Khajuraho: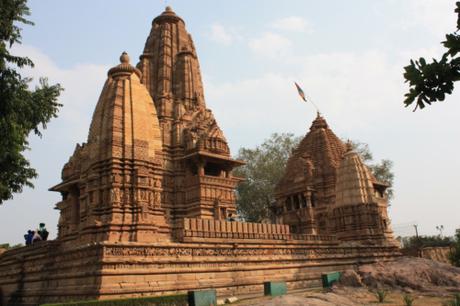 In the Western Group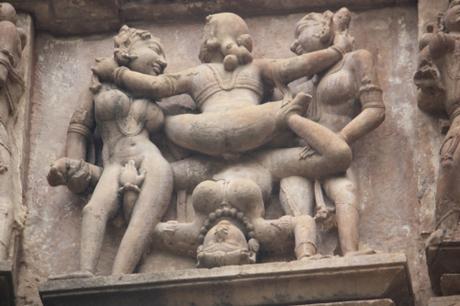 In the act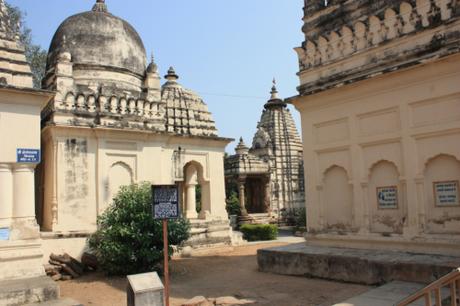 Jain Temples of the Eastern Group
By B Gourley
in
Book Reviews, Books, India, nonfiction, photographs, Photos, pictures, Tourism, travel
on
January 17, 2017
.