A year after all the hub-bub of her 200th anniversary, Julia Margaret Cameron is still inspiring new writings on her work as well as reimaginings of old ones. This new pocket-sized book from publishers Pallas Athena is a wonderful example of this...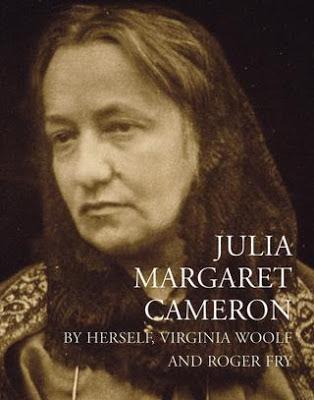 Combining previously published material (
The Annals of  My Glass House
 and
On a Portrait
 by Cameron, and Woolf and Fry's essays) with an introduction and notes by Tristram Powell, this is a handy compendium of material to give you a fairly thorough education in the woman who pioneered art photography in the 19th century. After a plethora of books recently, we are not exactly short of material on Cameron and the various interpretations of her many, many photographs, but speaking as an art historian there is no better place to start than with the words of the artist herself, not to mention her art works.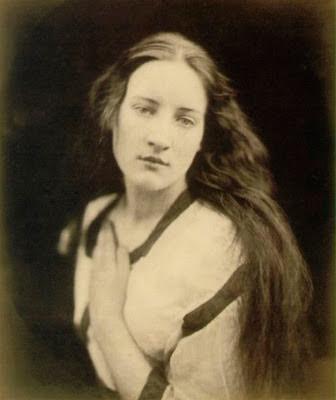 The Echo (1868)
The inclusion of Virginia Woolf is both understandable (she was Cameron's great niece and wrote about Cameron both directly and indirectly) and interesting as Woolf was rather conflicted over her great aunt (as she was over an awful lot of things, in my opinion). Roger Fry is a lot more straight forward: 'photography, at least in Mrs Cameron's hands, can give us something that only the greatest masters were capable of giving...' (p.75) He doesn't wholly approve of her genre pictures (except maybe
The Rosebud Garden of Girls
) but in that way he reflects much of the modern criticism of Cameron's work.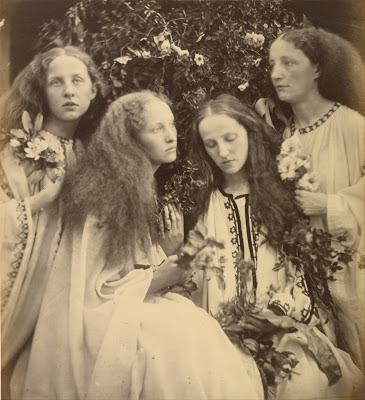 The Rosebud Garden of Girls (1868)
There are 69 photographs (most of them full-page) in the 192 page book, well produced and commented on. Despite the size, or maybe because of it, the intimacy of many of her photographs seems enhanced. You are unlikely to learn anything new but then that isn't the point of the book, although I did enjoy the little facts about each of the models in the plates section. This is a portable companion, perfect for holiday reading or slipping in your bag for quick reference or sneaking reading in the sunshine. If you want the ultimate big-daddy of all Cameron books, download the complete photographs free from Getty, but in terms of pleasure, portability and ease, this is an absolute gem.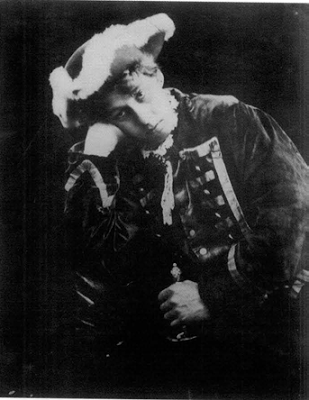 Lionel Tennyson (1869)
I have a lot of Cameron books, probably too many in Mr Walker's opinion, but I can see me dipping into this little book, not only over the next few months as I write my Mary Hillier book, but in the future when I need a Cameron fix.  It's well presented, nicely priced and good quality, and who needs more than that in a book?  I can see me buying a number of these as Christmas pressie stocking-fillers, if that isn't a terribly wrong thing to say in July.  Anyway, I happily encourage you to wildly blow your £8 on a copy too, it's smashing.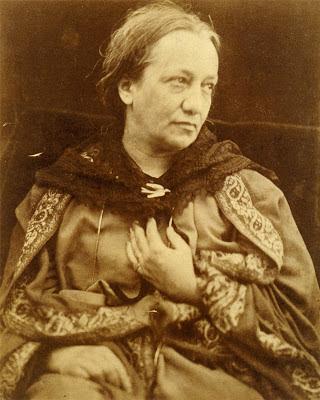 Julia Margaret Cameron (1870) Henry Herschel Hay Cameron
Many thanks to the lovely people at Pallas Athena for sending me a copy, it was a splendid surprise.
To buy your copy of
Julia Margaret Cameron
 visit Amazon UK (
here
) or USA (
here
) or a bookshop near you.
To download your free catalog of her collected photographs visit
here
and thank Getty verily for their generosity.