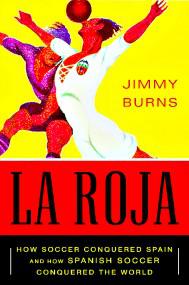 Jimmy Burns' New Book La Roja
Spanish football was not about just being so-called underachievers or chokers. To just leave it at that would be simply generalizing a story that has a great deal of richness to it.  Jimmy Burns is amongst one of the best writers out there and in his latest book, La Roja, he leaves no doubt as well as no stone unturned in a journey where he doesn't recap history; he recaps something very important to his own life as well.
This is why La Roja is not just a tremendous book to read.  Jimmy Burns' latest book is an educational tool for fans of Spanish football and fans of the game in general.  The information as well as the passion reflect how the live and breathe the Beautiful Game in that country.
Spanish football is also not just about the successes of the present.  Spanish football is about how the highs and lows  that the country have endured and are enduring.  To see the history of how the game grew and developed in that country, Burns takes on an odyssey well over century in the making and saw moments where things began to come together only to self-destruct due to a million different factors.
The potential for a world champion was always there.  From their first big international triumph in the 1920 Olympics to the 1950 World Cup and the 1964 European Championships; those moments showed the potential that would eventually be fulfilled in 2010.  Spain was in many instances their own worst enemy when it came to its own progress as a nation and as a footballing culture.
From the first chapter, you are just bombarded with information regarding the origins of Spanish football.  Is there an actual origin?  In reality,there were a series of transformations that saw Spanish football evolve from the rough and tumble English influences of the Basque players to the development of Total Football four generations later.
Click here to view the embedded video.
If there is one thing that one can pick up from this book is that football, a sport brought to Spain by miners, engineers and merchants from England helped establish a presence within the eastern portion of the Iberian peninsula.
To see Spanish football the way it is, based on what Burns wrote, was a miracle that Spanish football even got to be what it was based on the divisions and the propaganda-driven objectives that the game had throughout its history. From a pastime that the English brought to this foreign land to a game that appeased the masses and was propagandized to the fullest, football takes center stage amid the politics and intrigue that every single aspect of Spanish society has been touched directly or indirectly by the game.
"What we want is to keep people happy and with soccer Spaniards can deal better with their everyday problems.  We are living in a time of such misunderstanding and such horrible confusion that what people want is calm." - Santiago Bernabéu  
The book also talks and brings back to life the personalities that made Spanish football so intriguing.  Jimmy Burns did an outstanding job of digging into the barebones of individuals, bringing out some interesting tidbits that gave more color to people that he was talking about.  From the eccentricities of Fred Pentland to the hard living of Ladislao Kubala as well as the zaniness of Jesús Gil y Gil and the she-devil (according to many in Spain) that was singer Lola Flores in the lives of certain players.
From the early English workers that arrived in Bilbao and even in Asturias to the goal that Andrés Iniesta scored in Johannesburg in the World Cup final, Burns takes you through the history of the game in the eastern side of the Iberian peninsula.  The book is a captivating read that offers a comprehensive and entertaining look at the game in Spain.
Burns also goes into the melting pot that is Spanish football and how it emerged from several styles of play.  From the River Plate, region which dominated world football in the 1920′s and 30′s to the Italians and even the Dutch later on, Spain began molding its own style that was no longer just based on courage and Furia.
"Javier (Clemente) always told Gary (Lineker) that Cruyff never really understood how soccer should be played and, therefore, did not value him as he should." – Lineker agent John Holmes
Out of chaos comes greatness.  Out of discord came cordiality.  I guess that is what can be observed about Spanish football and its beginnings.  There were several differences in Spanish football, as different as the various regions in that nation.