I Am An Executioner: Love Stories
by Rajesh Parameswaran
Published: 10th April, 2012
Publisher: Bloomsbury
Genre: Short Stories
Format: Hardcover
Pages: 260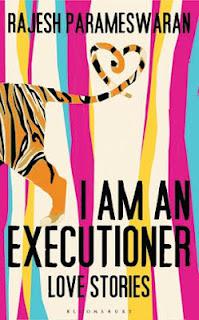 Cover Art
I love this cover. It is what attracted me to the book initially. I love the tiger print and the way the tiger's tail is in the shape of a heart. The first story in the book is written by the tiger so it is also very relevant to the content! And I can appreciate a nice splash of hot pink as much as the next...few people.
Plot Synopsis
In 
I Am an Executioner,
 Rajesh Parameswaran introduces us to a cast of heroes—and antiheroes—who spring from his riotous, singular imagination. From the lovesick tiger who narrates the unforgettable opener, "The Infamous Bengal Ming" (he mauls his zookeeper out of affection), to the ex-CompUSA employee who masquerades as a doctor; from a railroad manager in a turn-of-the-century Indian village, to an elephant writing her autobiography; from a woman whose Thanksgiving preparations put her husband to eternal rest, to the newlywed executioner of the title, these characters inhabit a marvelous region between desire and death, playfulness and violence. 
My Rating:

First Lines:
'The one clear thing I can say about Wednesday, the worst and most amazing day of my life, is this: it started out beautifully.'
Review
This book is seriously good. It knows what it's doing and does it with finesse. The author is also a fine executioner, just like the character who provides the title of the book. 
This author can do a lot with 30 or so pages. The stories reminded me of Roald Dahl's adult short stories...morbid and witty, always with a hint at the sinister and unsettling, and usually with a twist at the end. You can also see that a huge inspiration for this book has been Vladimir Nabokov, as all the stories display some form of unreliable narrator ala Charles Kinbote from Nabokov's 'Pale Fire' (who even gets a mention near the end of the book!) 
I enjoyed every story (there are nine of them) and each was different and surprising. I will go through each story and describe what really struck me about them, or, in a couple what didn't really work for me. 
1. The Infamous Bengal Ming
The Story: This story is told by the tiger of the cover, who resides in captivity- a life he was born into. His main concerns are his mating partner's aloofness and his intimidation by the alpha male of the cage. Oh, and his unconditional love for the zookeeper who feeds him.
My Thoughts:
 I found the narrative voice of the tiger really effective. It sounds strange to say that a tiger could pull off a believable character you care about, but it works. The story is simple and heartbreaking and there are moments when the tiger's reckless actions take your breath away and really kick-start your maternal instincts! There is an innocence and naivety about the tiger, who loves his captor unquestioningly and everything he does, although 
disastrous
 consequences ensue, was done for the right reasons and out of care or love or fear. What he does after he escapes the zoo is often bloody, brutal and horrifying but you still worry about him and want to protect him because what he does is instinctual not evil, and, to him, beautiful because it equates with his life and his survival.
2. The Strange Career of Dr Raju Gopalarajan
The Story: Gopi Kumar moves himself, and his reluctant wife Manju, from India to the USA. Gopi is a confirmed trickster and fraudster, having previously impersonated a police officer to move on some traffic outside their window. Having always wanted to be a doctor, Gopi decides to fulfill the ultimate American Dream and make himself one...
My Thoughts: This was a really interesting story which sees Gopi's self-awarded doctorate put to some grotesque, and harmful, uses. The narrative describing how he collects his patients (largely immigrants who can't afford the American health-care system) in bus stops and happily cuts them is gripping. The story is underpinned by Gopi's relationship with his wife which is very moving. They rarely communicate or have sex. She describes him as flaring up with passion and enthusiasm when he's excited about something but it soon dies down when he's bored. I think most couples can relate. Gopi's hopes, dreams and aspirations are built on shoddy foundations and he drags his wife along for the ride...resulting in sorrow for them both.
3. Four Rajeshes
The Story: This story is written as though a man is looking at an old photograph of an unknown man, and it is inspiring him to write a story about him. However, the imaginary photo-man interjects in the  narrative too! The photo-man/narrator is the manager of a train station and employs a strange youth who proves to be more sinister and trouble-making than he ever expected. 
My Thoughts: This story had me less gripped than the first two but I still really enjoyed it. I really liked the way the imaginary man from the photo, who provided the muse for this story, kept butting in to claim the author had got things wrong and was making him look stupid or perverted! The author portrays him as committing homosexual affairs behind his fiance's back...which he highly disapproves of. The man he employs (named R) is a really fascinating character too- you're never quite sure if he is a sinister and creepy boy on the verge of madness (as the narrator paints him) or if he is a misunderstood genius and it is the narrator who is the strange one. The ending surprised me!
4. I Am An Executioner
The Story:
This one is about a man whose occupation as an executioner becomes a barrier between himself and his new wife. Particularly when a young girl arrives at Death Row.
My Thoughts:
I ADORED this story. It was so gorgeously written and had so many layers. The executioner hangs and stones people to death with such a detached manner that it becomes horribly disturbing to read.  He befriends the people who find themselves on Death Row and can't understand why they cry and plead and beg him for their lives when their time comes. It's not his concern. He just wants a light-hearted chat and to maybe share a beer. We get flashes of his insanity; the way he disregards these pleas of the friends he has made, his evaluation by a psychologist as deeply disturbed, the strange and unexplained horrible event that happened to his first wife at his hand. He has acquired his new wife through a dating website, where it becomes apparent he has lied about his job, age, looks and height to secure her. She sits all day in filthy clothes and abject depression. His unwanted physical advances made my skin crawl. The ending had me in tears.
5. Demons
The Story: An wife in surburbia sits in her living room with her husband's dead body at her feet. She continues as normal, until the guilt of 'did she/ didn't she' leads her to remember her past. 
My Thoughts: This was another story which didn't hold my interest as well as the others. I found it a little tedious. Again, it is narrated by the wife who is an unreliable narrator, and we get flashes of her not-so rational behavior towards her daughter and her daughter's roommate. It's like Henry James's 'The Turn of the Screw'...did she kill him or is she mad? You want to find out, but I found the explanation unsatisfactory.
6. Narrative of Agent 97-4702
The Story: The narrator is part of the Agency which, from what I could gather, is a kind of surveillance organisation which enrols people secretly and then gets them to spy on other people who are subject to investigation. It's a Fight Club thing; no one talks about the Agency and no one knows who else is in it. I'm pretty sure that this takes place in a dystopian future too. The story takes the form of a confession that te narrator is submitting, admitting to accessing unauthorized information on the person she has been surveying.
My Thoughts: This story was very interesting in the way that the narrator was so cold and detached towards the people she was meticulouly following and writing reports on all day long. The notes she makes are so detailed, down to the tiniest gestures he makes, to what he says to his wife each morning and in what tone. It seems as though the narrator has been trained to be emotionless and not become emotionally involved with the subjects of the investigations, to the point where she even stages a four year relationship with one just to spy on him more thoroughly. I read it aloud to my boyfriend and I think that made the narrative seem even more stilted and unnatural, which I loved because it fit the character so perfectly. I found it gripping and, as the story went on and she becomes more and more disallusioned about the Agency and its implications and wanting to find out more about it, I felt the same. 7. Bibhutibhushan Mallik's Final Storyboard
The Story:
Bibhutibhushan Mallik is the production designer for famous film director Jogesh Sen. And he is also having an affair with Sen's wife. His dream is to direct his own film and move with Sen's wife to NYC, but things start to unravel AFTER he gets his big break.
My Thoughts: I liked this story, but didn't love it. The narrative is from Mallik's perspective and you become aware that you're not entirely sure why Sen's wife is having this affair. She seems reluctant to return his advances and you're fairly sure she never really wants to leave her husband. Why then? The ending also really confused me. I liked the story of how Sen became a renowned film director and the descriptions of the film sets etc because imagining these two young guys in India filming boys in trees and tying cameras to the backs of wagons was really cool. It was quite obvious that Sen was the real genius of the operation and Mallik only thought he was...and it is always compelling to hear the point of view of a seriously deluded character!
8. Elephants in Captivity (Part One)
The Story: A difficult one to explain, but basically the narrator is watching some elephants in a circus and imagining how they came to be there, which he can do easily as he believes he can communicate with them. The elephant who tells him the story (through her written autobiography) is called Shanti, who was the daughter of the old herd leader Amuta. However, to make things even more complicated there are extensive footnotes on every page of Shinta's narrative, with backstory about how Amuta came to be the pack leader and her betrayal of the previous leader Ania told in a Shakespearean or Revenge Tragedy style. There are also footnotes relating to the narrator's own life and his family's history of suicide, and his own resemblance to an elephant and how that may have occurred. 
My Thoughts: This was my favorite story of all- it is just brilliant. At first I was a bit put off by the footnotes; I usually love footnotes and unusually shaped narratives but there were so many of them and so long! However, as soon as I got to the dialog between Amuta and Ania I was absolutely hooked. I loved the way it was in the style of a Revenge Tragedy and how the elephants had these huge soliloquies and Aside's, as that is really how I imagine elephants talking! They are very wise and regal animals, with a hint of ancientness about them too, which the dialog reflected nicely. The narrator's story is also interesting; his parents died in a car accident... in that they accidentally sat in their car in a closed garage with the motor running, clasping hands. Hmm! He is obviously a very deluded and quite deranged narrator, and I was so excited when he referred to Charles Kinbote from Nabokov's 'Pale Fire' as I had long been thinking whilst reading the other stories that Parameswaran must have been influenced by Naokov. Charles Kinbote is an incredibly strange and complicated narrator, who is both a literary creation and not, which is the same with the narrator of this story. Both stories are brilliant and I highly recommend reading this if you like unusually structured stories with questionable narrators! Metafiction at its best!
9. On the Banks of Table River (Planet Lucina, Andromeda Galaxy, AD 2319)
The Story: As the title suggests, this story is set on another planet in the future. Humans have occupied it and live alongside the native 'beings' who have many legs and feelers. The narrator, Thoren,  is one of the beings, and he has a daughter, Nippima. He has a fraught relationship with her due to her interest in humans and her recent job of giving them tours of the planet. However, her actions may be a lot worse than even he thought possible.
My Thoughts: I was dubious about the title as I am not really into Sci-Fi but this story is so brilliant that I quickly forgot all that! I loved the characters and the way the aliens had such a distinctive voice and customs. There are parallels with humans, such as Thoren's teenage daughter, insead of shrugging at him constantly, 'twitched her feelers indifferently- an irritating gesture'. I loved this as it not only showed familiar gestures in a new light but also showed how human customs and gestures were perhaps infiltrating the new planet. Humans seem to treat the planet either as a holiday camp or a science experiment, which makes you sympathise more with the aliens than the humans...in an Avatar kinda way! The main part that will stick in your head is the mating ritual of the aliens. I imagined it as two praying mantis's fighting to the death...it is a horrific and brilliant description and was my favorite part of the story.
Overall, I loved this book of short stories. Most of them were fantastic and even the stories I found less interesting had amazing ideas behind them. I know I will definitely be re-reading some of them in the future; particularly the last two as Parameswaran's writing is beautiful and his ideas are flawless. I am a huge fan of an unreliable narrator, and if you are too you really need to read this book.
Other Thoughts
This Book has Inspired me to Read: Re-read 'Pale Fire' by Vladimir Nabokov.
Three Words to Describe this Book:
Gripping. Moving. Thought-Provoking.