a guest post by Dr. Harold Goldmeier


NOTE: I was not paid to review this book. It is an unbiased and objective review. If you have a book with Jewish or Israel related content and would like me to write a review, 

contact me for details

 of where to send me a review copy of the book.


BOOK REVIEW: HERE AND THERE: LEAVING HASIDISM, KEEPING MY FAMILY Author Chaya Deitsch. New York: Schocken Books 2015
Reviewed by Dr. Harold Goldmeier November 2015
Chaya Deitsch grew up in a New York and New Haven Lubavitch family in which Jewish Law is absolute and so is commitment to the Lubavitcher Rebbe.  Chaya wistfully recounts her life from earliest memories as a child and her place in family and religion. She writes in a lilting style that makes this autobiography a very easy and pleasant read. It offers insight for all parents raising different children if you want to keep them close.  The reader has the feeling that Deitsch is sitting with you over coffee telling her story.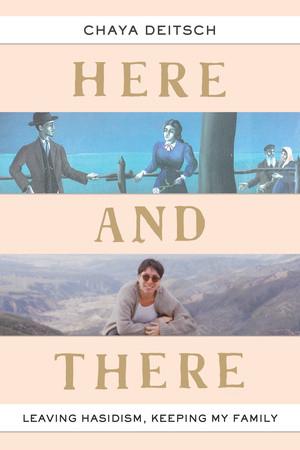 The story is not one of anger and darkness, so often the case with ex-pats from cloistered communities. Families reject them and they are shunned. Here and There is a love story. Chaya yearns for what the larger world has to offer without losing her parents, siblings, and friends still living in the old world.
Deitsch musters the courage, at the urging of her publisher, to tell her parents about her "ease in crossing over into sin" before the book is published. She sits with her parents, you feel the nervous tension, and Deitsch proclaims, "I'm no longer frum."  Momma says, "You think we didn't know? That's why I don't call you at home on Friday before Shabbos. I don't want to make you lie to me."  And from her father, "you chose a different life. Of course we knew about it…Just sell a bunch of copies." Even I breathed a sigh of relief with tears having been there myself.
 "Leaving Hasidism" in the title is misleading. Chaya leaves not only Hasidism but Orthodox Judaism and apparently all organized religion. It wasn't inevitable but her choices, because many young people later return to the old lifestyle. Chaya's break seems pretty surgical. A Hasidic Rebbe once confided to me, with a deep sigh, he has a brother off the derech (the path of strict religious practices). The brother had become Modern Orthodox. It was all I could do to keep from busting out laughing. Life is fluid and this is a book about choices.   
Chaya recounts the small awakenings like how impressed as a youngster she is with her Modern Orthodox relatives seemingly so comfortable praying, observing laws of kosher and the Sabbath, in a relaxed religious atmosphere. Her choices are more daring and each transgression takes in her deeper into the secular world: wearing pants (a very cute story about fit and style), having coffee in a non-kosher shop, forsaking the kosher cafeteria in college first for breakfast and then for other meals.
These experiences are juxtaposed to her recollections about religious upbringing and family. They create an undercurrent of tension keeping readers turning the pages. "I recognize the slippery logic of trying to personally disassociate myself from Haisidim even as I insist that its followers are more or less like everyone else."
There is a spate of books, articles, Facebook rantings, and television interviews comprising the new genre of rebellion and rejection of religious life. Ex-pats from Orthodox Judaism recount their excommunication from family, friends, and community.  They are alone in a new world. They have few survival skills, because they got little secular education, no job training, and no one to moor them. The new world is frightening. Some commit suicide. Others have a mission to expose and retaliate.
Deitsch grew up a voracious reader and keen observer of the world outside her bubble. Her parents worked with her recognizing early that Chaya was different. They did not go nuts when she wanted to apply for college, but negotiated with her. I think it is why she is healthy, a survivor, and productive citizen.
I would like to have read a bit more about her interactions with sister Ricki who attended Parsons School of Design.  The very devout and religious will point a finger here proclaiming their moral justification for ostracizing a daughter like Chaya. Her wanderings will drag others in the family away from God. "The first time Ricki publicly violated Shabbos was with me….Before long we were eating out together at nonkosher cafés. We were surprised by how natural it felt." The picture Deitsch paints seems worn like a badge of honor.  Does Ricki ever return to Orthodoxy? Was she experimenting? Do their parents blame one or the other sisters?
 Chaya takes pride in her Hassidic upbringing and enjoys the traditions though not as her lifestyle. She resents the "conspiratorial condescension" when well-meaning friends talk trash about Hasidim. She also describes her lovely life in non-religious Manhattan, while admitting that she is joyful her brothers and sisters accept her and she in turn is "one of a smother of aunts, with nieces and nephews to indulge."  This is a story about people trying to reconcile spiritual absoluteness with mundane daily life.  It is as old as the Bible for to whom were the prophets preaching?
Buy Here and There on Amazon.com
------------------------------------------------------ Reach thousands of readers with your ad by advertising on Life in Israel ------------------------------------------------------