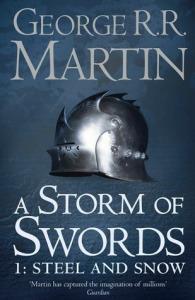 A Storm of Swords 1: Steel and Snow (A Song of Ice and Fire #3.1) by George R.R. Martin
Harper Voyager (Paperback), 2000
569 Pages
BLURB FROM THE COVER
Winter approaches Westeros like an angry beast.
The Seven Kingdoms are divided by revolt and blood feud. In the northern wastes, a horde of hungry, savage people steeped in the dark magic of the wilderness is poised to invade the Kingdom of the North where Robb Stark wears his new-forged crown. And Robb's defences are ranged against the South, the land of the cunning and cruel Lannisters, who have his young sisters in their power.
Throughout Westeros, the war for the Iron Throne rages more fiercely than ever, but if the Wall is breached, no king will live to claim it.
EXTRACT
An east wind blew through his tangled hair, as soft and fragrant as Cersei's fingers. He could hear birds singing, and feel the river moving beneath the boat as the sweep of the oars sent them toward the pale pink dawn. After so long in darkness, the world was so sweet that Jaime Lannister felt dizzy. I am alive, and drunk on sunlight. A laugh burst from his lips, sudden as a quail flushed from cover.
REVIEW
I loved Steel and Snow, the first part of A Storm of Swords. I am now a total Game of Thrones fan gal. In a few weeks' time I plan to buy the DVD's for the TV show. I don't have SKY or NowTV and I refuse to pay a couple of quid per episode to view on Xbox Live so DVD's it is. Steel and Snow doesn't continue on from A Clash of Kings but picks off towards the end of the last novel. I got to read a lot more of Dany in this book which is good because she's one of my favorite characters. I've started to warm towards Tyrion but I really hope someone cuts of Cersei's betraying head. I'm still undecided whether I love or hate Jaime. Steel and Snow is as packed with as much drama as A Game of Thrones and A Clash of Kings. My jaw hit the floor several times least of all when Sansa Sark was married off to Tyrion and when Catelyn is told Bran and Rickon are dead. I now have a list of things I hope will happen in the next books. Will Arya and Sansa ever been reunited with Catelyn? Will Catelyn ever find out Bran and Rickon are alive? When will Dany's dragons kick ass and burn things to the ground? Will someone punch Cersei in the face or cut off her head? I can't wait to read Blood and Gold the second part of A Storm of Swords.
RATING