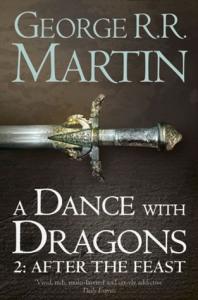 A Dance with Dragons 2: After the Feast by George R.R. Martin
Harper Voyager (paperback), 2011
560 Pages
BLURB
The future of the Seven Kingdoms hangs in the balance.
In King's Landing the Queen Regent, Cersei Lannister, awaits trial, abandoned by all those she trusted; while in the eastern city of Yunkai her brother Tyrion has been sold as a slave. From the Wall, having left his wife and the Red Priestess Melisandre under the protection of Jon Snow, Stannis Baratheon marches south to confront the Boltons at Winterfell. But beyond the Wall the wildling armies are massing for an assault.
On all sides bitter conflicts are reigniting, played out by a grand cast of outlaws and priests, soldiers and skinchangers, nobles and slaves. The tides of destiny will inevitably lead to the greatest dance of all.
OPENING SENTENCE
The first flakes came drifting down as the sun was setting in the west.
REVIEW
A Dance with Dragons 2: After the Feast was excellent. I loved catching up with all the characters I haven't read about since A Storm of Swords. Dany had a big part in this book. Yay! Like the other books in the series, this one was packed with tension, drama and twists and turns. I loved the ending of this one. Some bad shit is going to go down in The Winds in the Winter. Cersei is as unpleasant as ever. Tyrion is shaping up to be okay. I'm really starting to dislike Jon Snow. I liked him a lot in the earlier books but he's changed in the last couple and not in a good way. Things are going to get really crazy in the next book.
RATING