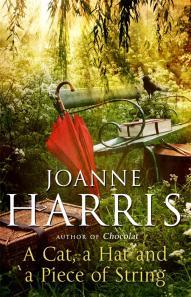 GENERAL INFORMATION
TITLE: A CAT, A HAT AND A PIECE OF STRING
AUTHOR: JOANNE HARRIS
PAGES: 284
PUBLISHER: DOUBELDAY
YEAR: 2012
GENRE: SHORT FICTION
COVER TYPE: HARD BACK
www.randomhouse.co.uk/editions/a-cat-a-hat-and-a-piece-of-string/9780857521194
BLURB FROM THE COVER 
Stories are like Russian dolls; open them up, and in each one you'll find another story. 
Conjured from a wickedly imaginative pen, here is a new collection of short stories that showcases Joanne Harris's exceptional talent as a teller of tales, a spinner of yarns. Sensuous, mischievous, uproarious and wry, these are tales that combine the everyday with the unexpected; wild fantasy with bittersweet reality. 
Come to the house where it is Christmas all year round; meet the ghost who lives on a Twitter timeline; be spooked by a new-born baby created with sugar, spice and lashings of cake. Worry for a young girl in the Congo who rides the rapids to earn a crust of bread; and spy on Norse gods battling each other for survival in modern Manhattan. In her first short-story collection since Jigs & Reels, let Joanne Harris ensnare and delight you with the variety and inventiveness of her storytelling… 
EXTRACT  
Well, there's always the river. That's what Maman Jeanne says, with that look old people get when they're talking about something you can't possibly understand, like how an aeroplane stays in the air, or why the Good Lord made the tsetse fly. It's her answer to everything; complaints, questions, tears. Well, there's always the river, she says. The Congo river is always there (RIVER SONG)
REVIEW
RIVER SONG: A group of children earn a pittance by risking their life leaping into the Congo in exchange for paltry money from tourists. The only girl in the group is banned from working because she's a girl and in an act of defiance dares the oldest boy to leap into the most dangerous part of the rapids. She manages to pull it off and the boy almost dies. The girl is allowed to continue working the river.
I found River Song very touching and moving. Harris includes a little paragraph at the start of each story where she discusses how the tale came about. In her introduction to River Song, Harris mentions there are actually children in the Congo who earn money this way. I thought this story offered interesting insight into a different way of life.
FAITH AJND HOPE FLY SOUTH: Two old women in a nursing home are banned from the annual outing to Blackpool. They are told this is because they didn't sign up for the trip. This has never been required before and the real reason appears to be because they women run off and went to London on a day trip a few months before. They are left behind in the home. Chris, a care worker with a soft spot for them sets up a pretend trip to Blackpool in the home complete with sand and sweets.
Faith and Hope Fly South was a lovely story. I found some aspects of it funny and other aspects quite sad. In some ways, Harris uses this story and these memorable characters to illustrate the cruelty, bullying and neglect in care homes.
THERE'S NO SUCH PLACE AS BEDFORD FALLS: An old man loves the festive season so much he has Christmas every day. His house is decorated all year round and he has Christmas dinner every day. He even named his house Bedford Falls after the town in It's A Wonderful Life.
I loved There's No Such Place As Bedford Falls. It's a heart-breaking story underneath the Christmas cheer. A local newspaper did a feature about him and turned him into the resident freak. His 'lady friend' left him because she couldn't take all the Christmas stuff. The narrator is a sad, lonely old man. Hankies at the ready!
WOULD YOU LIKE TO RECONNECT?: A woman enjoys keeping tabs on her son's life via Twitter when he's at University. They communicate a lot online and she has a wide circle of followers and friends because of this. She's heartbroken when he's killed in a head on collision with a truck and the news spreads like wildfire online. She starts to receive messages from what appears to be her son's ghost. They comfort her.
Would You Like To Reconnect? is a great little story. I thought Harris offered a quite original and unique ghost story.
RAINY DAYS AND MONDAYS: A Rain god living in Manhattan, New York meets a beautiful young girl one day called Sunny who loathes the rain and always hides inside when it comes on. He controls the rain to make sun shine for her and starts to fall in love. He believes she is a Sun god but has forgotten her true identity.
Harris offers another great, original story. I like her take on  Norse mythology.
DRYAD: A young woman meets an old woman in her local park who constantly paints beautiful pictures of the same tree. The old woman reveals the tree is the love of her life. She left her husband because she loved the tree and almost died of malnourishment and pneumonia by living beneath it for several days.
Another great, original story. I found Dryad to be funny, sad and sort of creepy. Harris reminded me of the stories I've read in trashy newspapers about people having sex with cars and other inanimate objects. Is the old woman off her rocker or did she fall for a sexy tree spirit?
HARRY STONE AND THE 24-HOUR CHURCH OF ELVIS: A man makes his living as a well-known Elvis impersonator and by night he solves crime. A friend tells him he suspects his wife is cheating on him and follows her and her 'lover'. He is spotted and humiliated when he discovers the 'lover' is the woman's brother and his 'surveillance' photos reveal he's gay and has a big crush on the 'lover'.
I thought this was a hilarious, original story. Harry is a deluded buffoon. Harry Stone and the 24 hour Church of Elvis would make a great movie.
THE GHOSTS OF CHRISTMAS PRESENT: The old man from There's No Such Place as Bedford Falls returns. This time around his house is visited on Christmas Eve by the spirits of the recently deceased who find his house welcoming. Among them is Phyl, the 'lady friend' who died a few weeks before.
I really liked this story. It was quite sad but happier than There's No Such Place as Bedford Falls. I didn't feel so sorry for the old man this time around.
WILDFIRE IN MANHATTAN: This is a sequel to Rainy Days and Monday's. Two dark spirits are in Manhattan killing the locals including another God who lives there. The Rain God from Rainy Days and Mondays and his friend, a Fire God protect Sunny who reveals she knows who she is and uses her power to send the dark spirits running for the hills.
I love this story. I liked reading more about the characters from Rainy Days and Monday's. I wonder if she's written any more about them. Original story and more Norse mythology. I'm a sucker for that.
COOKIE: A woman's marriage falls apart when she has a miscarriage and she starts to comfort eat baked goods (i.e. cookies, cakes, pastries). She puts on weight and becomes convinced she's pregnant even though this is physically impossible.  She gets fatter and fatter and people around her worry about her sanity when she becomes isolated. Her husband goes to visit and discovers she has given birth to a thing called Cookie.
Cookie is a great story. I thought it was very sinister and creepy. Harris never actually tells us what the woman gave birth to. Her husband freaks out so I don't think that's a good sign. The woman remains huge and overweight, a mountain of flesh. This one made me shudder.
GHOSTS IN THE MACHINE: A woman stays up all night and listens to a radio show called Phantom Radio. She starts to fall in love with the DJ because of his haunting voice and how he seems to pick perfect songs. They email each other and arrange to meet. Harris reveals that the DJ has hideous facial scars and the woman is blind and walks with a stick. The story ends with them rushing off to meet.
I thought this was a very good story. Ghosts in the Machine is sweet and reminded me of online relationships where people move half way across the world for people they've never met. In her introduction Harris claims to have written this for her daughter as an alternative version of The Phantom of the Opera because her daughter believes the phantom should have got the girl.
DEE EYE WHY: A man buys a run-down old mansion when his marriage ends and sets about retiring it. He becomes obsessed with his task. He rarely leaves the mansion, quits his job and starts to make the house and himself look like the previous occupants. His wife and friends fear for his sanity.
Harris offers an original ghost story. There are hints that the man is possessed by the spirit of the previous tenant.
MUSE: A writer is drawn to a run-down old café at his local train station. He starts to write a novel that might just be the best thing he has ever written and can only write in the café. He spends all day there. He learns the café is being shut down and adopts the café cat, Calliope. He believes the cat is one of the muses from Greek mythology as well as the two people who run it.
I thought this was a great little story. I liked the way Harris offers a contemporary story about the muses.
THE GAME: A teenager becomes addicted to a game everyone he knows plays online. He spends days and hours playing despite rumours that other players have harmed themselves or allegedly died as a result of playing. He becomes obsessed. He manages to wean himself off when his friend, who introduced him to the game, reaches fabled Level X and is later found dead.
I found The Game quite disturbing but I enjoyed reading it. I found the concept completely believable. I've seen bad horror movies deal with similar subject matter but Harris makes it work.
FAITH AND HOPE GET EVEN: My favorite two old ladies are back. Leanne is a new senior carer in the home and is a nasty little bitch. She bullies the residents and can be very cruel. She punishes the residents by stealing small, personal objects. She hides these in the locker of Chris, the only kind carer in the home so he won't speak out against her. Faith and Hope plot their revenge and Leanne's downfall and succeed in making her expose her cruelty and thievery in public.
I thought this story was great. Once again Harris uses these lovely old women to illustrate the cruelty, bullying and neglect in care homes. I could read dozens of stories about Faith and Hope and never get bored.
ROAD SONG: This is a companion piece to River Song and is set in the same place. A young girl is forced to give up school and work when her brothers are taken by human traffickers. The girl's mother believes her son's will return wealthy and educated. The girl longs for their return so she can go back to school.
I found this story heart-breaking. In her introduction Harris reveals this is a true story and hat children taken by traffickers are sold into slavery and prostitution. I found it very sad that the mother and sister didn't know what had really happened.
FINAL THOUGHTS
I think A Cat, A Hat and A Piece of String is a great collection of short stories. Every story is strong and earns its place in the pages. I enjoyed every one. Harris shows us what a great collection should be. I liked how dark some of the stories were without being gory and violent. I like the links between some of the stories. I also really enjoyed her little introduction to the origins of each story.
RATING