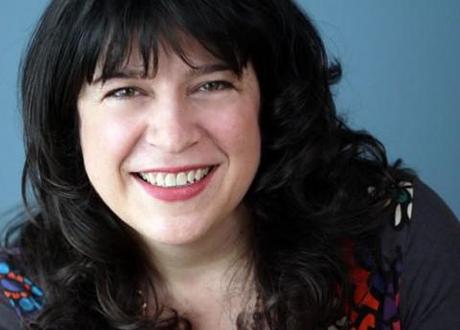 E L James, author of Fifty Shades of Grey: Not so much to smile about now. Or not. Photocredit: Literary Dancer
The background
The erotic spankbuster Fifty Shades of Grey by E L James has lost its spot at the top of the bestseller lists, where it's been for 16 weeks. It hasn't been beaten by any of its many imitators – Eighty Days Yellow, Ninety Days of Genevieve, Bared to You, Reflected in You, With My Body et al. It's been knocked off the book charts by The Hairy Dieters, a diet book by the Hairy Bikers, Si King and Dave Myers. on Amazon, it's now being beaten by Monday to Friday Man by Alice Peterson, a story about dog walking. Fifty Shades of Grey has sold 40 million copies world wide; Peterson's book has currently sold half a million (at 20 pence each on the Kindle.)
Over in America, E L James' sadomasochistic work has been chucked off the charts by a book about, er, the computer game Zelda. Yes, The Legend of Zelda: Hyrule Historia is now top of the Amazon charts.
"Personally, I think he's just a terrible, terribly silly man, with his 'long index fingers.'" Jilly Cooper on Christian Grey.
It's about time such a silly book got off the top spot
Jilly Cooper, herself no stranger to erotic fiction, said in The Times that it was about time. Jacqueline Susann, Shirley Conran, Jackie Collins, Penny Vincenzi, Barbara Taylor Bradford all wrote "bonkbusters" with a "good story"; Cooper heself likes "taking readers by the hand and leading them into a new world." Her books are about one fiftieth "actual sex scenes." But Christian Grey – he's "at it most of the time." If you want to write about sex, it has to be "funny and loving." These new books "don't seem to have any proper characterisation, and what they do have is from books or screenplays written by other people" – without even being a "reimagination." Fifty Shades of Grey isn't "liberating" – it's just porn. And it's not writing if you just "punctuate with ludicrous phrases like, 'Holy s***'…. You have to learn to write."
Could it be that Fifty Shades of Grey has made sex boring?
Fifty Shades of Grey "has finally been knocked off its perch. Or its sex swing," said Bryony Gordon in The Telegraph. Monday to Friday Man has sold half a million copies. Gordon interviewed Peterson, who said her book was "incredibly PG. There aren't any sex scenes … I'd just find it excruciating to write one. I mean, my father might read it." So could it be that Fifty Shades has managed to make sex "look a little … well, boring?" The books aren't written well, and certainly aren't "empowering" – it's not as if "women have had a collective awakening thanks to these books." Let's take our cue from a bookseller who put a sign in front of some copies of Fifty Shades: "This is an awful book. Do not read this book. There is better smut on the internet. Smut that is well written. Smut that doesn't romanticise abusive relationships. And it's free."
 50 shades of awesome
"Well, isn't this 50 shades of awesome," gurgled The Mary Sue. The Legend of Zelda "hasn't even been published yet" and it's already whacked Fifty Shades off its perch. A win for video game fans then. The Mary Sue also apologised for its Fifty Shades wordplay: "We are contractually obligated by the internet and the cultural zeitgeist to use 50 Shades of Grey as wordplay in every article referencing the book."