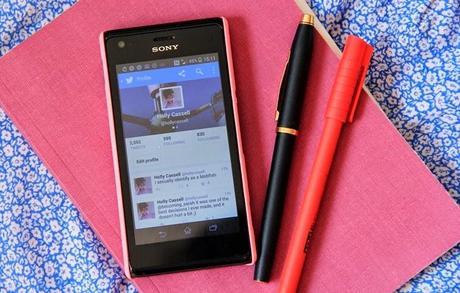 I've had a post like this germinating in my mind for a while now, steadily taking shape as I have become more involved with the social networking side of blogging. At times I have wondered whether it would be well received, or simply exacerbate matters; but I think now, in light of all this drama that has been going on lately, some things need to be said, and ideas need to be challenged. I'm sure there'll be many of you that disagree with me, and that's fine. If you came here to see a list, then scroll to the bottom. There you will find some names of people who have helped me along my blogging journey and who deserve credit, love, and thanks. But first, let's talk about hate.
I've been thinking about this a lot lately, due to the GuruGossip scandal. I won't dwell on it too much, because it was a fucking boring shit-storm to say the least, and I'm sure we're all sick of hearing about it. I will say that there was a lot of baying for blood. Loads of people wanted the bloggers who made those comments named and shamed, or even prosecuted. People started attacking each other, making accusations. People took sides.  Almost everyone wanted to know who they were so that they could unfollow them. To be honest, this attitude did remind me more of that scene in Mean Girls when the Burn Book is photocopied and thrown up into the air then it did of a community of creative adults; but, in reaction to this blogger-on-blogger hate, a new hashtag was born, #bloggerswelove, which started trending on Tuesday night. My notifications were flooded with mentions from some of the loveliest people I have been privileged to meet in my entire life. There may be no team spirit, but there are some truly beautiful individuals.
When I talk to non-bloggers about my online life, I often get the feeling that people want to hear that blogging is a giant cat-fight full of snobby wannabe-models; it would satisfy their misogyny and help them reduce what is, proportionally speaking, a female territory, down to a mud-slinging between hot fashionistas; but this assumption is just as naive as the uber-positive cupcakes-and-cat-face-ballet-pumps blogging bubble, and here's why: Men do not ever get derided for not 'sticking together' or being helpful, or being modest. Male industries do not get dismissed as trivial when the men within them cannot agree, or create a blissfully supportive community. Those things are expected of women, and so they are expected of us as bloggers. We should not expect them from ourselves, or each other. To expect a collective of millions of women 9 and men) to all get along and play nice is a double-standard that we should not force on ourselves. We are already winning just by making friends, and finding a place to be seen and acknowledged for our talents. There is jealousy, sure. There is a lot of politics, as there is in any creative industry. That does not condemn us, or our community.
I take part in a lot of twitter chats. When the most popular chats come around of an evening, my timeline is always flooded with girls discussing their summer favourites or their dream cameras. They can be competitive places; full of women who want to make blogging their job, and those with less long-term  (but equally as self-promotional) reasons - getting more followers, more retweets, more hits. Advice, blogging 'rules' and other sage wisdoms are batted around a lot. There are cliques. But there is also plenty of calling-out of these things – girls who haven't failed to notice the bitching and the preaching and the massive egos, who want to spread encouragement and kindness. There are some who do not even see the bad, and talk about the amazing, supportive parts of blogging  as if it were the last bastion of sisterhood. I think there are also a good few who don't want to acknowledge the bitchiness for fear of reinforcing negative stereotypes about how women interact with one another. I include myself in that camp. That being said, the SocialBloggers (#socialbloggers) chat, run by my friend Corinne from SkinnedCarTree, is overwhelmingly positive; StudentBloggers (#sbloggers), founded by Charley is another great one. But if I see a topic such as 'the importance of stats' or 'working with brands' on one of the larger chats, I tend to smell bullshit pretty quick, and steer clear. To me that is just common sense, because I don't want that kind of competitiveness to control how I blog. It is up to each of us to decide what media we consume; what we listen to, what we surround ourselves with. I don't want to be that girl, tweeting at a frenemy over something she may or may not have said about my tits on a chat forum.
I enjoy interacting with other bloggers, even if it doesn't necessarily mean that they'll ever visit mine in return. I like swapping tips and knowing I'm not alone in this solitary hobby/job/vocation/lifestyle/obsession. On the whole, I think we're a lovely bunch, who just want to share our thoughts, feelings and lives with people who share the same passions; people who will listen. We can never expect love and support in this community, or take it for granted. But we can choose to give it. What you focus on, grows. I tag everyone reading this to make a similar list to the one I've made – 15 bloggers that you want to thank, or show your appreciation. Because this is the only kind of list I want to see.
BLOGGERS WE LOVE
I would like to thank, in no particular order:
Stephanie from Faiint, for making time to help me with a geeky coding question
Katie from The Gravity and She, for her awesome musical suggestions and adorable comments
Amy from Everything & Amy, for her friendship and support
Maija from The Sequined World, for being a mini Kate Bush
Katie from Whips And Furs, for being such a beautiful model
Charlotte from Step Into My Closet, for the above reason, and also for making me laugh more than I have in ages
Tori from Tori's Tales, for her constant love and support on Twitter
Peet from For Peet's Sake, just for being herself
Elif from Chamomile Dealer, for being my blogging soul sister
Laila from Tape Parade, for being badass
Claire from Dainty Ghosts, for being such a ball of light and positivity
Carrie from Carrie:Brighton, for being the girl I turn to for make-up tips
Emma, from Tightrope To The Sun, for her beautiful writing that always inspires me
Nancy from The Nancy Wilde Experience, for being a fellow Lolita
Megan from The Big Megowski, for getting my sense of Twitter humour