I hope you're all having a warm first day of summer! If anyone is looking to hit the beach soon – and you hopefully will – take a few tips from Bond in Thunderball, who spends plenty of his time beachcombing and getting into underwater battles with international terrorists armed with harpoons.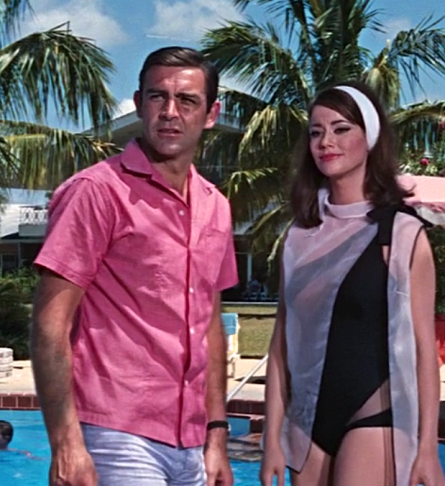 Sean Connery and Claudine Auger in Thunderball.
Vitals
Sean Connery as James Bond, sophisticated British secret agent and sportsman
Nassau, September 1965
Background
Sensing both a genuine lead and genuine lust, Bond convinces M to send him to Nassau to do his part for Operation Thunderball. Luckily for Bond, it's September (for the sake of this blog, let's call it summer) and tourist season is in full swing. Bond's first order of business is to visit the beach in Nassau.
Later, BAMF Style will focus on some of Bond's non-beach attire while "vacationing" in the Bahamas, notably the striped shirt and linen trousers he wears while visiting Largo at his estate, Palmyra. Bond also sports a matching blue shirt and pants, but the "pajama suit" is a bit too dated to be considered BAMF. Doesn't mean you'll never see it here, though…
What'd He Wear?
Swimming in Nassau
Sean Connery appears as the unofficial spokesperson for Jantzen swimwear in Thunderball, wearing three different pairs of swimming trunks from the brand, which created its first bathing suit one hundred years ago in Oregon. His standard swimwear is a light blue pair of swimming trunks with a very short inseam. The shorts have a continuous black elastic belt, worn through button-down belt loops along the top of the suit. Jantzen's distinctive black "diving girl" logo is visible on the lower left leg of the shorts. The shorts are fastened with a small white button on an extended waistband tab. There is a small flapped pocket on the right side, not quite large enough for Bond's PPK should he find himself in any underwater danger. Of course he's also underwater so it wouldn't do him much good.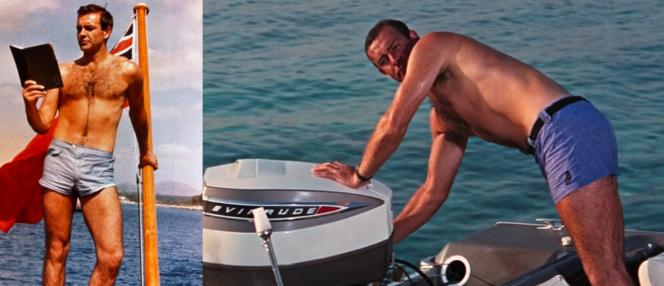 While not filming, Sean Connery enjoyed more scholarly pursuits.
Interestingly, Don Draper pitched the Jantzen team in the first episode of Mad Men's fourth season, set in late 1964, four months before Thunderball was filmed. The Jantzen team turns down Draper's ad for being too risque. It is interesting that the "family-oriented" company would refuse Draper's ad but would let its brand be associated with a film franchise centered around sex and violence. Of course, Mad Men is fiction, but it still raises an interesting point.
Jantzen shorts are featured on the excellent James Bond Lifestyle site, with a great description and history of the shorts worn by Bond. The actual shorts themselves were also part of a Bond 50 exhibit.
After getting out of the water and drying off, Bond grabs a rose-colored short-sleeve linen sport shirt, throwing it on as he and Domino walk onto the beach. Naturally, as he is only wearing swimming trunks, he leaves the shirt untucked.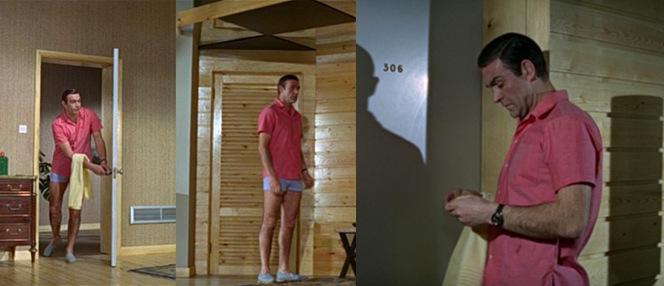 Bond's look in Thunderball is considerably more casual than his attire in Goldfinger.
The shirt has a camp collar and five white buttons down the plain, placket-less front. It is fitted with shoulder pleats and a slightly curved hem with side vents that end in a point on the front. The shirt also has a rounded breast pocket.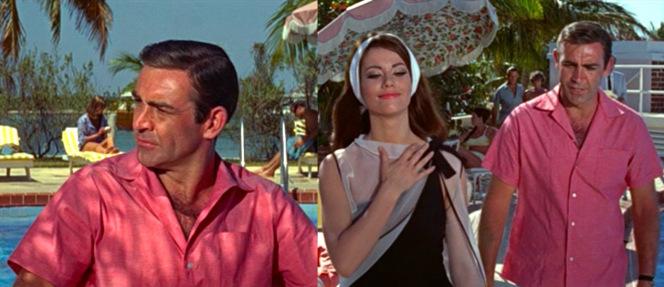 Bond and his idea of a "scholarly pursuit".
Bond's beach shoes, worn throughout Thunderball, are a pair of light blue canvas slip-on espadrilles with double elastic gussets, worn with no socks. Canvas slip-ons like these are a good choice for people like me who, after an unfortunate toenail incident, avoid open-toed shoes whenever possible. The shoes cover the feet and toes to protect them, but the canvas is still light enough to allow the feet to breathe. This is also especially smart for a man of action like Bond who can't afford to go slipping over his own feet in flip flops or sandals if danger arises.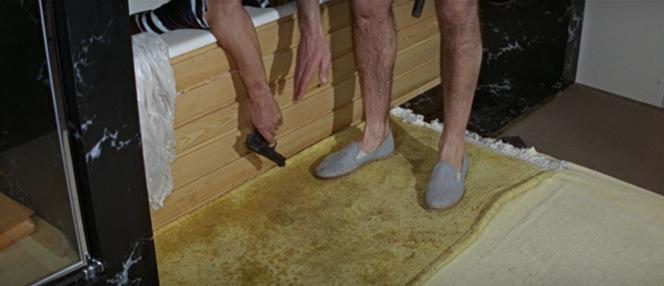 For anyone interested, the gun in the henchman's hand is a Beretta M1951, a 9×19 mm pistol that could be considered the precursor to the Beretta 92FS, now in the hands of the U.S. military.
Bond wears his trademark Rolex Submariner 6538 wristwatch on his usual undersized striped RAF strap. This is the same watch as he wore in Goldfinger. Although he is later issued a geiger-counter Breitling Top Time by Q, Bond only wears the Breitling during his visit to Palmyra.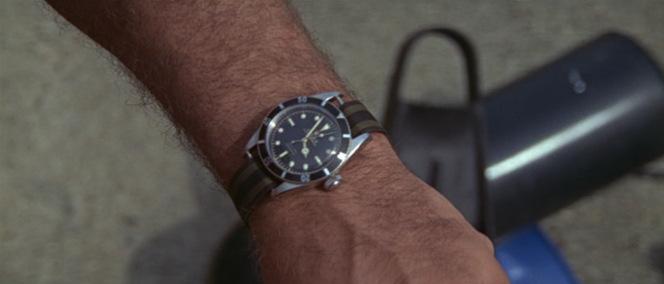 It's 3:58 somewhere…
Nighttime Investigation
After emerging from the water during a covert nighttime investigation, Bond slips on one of the few clearly-branded items of attire in the franchise history, a navy blue Fred Perry short-sleeve polo shirt. Fred Perry was a championship-winning English golfer and table tennis-er (seriously) who began his career in clothing with the development of the first sweatband in the late 1940s. By 1952, Fred Perry was a recognized clothing brand with his tennis shirts finding immediate success at Wimbledon. Perry passed away in 1955, but the shirt lived on, eventually in more colors than the original white as mods began wearing more diverse palettes. The brand's logo, a laurel wreath, can be clearly seen on Bond's left breast. The brand still exists today, under the ownership of a Japanese corporation.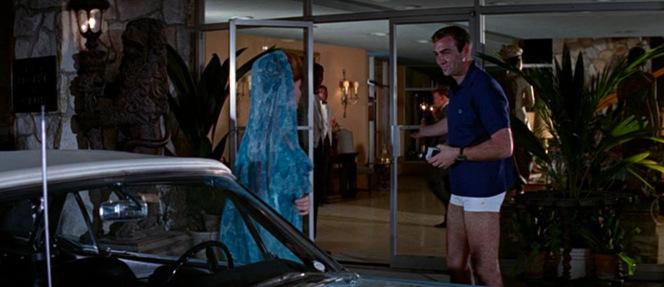 With his polo, short white shorts, and warm smile, this is the most that James Bond has ever resembled Mad Men's Bob Benson.
Although he was spying, Bond inexplicably wears his brightest pair of Jantzen swimming trunks – colored in white – while underwater. These ones feature an orange-red "diving girl" logo.
Bond pairs the navy polo and white trunks with his usual light blue canvas slip-ons and Rolex with the RAF strap. While underwater, he wears a red rubber zip-up wet suit over the polo.
Private Beach Relaxation
Bond lets a softer side emerge with his all pink swimming ensemble during his private beach time with Domino. Here, his shirt has a fine pink-and-white gingham check. Like the first, it is a short-sleeve linen shirt with a camp collar and five white buttons down a plain, placket-less front. There is also a breast pocket and rear shoulder pleats. However, this shirt has a straight hem, also with side vents.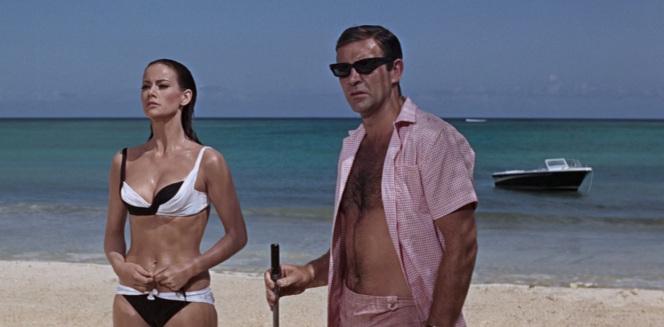 Bond's swimming trunks are his third pair of Jantzens, this time in mottled pink. Like the others, they have a short inseam and button-down belt loops. Bond wears these with no belt, though.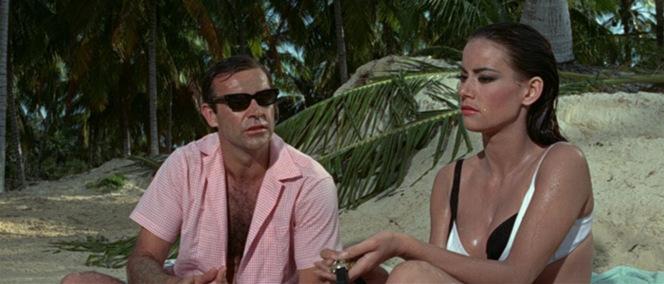 It seems like she stayed wet long after he managed to dry off. Weird…
For the second time in the series, we get to see Bond in a pair of sunglasses. He looks much cooler than Felix Leiter, who stands out like a sore thumb in his seersucker suit and sunglasses while "covertly" watching Bond. Bond's are a pair of dark wayfarers, manufactured by the American brand Harlequin, evident by the vertical hinge pins on the front of the frames and the horizontal side pins.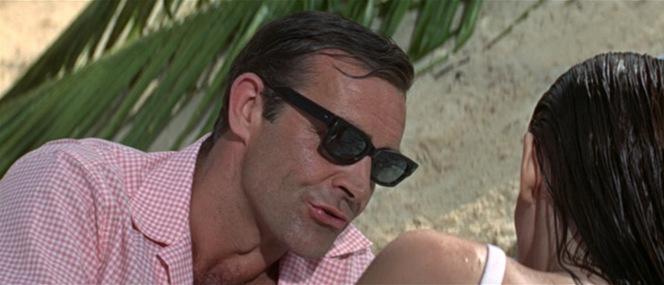 Sometimes, Sean Connery can't help but to look exactly like Sean Connery.
He also wears his Rolex with this outfit and – after swimming to Palymra – his blue canvas slip-ons.
Prior to this scene, when Bond is out on helicopter surveillance with Felix, we get a brief flash of Bond wearing the exact same outfit in blue – a blue gingham short-sleeve shirt and the blue Jantzen shorts. Interestingly, he wears no wristwatch.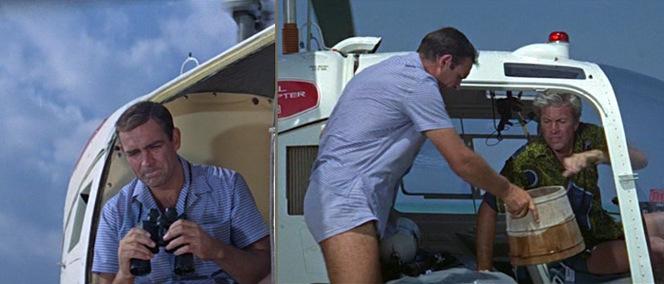 Bond is always sure to out-dress Felix.
Go Big or Go Home
Bond is a hell of a swimmer, as even M notes his "enthusiasm for water sports." His isn't just the frat boys' obsession of being around gorgeous women in bathing suits, although Bond certainly gets his share. Geez.
Seriously, if you're a big fan of attractive Bond girls, Thunderball is your movie. After seducing his nurse at Shrublands, Bond heads to the Bahamas where he ditches one tan bikini-clad beauty for another and eventually hops into bed with a fiery and rather buxom redhead who packs a pistol and drives a Mustang.
Bond's time in the Bahamas, when he's not fighting terrorists underwater, is pretty much dedicated to women. After meeting Domino, he treats her to a lunch of conch chowder. She doesn't fall for it, calling him out on the fact that conch chowder is known for being an aphrodisiac, but he eventually seals the deal anyway. He manages to combine two passions by actually having sex with her while deep-sea diving.
The typical Bond staples are also present. He doesn't stray far from his Walther PPK, keeping it – with the suppressor attached – fastened underneath a table in his hotel room. Of course, if he's out to sea with nary a PPK around, he improvises with a spear gun.
Bond also mixes himself a refreshing vodka martini, with plenty of ice, using the Smirnoff Blue (100-proof) vodka and Cinzano vermouth kept in his hotel room bar.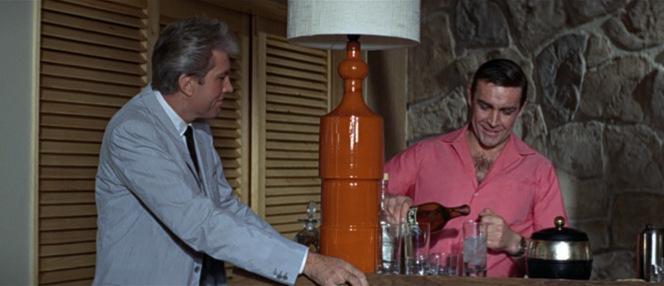 Whatever happened to the good old days where hotel bars actually had full bottles of vodka and vermouth?
How to Get the Look
Bond's base outfit is a set of short swimming trunks, canvas slip-on shoes, and a pink short-sleeve button-down, mixing up accessories such as a wristwatch or sunglasses. Most importantly, Bond stays cool in a very warm tropical climate.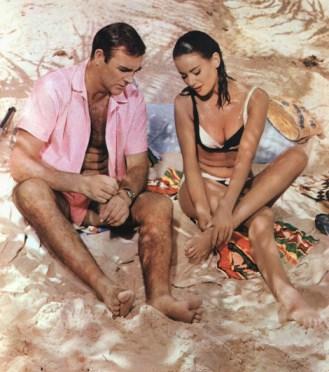 Bond and Domino enjoy some private time on the beach.
Pink linen short-sleeve button-down shirt with camp collar, plain front, and breast pocket – Bond's are either pink-and-white gingham or solid rose pink, both worn untucked
Light blue, white, or light pink short inseam swimming trunks with a removable black elastic belt in button-down belt loops – Bond's swimming trunks were made by Jantzen
Light blue canvas slip-on espadrilles
Rolex Submariner 6538 wristwatch on an undersized RAF strap
Bond also sports the navy blue Fred Perry short-sleeve polo. Dark navy polos are a dime-a-dozen, but note that Bond wears his at night; it would likely be too warm to be refreshing during the day.
Do Yourself A Favor And…
Buy the film and go stick your head in the sand somewhere.
The Quote
Domino: What sharp little eyes you've got…

Bond: Wait 'til you get to my teeth.
Footnotes
As usual, Matt Spaiser's blog provided some excellent help. His write-ups to the Thunderball outfits are far superior to my own, as he actually knows what he is talking about. See the rose shirt, gingham shirt, blue polo, and shoes.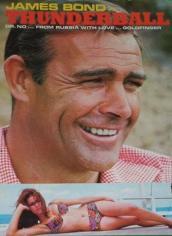 Anyone know the story behind this?
An image of Sean Connery as Bond in the pink gingham shirt somehow made its way onto the cover of a very awkward poster for the film. The top portion is an extreme close up of Connery smiling, with the top reading: "James Bond in Thunderball" with the titles of the previous Bond movies underneath. The bottom of the poster has a lovely and shapely young lady reclining in a bikini, although she appears to have no connection to the film whatsoever.