This is probably the last month that it is still cool enough to melt a scented candle in the evening. While I highly encourage getting out and doing any of the activities I mentioned in my previous post I know that a small bunch of you will be choosing to stay in on Hearts' Day to save and be with each other or yourself lol in the place that matters most. Whether it's ME time or WE time there's no reason staying home should be bereft of a little love in the air especially if "some people are worth melting for". Twisting a cap off essential oils and tediously dripping them from a small bottle into your burner can get fiddly or messy. Toss any of these solid melts in or get guests to pick or make their scent from a bowl of variety (F-U-N) and you're beyond good. Kids will also probably love to watch these melt.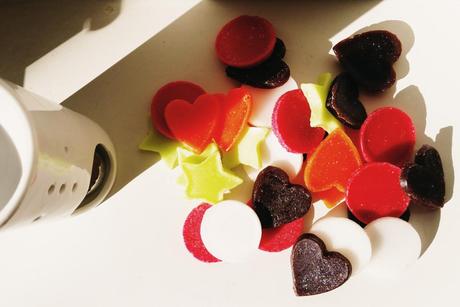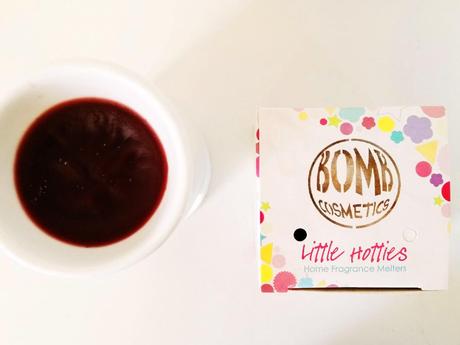 Example of what it looks like after it's cooled off over a scent burner, just like melted candle wax. Php445 for minimum of 100g of your chosen melters (mixed scents allowed).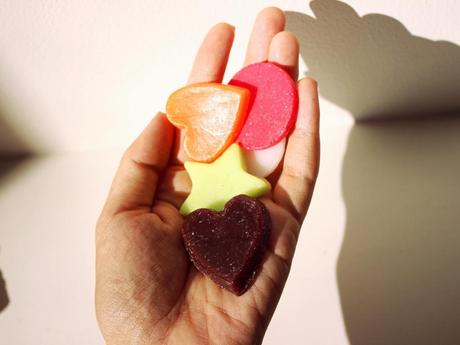 Bomb Cosmetics in the UK seems to be like a cheaper brand spinoff of Britain's world-famous highstreet LUSH Cosmetics, they have bath bombs, bath melts and other bath stuff just like LUSH. These fragrance-filled pieces are like candle biscuits, sort of. These fragrant Little Hotties by Bomb Cosmetics UK (via Beauty Bar) are a big twist on the warmth that a standard scented candle provides and the fun in choosing and combining scents is what brings these little buggers home. Click to read the full post and see which scents I chose from Bomb Cosmetics' vast and their super fun fragrance combo menu.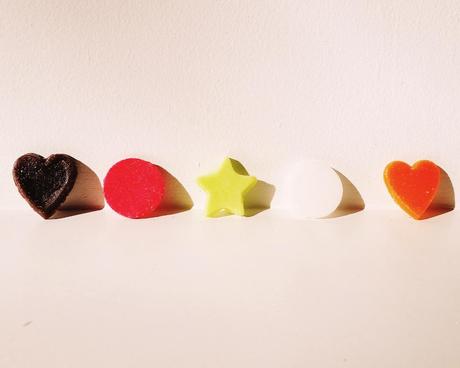 Chocolate, Strawberry, Summer Lawn (similar to Diptyque Philosykos), Coconut, and Mango. I forgot to get mint so I could make the Choco-Mint combination...but I guess that's more of a Christmas combo than a Valentine one. The Little Hotties range comes in fresh, floral, gourmand, and fruity categories.
So I first decided to melt Chocolate and Strawberry together to create a gourmand choco but slightly tart fragrance which I think is a spot-on combo for the Vday occasion, and I particularly love both those flavors. I lit the tea light in my burner and waited. Hilariously, I had an allergic sneezing attack prior to shooting for the feature so by the time the melters were perfuming the room I was useless...I couldn't smell a thing to my dismay, but thankfully my Dad's male nurse who was on the second floor said within about 2-3 minutes it was already fragrant up to there, so our whole mezzanine area up to the second floor smelt nice. I was impressed because in that area of the house we have a higher ceiling. Then after about half an hour my nose began to clear up a bit and I could smell the strawberry with its dominant tart notes shot through with chocolate musk. From my calculation I think 3-4 pieces will burn well together in a small burner without over burning for about a minimum of 1.5-2 hours. Never leave anything burning unguarded though.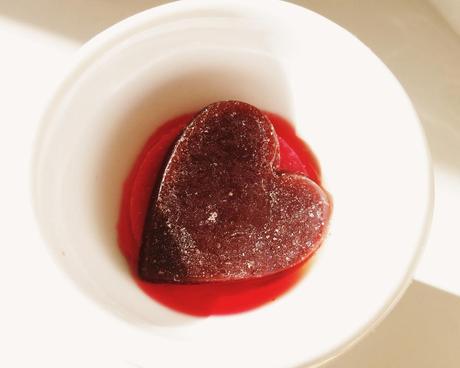 After about 10 minutes, the Strawberry one melted beneath the Chocolate one...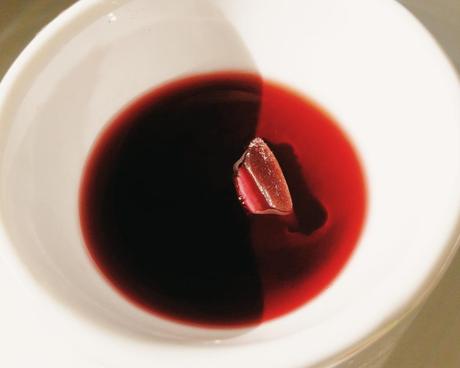 After about 20mins...the Chocolate one melted as well...This is actually my 2nd chocolate heart which melted into the Strawberry, I'm giving you the timing of how quickly the first one melted. Then this all cooled off to what you see in the second photo of this full blog post which can be re-burned I think as long as it still smells the same.
Here is the fun part which consumed most of my time when I discovered this product in Beauty Bar Central Square, BGC Fort. Looking at the fragrance menu and choosing which scents would comprise my 100 gram minimum made me take about 20 minutes lol, I smelt each piece. Note by the way the White Musk discs really smell like Body Shop's White Musk Scent (tip) but I didn't get them, I stuck to my own spring-summer selection. As to be expected Beauty Bar doesn't have every single scent in the menu in-stock so best just to go and see what they have. The scent-combo lists are only half of their entire menu, each category had 2 pages, I only posted the first page of each category...the full PDF (which you can download) is available online just search "bomb cosmetics little hotties". First is the list of scents: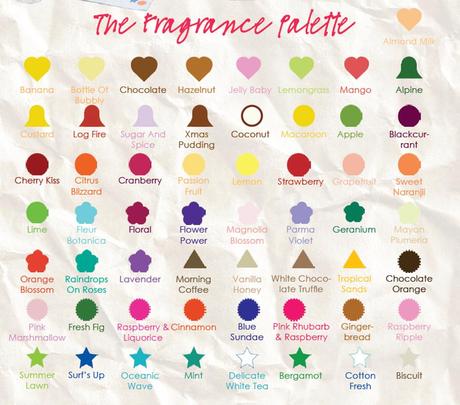 and here is part of their menu of combinations: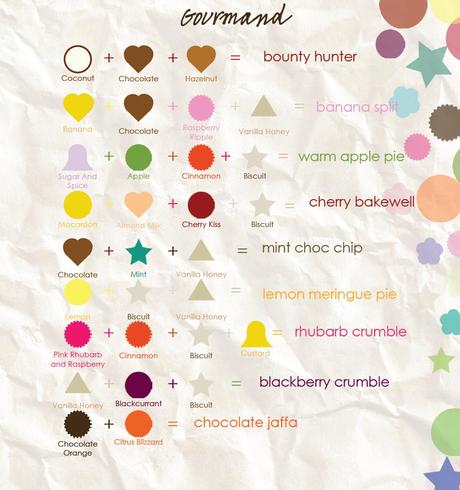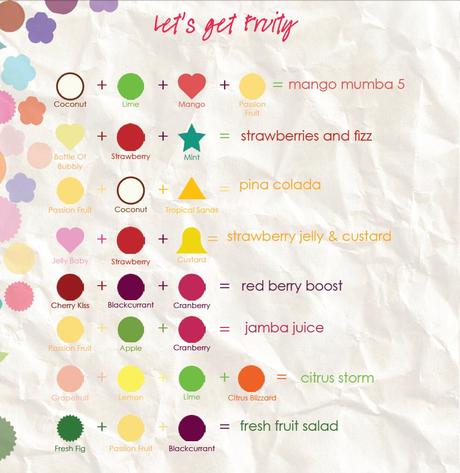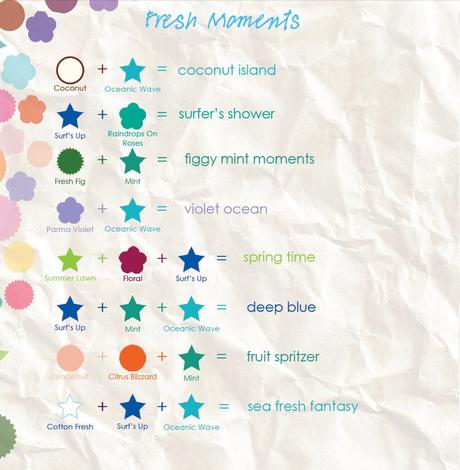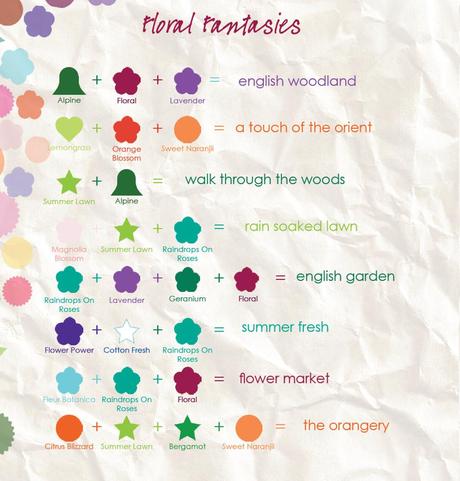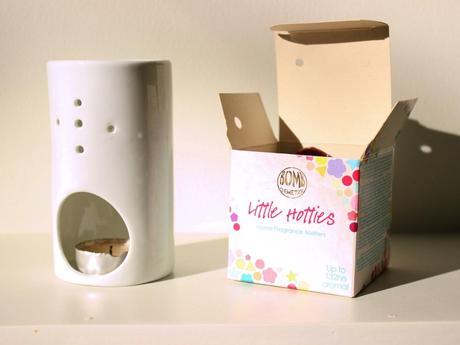 I perked up into a smile when I saw Jamba Juice on the list, LOL, now I want more scents. Again, these are available from Beauty Bar for Php445 for a minimum of 100 grams of handpicked melters. I'm not aware of which specific branches carry the range, most likely the newest and bigger branches are the ones that stock them, but to be sure best to first check in Beauty Bar Central Square in BGC Fort and ask them to make the phone call for you so you know which branches have these. Burner and standard tea light sold separately, you must have your own.