Those of you who follow me on Facebook, Twitter and Instagram probably know already that, ever since we got back from Spain last week, we have had boiler problems. First it was the old boiler (a Keston), which we were planning on replacing this Spring or Summer when the weather was better but which decided that it had had enough and wanted either of its PCBs replaced, bearing in mind that it was going to cost us a quarter of the price of the installation of a new reliable one and it was the third time it broke since we bought the house in April, we decided to have a new boiler fitted.
We were recommended a good gas guy who treated us as a priority as we have a toddler and kindly contacted his booked customers to postpone some of his non-urgent jobs to fit us in (thanks go to him and those customers). He, like lots of people before him, recommended us to go for the Vaillant brand, he told us he had been installing their boilers for years and had only ever had one callback in one of them and it was nothing serious. We went ahead and a couple of days later he arrived with the Vaillant ecoTEC plus 624.
He installed it on Monday and connected it up on Tuesday by 3pm or so, two hours later it stopped working and reported a fault. The installer came back as soon as he could, he was here within half an hour and assured me that they were very good boilers and it was probably just air. He got it going again, 24 hours later it stopped working. Since then it has come back on and of, never for long, since yesterday (Thursday) it's just not igniting anymore. Yesterday he came and basically sat for hours observing it, trying everything, reading and checking on all the fault numbers the boiler had reported (about 4 different types so far). He checked everything he could check until he realised there wasn't anymore he could do and that it must be a faulty unit, it is brand new, under guarantee, we need a replacement.
Vaillant told him today no one can come until Monday (in the middle of the cold snap) and that they wouldn't even bring a replacement as the engineer first needs to confirm it. No "just in case" boiler carried, what type of policy is that? This could mean that we will not have heating until the end of next week. It's a Friday today. Don't they trust the person who trusts them, the installer?
Now, this is doing nothing for our trust in this brand. We definitely do not want a brand new boiler repaired in its first week of life nor are we pleased with the customer service we have received. Bear in mind that the boiler alone costs £1,000. We then have to pay the electrician and the gas guy who, in number of hours spent on this alone, he is probably already losing money.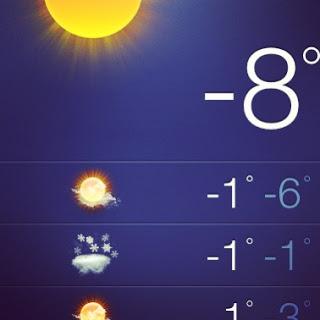 The weather yesterday, with no central heating
This is doing nothing for the trust of what seems to be an honest, professional, thorough and caring installer who always chooses Vaillant over any other brand. He was even ready to come back today at whatever time Vaillant said they could send an engineer to let him in, as both husband and I were meant to work away from home. He has been so apologetic that this has happened after assuring us these are brilliant reliable boilers.
All I can see is losses for Vaillant yet they insist on sticking to their procedure. If their procedure gave priority to older people, given that they suffer more in the cold, then yes I'd agree that they cannot come until Monday. If they worked all weekend when there are snow weather warnings all over the UK, then I'd understand. But they are not even working on Sunday (unlike many other people).
Not to mention that it is costing us a fortune to keep the house warm with portable electric radiators and that I live in constant fear of LittleT burning herself. That we live in the sitting room, where it is warm. That my work scheduling has been all over the place.
In summary, I am guessing we should have gone for a Worcester Bosch, all we've heard ever since this happened is that their customer service is good.
Perhaps Vaillant is resting on their laurels and relying too much on their long-ago-established reputation rather than focusing on keeping clients happy in an ongoing basis.